The Marijuana Policy Project launches a public education campaign about edibles, a pair of longtime Colorado marijuana businessmen are considered for mainstream awards and investors provide insight on the funding climate and the November elections.
Here's a closer look at several notable developments in the cannabis industry over the past week:
Start Low, Go Slow
New York Times columnist Maureen Dowd became something of a laughing stock in many cannabis circles after she published a first-person account in June of a nightmarish experience she endured after eating too much of a cannabis-infused chocolate bar.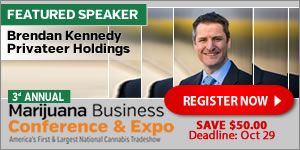 The Marijuana Policy Project isn't letting that story go to waste. But instead of just making a joke out of the situation, the group – with support from MedBox Inc. – is using it as inspiration for a public education campaign on marijuana edibles.
It's arguably a step that's long overdue, since edibles vary wildly in potency, form and flavors, and there's no universal guide to how to enjoy edibles without overdoing it. Unless you're an experienced marijuana user, it can be hard to tell (especially for a first-timer, like Dowd was in June) how much of an edible is enough. Because too much can, as Dowd demonstrated, lead to a very bad time.
So MPP set up a website, www.consumeresponsibly.org, and purchased space on a billboard in Denver the group unveiled on Wednesday. The billboard lampoons Dowd, but in a friendly kind of way, with a redheaded model holding her head in her hands underneath the slogan, "Don't let a candy bar ruin your vacation. With edibles, start low and go slow."
The site is expansive, packed with advice for those new to the edible experience, with pages titlted "Know the law," "Know your limit," and "Know your responsibility." It suggests precise limits on how many milligrams to begin with, and notes that many edibles in Colorado have up to 100 milligrams, which is roughly 10 doses.
One of the most obvious warnings with edibles as well is that they take a good amount of time to take effect, sometimes up to two hours. That's much slower than the psychedelic effect of smoking a joint, which hits most users immediately. And the effect of edibles can also be much stronger than when marijuana is smoked.
Hence the slogan, "Start low and go slow."
The campaign will be expanded to Washington State and any other market that legalizes recreational marijuana for adults. Marijuana Policy Project also plans on utilizing print and online ads as well as billboards.
Investor, Election Buzz
We attended ArcView's latest event in Chicago this week, where more than a dozen companies seeking money pitched investors.
Some insights, highlights and take-aways:
– Companies that pitched are seeking anywhere from $50,000 to $7 million. Some are offering equity or convertible debt, while several are seeking traditional loans. Businesses that presented covered a wide swath of the industry, from dispensaries/retail stores and cultivation operations to those focused on nutrients, extracts, insurance and packaging.
– Several investors said there's a decent amount of available capital in the industry, but the big issue now is that there aren't enough attractive opportunities.
Still, the pendulum might be swinging back in the other direction, ArcView CEO Troy Dayton said. One company that presented – Oil Slick – actually closed a $1 million investment just before giving its pitch, while half of the companies that presented to investors at the group's last event over the summer have received funding from ArcView members.
– In a short talk to investors gathered at the event, Illinois state Rep. Lou Lang, D-Skokie, said a lot is riding on how officials handle the application process for business licenses tied to the state's four-year MMJ pilot program. "It's important to me…that the best possible (applicants) win these licenses, Lang said, adding that it's crucial to get a "warm reception" when he goes back to lawmakers in a few years to try to get a permanent program in place.
"Only time will tell whether we've done it well," he told the crowd.
– Florida was a hot topic in general, with many investors discussing the market's vast potential and weighing in on the chances the state will pass a medical marijuana measure this fall. Some were highly optimistic, expressing confidence that the proposal will easily get the required 60% of the vote. Others, however, said they think it will be a very tight election, pointing to a recent poll showing support at below 60%.
– The cannabis industry has been a non-factor in Alaska. Rob Kampia of the Marijuana Policy Project – which is heavily involved in trying to get the measure passed – said his group hasn't received any money from cannabis businesses for that effort.
Mainstream Cannabis Acceptance
The Denver Business Journal's annual Power Book awards represent a who's who of the city's business and political leaders. This year, the finalists in 14 categories included serious powerbrokers such as Gov. John Hickenlooper, who was nominated for the Economic Development and Government award, and billionaire Philip Anschutz, who was nominated for the Nonprofits and Foundations award.
So it's more than worth noting that among the few dozen finalists were not just one cannabis-related entrepreneur, but two.
Tripp Keber, the CEO of Dixie Elixirs and Edibles, was a finalist in the Retail and Product Manufacturing category. Christian Sederberg, of the Vicente Sederberg marijuana-focused law firm in Denver, was a finalist in the Law category.
Though neither of the two won an award, the simple fact that they were finalists in a prominent trade publication is an indication of how far the cannabis industry has come in terms of mainstream acceptance.
"It's a legal business in Colorado, and he runs one of the biggest manufacturing entities in that industry. We're not going to exclude legal businesses from consideration for Power Book," Neil Westergaard, editor of the Journal, said of Keber's nomination. "It might be unusual in another state, but it's not unusual in Colorado. It's a legitimate industry, and we cover it just like we do other industries."
Westergaard said the reason Sederberg was included as a finalist was because he'd become a reliable go-to source for legal questions on marijuana.
"He's a marijuana legal expert, which would make sense. You might have a lawyer in the natural resources category who may be the go-to source on oil and gas regulation. That's the similar connection," Westergaard said.
Sederberg said he was caught off-guard by the nomination.
"To be included in such a mainstream publication and its yearly awards relating to mainstream business, this is the first time anything like that's happened to any marijuana-related businesses," Sederberg said.
Given the industry's recent momentum, it might not be long before a cannabis business professional actually wins one of these types of awards.