By John Schroyer
Marijuana could prove to be a decisive factor in who moves into the governor's mansion in Colorado.
At no point was that more evident than this week, when Democratic Gov. John Hickenlooper was forced to offer an olive branch to the cannabis industry after calling the 2012 marijuana legalization vote "reckless." Hickenlooper made international headlines with the comment, which he uttered during a debate with his Republican opponent, Bob Beauprez.
Staffers for Hickenlooper immediately began damage control, reaching out to cannabis industry leaders who helped organize a fundraiser in August for the governor's re-election campaign.
Hickenlooper went so far as to issue a statement clarifying his comment.
"I was asked if I thought it was reckless to legalize marijuana in Colorado – perhaps risky is a better word," Hickenlooper said in the statement, adding that voters "sent a clear message to the federal government that marijuana should be legal and regulated."
That may not be enough to save the governor or his campaign where the cannabis community is concerned. Though more than one industry insider was quick to defend Hickenlooper's record in helping implement Amendment 64 and regulations for marijuana businesses, others say it's too little, too late.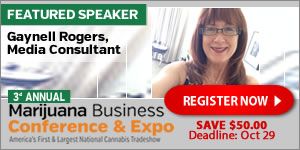 "He's backtracking at that point. He realized he pissed everybody off, so of course he's going to backtrack," said Bob Eschino, co-founder of Medically Correct, which produces the popular marijuana-infused Incredibles chocolate bars.
"It was a bit of a slap in the face," said Joe Hodas, the chief marketing officer for Dixie Brands, which helped organize the August fundraiser for the governor (an event that netted Hickenlooper's campaign an estimated $40,000). "In the political environment, one can get caught up pretty easily and misspeak, but that was a pretty strong misstatement. So we want to clarify what his stance is… They'll definitely have to do some rebuilding of relationships."
Hodas said the Dixie team hasn't yet decided whether it will continue supporting Hickenlooper, but the company has been in touch with his office throughout the week.
Michael Elliott, executive director of the Marijuana Industry Group, said the governor's follow-up statement did help smooth things out with many stakeholders.
"We've seen a governor who's trying to do what's right, and trying to make this work," Elliott said. "He's got a lot to brag about in terms of the success of this program."
Elliott and others argue that even though Hickenlooper has been a vocal opponent of recreational marijuana, he's complied with the will of the nearly 1.4 million Colorado voters who supported Amendment 64 two years ago. They say he's done his best to oversee an effective and safe rollout of a groundbreaking industry.
"We watch his actions in terms of doing the people's will. He's personally against it, but he's doing a good job of implementing it. And those actions speak louder than words," said Andy Williams, the president and CEO of Medicine Man Denver. (Williams was also one of the hosts of the August fundraiser for Hickenlooper.)
But that doesn't cut it for businesspeople like Eschino.
"Great, you did your job. Congratulations. You did it, and you bitched and moaned about it the whole time, and you threw us under the bus every time you had an opportunity to do it. So he doesn't get a pat on the back from me for that," Eschino said.
There are plenty of others in the industry that are either staying out of the governor's race or backing independent candidate Mike Dunafon, the mayor of Glendale, who is so pro-marijuana that he made a speech at Denver's 4/20 rally on April 20. Dunafon is specifically targeting marijuana voters in Colorado.
If Dunafon gets enough traction, he could siphon typically Democratic voters who are angry over the governor's stance on cannabis, possibly delivering a victory to Beauprez.
"When it comes to our elected officials, the kingmaker and the assassin are exactly the same. They are somebody that you have to deal with," said Shawn Coleman, president of the Denver public affairs firm 36 Solutions. "And if our candidate, Mike Dunafon, gets more votes than the difference between Beauprez and Hickenlooper, then we're now assassins, and they have to listen to us. If either of the major parties were smart enough to reach out to our community, that'd be the candidate who would win the election."
Most Colorado political pundits don't give Dunafon a serious chance at winning the gubernatorial race.
But if he keeps making inroads with the cannabis crowd, and if Hickenlooper isn't more careful about maintaining relationships with the ever-growing marijuana industry, then Colorado could end up with Beauprez as its chief executive. That prospect doesn't exactly thrill people like Hodas.
Beauprez suggested during another debate this week that Colorado voters should perhaps be asked to repeal Amendment 64. Hickenlooper, however, said it was too soon to ask voters to do away with recreational marijuana.
"It's sort of the devil you know, right?" Hodas said. "We kind of know and understand Hickenlooper's administration. Beauprez we don't."