By Chris Walsh
A prominent think tank lends support to Colorado's recreational cannabis industry, potential dispensary owners in Florida get some good news and a lawsuit underscores business risks tied to the stigma surrounding marijuana.
Here's a closer look at several notable business-related developments in the cannabis industry over the past week:
CO Rec Industry 'Succeeding'
The Brookings Institution – a well-known think tank based in Washington DC- released a report Thursday heaping praise on Colorado's recreational marijuana industry.
John Hudak, a fellow in governance studies at Brookings, recently traveled to Denver to conduct research on the recreational program and interview regulators, city and state officials, and other individuals on the forefront of legalization in Colorado.
His main finding: The state has "largely succeed in rolling out a legal marijuana system, and its early implementation efforts have been impressive."
Hudak's report says Colorado has done an admirable job of creating a stable and well-regulated industry.
He points to the state's inventory tracking system, regulatory limits on the amount of cannabis consumers can purchase, security requirements, temporary barriers for market entry and the funding structure set up for agencies that oversee the industry.
"It's too early to judge the success of Colorado's policy, but it is not too early to say that the rollout – initial implementation – of legal retail marijuana has been largely successful," Hudak writes in the report.
He attributes that success to strong leadership and communication by state officials, an inclusive attitude taken by working groups and task forces, cultural changes and a flexible regulatory framework that has adapted to new challenges.
In terms of what's not working as well, the report calls out the unregulated nature of home grows, the inconsistency in edibles potency and "misaligned incentives in taxes and tourism."
Those are relatively minor issues, considering that some opponents thought the sky would fall.
Cannabis professionals in Colorado and across the nation are well aware that the state's recreational industry is a resounding success. It's nice to get some outside confirmation, too.
Dispensaries Welcome in Florida
The main thrust of a Quinnipiac University poll released this week is that roughly 90% of Florida residents support medical marijuana legalization.
It's an important indication of where locals stand heading into the November election, when a measure to legalize MMJ will appear on the ballot.
But buried in the press release about the survey is a particularly interesting finding that is equally important to the budding cannabis business community in the state.
According to the poll, more than 71% of respondents said they back the idea of having a medical marijuana dispensary in their town or city.
Here's a breakdown of the support levels for dispensaries:
80% of Democrats and 58% of Republicans
73% of men and 70% of women
79% of those 18 to 29, 77% of those between 30 and 64, and 57% of those 65 and older
This is a marked shift from what we've seen in other states considering MMJ. Residents often have negative views of dispensaries (bars on the windows, seedy people hanging out near the front door, etc.) even if they support legalization in general.
As Peter Brown, assistant director of the Quinnipiac University poll, put it: "No 'Not in My Backyard' mentality" in Florida.
Reports about the success of the medical and recreational industries elsewhere (such as the Brookings study mentioned above) are helping to change perceptions, which bodes well for the industry.
"A lot of the information that people are basing their thoughts on here are the revenue models they see coming out of Colorado," said Tom Quigley, chief executive officer of the Florida Cannabis Coalition, a membership-based organization for marijuana professionals. "They are seeing benefits to communities that have supported this. Nobody wants to get left behind if this goes in that direction."
However, Cannabis Stigma Still Alive and Well…

Combine a Chicago real estate firm with a Colorado restaurant that hosted a private party for a cannabis business and what do you get?
A legal mess – and a reminder that the marijuana stigma still exists, despite recent progress on this end.
The real estate firm in question has sued the owners of Montana's restaurant in Avon, Colorado, because it agreed to host a private party for the manufacturer of a marijuana-dispensing vending machine.
The restaurant allowed the company – American Green – to display its Zazzz machine containing non-cannabis products during the event.
When pictures of the event – and the display – hit social media, the Chicago firm that owns the building moved to evict the restaurant from the property for violating a stipulation in the lease requiring approval prior to promotional gatherings.
Notably, the landlord also claims the event harmed its reputation because of the affiliation with marijuana, saying it is "a family-oriented company," according to a report in the Vail Daily.
The restaurant owners are fighting to block the eviction. They claim that their landlord has used various methods to attempt to bring the lease to an early end.
As we've seen countless times, concerns common to marijuana-focused businesses – such as real estate contracts – are often blind spots to non-cannabis companies.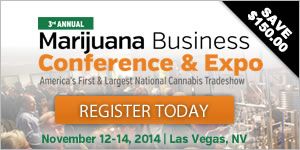 And many businesses are still very opposed to any attachment to cannabis, particularly companies in states that don't yet have an operating medical or recreational marijuana industry. (Illinois is still in the early stages of setting up its MMJ program.)
This situation is a reminder to business owners with any degree of involvement in the industry – even a restaurant hosting an event for a cannabis company – that significant risks remain.