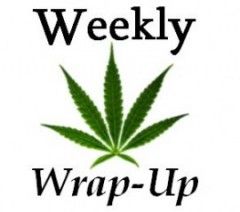 By John Schroyer and Omar Sacirbey
The November cannabis election map is essentially finalized, credit unions get serious about marijuana businesses, and a Denver attorney weighs in on the MJ software battle in Puerto Rico.
Here's a closer look at some notable developments in the marijuana industry over the past week.
The Magnificent … Nine
The nationwide electoral map for cannabis advocates and companies is basically set, following this week's news from Missouri that a medical marijuana campaign lost a fight for a spot on the November ballot.
The nine states in play are:
Arkansas (medical)
Arizona (recreational)
California (recreational)
Florida (medical)
Maine (recreational)
Massachusetts (recreational)
Montana (legalize dispensaries)
Nevada (recreational)
North Dakota (medical)
Five will vote on whether to legalize recreational use. Three will vote on whether to legalize medical. And one – Montana – will vote on whether to establish a regulated MMJ system that would legalize dispensaries.

"This year will be incredibly significant, in that it will advance the discussion," Mason Tvert, communications director at the Marijuana Policy Project, said. "I will predict that whether all of these initiatives win or all of them lose, we will be significantly closer to ending marijuana prohibition than we were before Election Day."

Tvert declined to say whether he was happy with the cannabis electoral map, and he declined to offer specific predictions on state campaigns.

"There's a strong amount of support and a growing desire to end marijuana prohibition in many states. The question is not whether there's enough support for reform, but whether there's enough support for the specifics of these proposals," Tvert said.

That said, the 2016 election is certain to be a historic one for cannabis entrepreneurs and advocates, because there have never been this many states weighing in on either medical or recreational marijuana in a single year.

That means Nov. 8 could become a watershed date for cannabis.

Credit Unions Get Serious

The credit union industry is getting serious about serving marijuana businesses.

A top editor at the Credit Union Times argues that more credit unions should take on marijuana businesses as customers.

"(I)t's time for more credit unions to embrace the idea of serving the marijuana industry," Natasha Chilingerian, the trade publication's managing editor, wrote in a recent opinion piece published on the Credit Union Times website.

The good news for marijuana businesses in search of banks is that Chilingerian is not a lone voice in the credit union sector.

At least one major industry organization, the National Association of Federal Credit Unions, is trying to educate members about how to serve canna-businesses in accordance with state law as well as guidelines issued in 2014 by the U.S. Treasury Department's Financial Crimes Enforcement Network. FinCEN's guidelines outline how financial institutions can serve canna-business clients.

"Marijuana banking is a developing issue that we continue to actively monitor, along with many others, for potential impact to the credit union industry," Carrie Hunt, NAFCU's executive vice president of government affairs and general counsel, wrote in an email.

Hunt added that her organization has written about the topic on its compliance blog. And the group will feature it on Oct. 27 during a panel discussion at its Bank Secrecy Act conference in New Orleans.

The BSA is perhaps the most difficult aspect of the FinCEN guidelines to comply with, requiring time-consuming and labor-intensive record keeping and paperwork. The NAFCU panel – entitled "Serving Marijuana Business and Your BSA Obligations" – aims to clarify "how your credit union can provide services to marijuana-related businesses consistent with your BSA obligations."

Cutthroat Tactics in Puerto Rico 

Filing formal complaints and arguing over legal technicalities is no way to win government contracts, Denver attorney Bob Hoban responded when asked about the ongoing spat in Puerto Rico involving a trio of U.S. cannabis software companies.

"There's not a government in this country at the state or local level that's going to want to work with somebody who raises a stink like that," Hoban said.

He was referring to complaints filed by MJ Freeway and Agrisoft after Puerto Rico tentatively awarded a software contract to BioTrackTHC last month. The deal involves implementing a seed-to-sale tracking system for the territory's new medical marijuana program.

Government officials are "not going to respect the fact that (MJ Freeway and Agrisoft are) allegedly standing up for themselves, and they're effectively eliminating their marketability by being aggressive in one situation. It's a short-term view without regard for the long-term play," Hoban said.

"Governments want people that are good team players. They don't award contracts to people who are rabble rousers."

Nevertheless, Hoban expects to see more such "cutthroat" tactics in the months and years ahead, in various parts of the cannabis trade.

"Not only do I expect to see it, I'm seeing it. And it's not just limited to the U.S.," Hoban said. "I've literally seen people in this industry wrestling on the ground in physical altercations over business deals."

That means further extreme competition all over the country and internationally, Hoban predicted, including in newer and changing markets, from Ohio and Pennsylvania to California.

In other words, sharpen your knives.

John Schroyer can be reached at [email protected]

Omar Sacirbey can be reached at [email protected]