By Bart Schaneman, John Schroyer and Omar Sacirbey
Oregon vineyard owners sue to halt nearby marijuana cultivation, Montana nears approval of a medical cannabis regulatory framework, and the chair of Canada's legalization task force welcomes black-market growers.
Here's a closer look at some notable developments in the marijuana industry over the past week.
Truce … or war?
Outdoor cannabis cultivation is consuming prime land in wine regions like California's Sonoma County and Oregon's Willamette Valley.
Territorial conflicts are arising – like the
lawsuit filed in Oregon
by vineyard owners asking a judge to ban a neighbor from cultivating marijuana. They argue the smell could taint their grapes.
This begs the question: Can the two industries work in unison – or will they fight?
There are signs of the former. In August, California wine industry leaders plan to meet in Sonoma County with counterparts in the marijuana business. They will explore their similarities and opportunities for collaboration as the state rolls out its new adult-use cannabis market.
Donald Morse, director of the Oregon Cannabis Business Council, sees room for cohabitation. He cited Garden Vineyards in Hillsboro, Oregon, which grows cannabis alongside grapes.
"There were no reports of the resulting wine being adulterated in any way," he added.
Garden Vineyard's co-owner, Melinda Wilson, said the winery has sold its MJ to an extraction company and is currently examining other business options.
To Morse, a possible conflict could occur if MJ firms offer tasting experiences like those available to wine enthusiasts. A bill before the Oregon Legislature would allow public consumption at "temporary events." Morse believes it will pass.
Those MJ "tastings" could actually bring traffic to nearby vineyards.
"Rather than fighting it, (the vineyards) should be embracing it as an economic opportunity for them," he said. "It could bring tens of millions of dollars more to that small section of Oregon."
Clarity for Montana MMJ
Within a week or so, Montana's governor is expected to sign SB 333, which will establish the state's first regulatory system for medical marijuana companies.
The move will be a huge shift for MMJ businesses in Big Sky Country, given that dispensaries have been operating in a legal gray area for over a decade.
Those businesses have watched their industry explode in popularity – and then contract when lawmakers tried to regulate them out of business in 2011. They even faced extinction last year until the Montana Cannabis Industry Association (MTCIA) was able to get a pro-MMJ ballot measure passed by voters last November.
"Six months ago, we were shut down. The entire state was shut down. And in those six months, we've passed an initiative… and we've passed one of the most sophisticated regulatory bills in the country," said Kate Cholewa, who helped spearhead the SB 333 lobbying effort on behalf of the MTCIA.
Chris Lindsey, a legislative analyst with the Marijuana Policy Project, said the bill has significant changes for Montana MJ businesses, including:
Mandatory product testing.
A residency requirement that initially will allow only Montanans to own MMJ companies.
Increased protections for businesses and employees.
"It is a very, very encouraging sign that industry and lawmakers were able to come up with a bill and pass a bill that is largely workable," Lindsey said. "This is kind of historic in Montana, since lawmakers, when they've weighed in, have tried to find ways to undermine or completely repeal the law."
What's not clear is whether the new system will lead to market expansion or contraction, at least in the near term. Cholewa expects many longstanding operators to quit because they won't want to deal with the red tape. But Lindsey said it's too early to tell.
"If the state were to crank up the regulatory hurdles, we might see some contraction," Lindsey said, "but I'd bet we'd see some interest as well from those who aren't comfortable operating in an environment without a lot of regulatory oversight."
Black-market love
Anne McLellan – who chaired Canada's Task Force on Cannabis Legalization and Regulation – gave small marijuana business advocates a boost this week when she declared that black-market growers should be allowed to participate in the nation's recreational marijuana program when it goes online by July 2018.
The reason? The industry would benefit from their expertise and the diversity they would bring to the market, McLellan said.
If Canadian regulators agree, these cultivators – most are registered home growers – could have a major impact on the adult-use marketplace. They already have a major impact on Canada's MMJ landscape.
As of 2014, there were 37,884 licensed home growers with more than 2.97 million plants among them,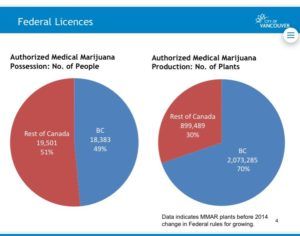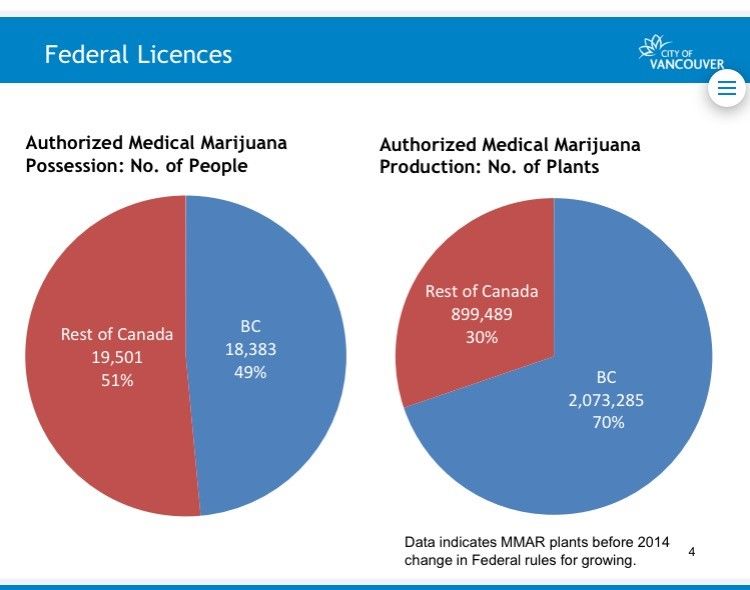 according to Health Data data (see chart).
More Canadian patients are growing now than in 2014, but even by those older numbers the impact is staggering if you reckon that one plant at a minimum yields at least a half-pound, or almost 1.49 million pounds. A good amount of that goes to the black market.
By comparison, in the final nine months of 2016, the country's licensed producers either grew or had in inventory a combined 70,468 pounds, or less than 5% of what is home-grown.
Many of those licensed home growers band together and form enterprises with several hundred plants.
"Cannabis entrepreneurs are a resourceful bunch," said Paul Pedersen, a cannabis consultant from Vancouver, British Columbia.
Bart Schaneman can be reached at barts@mjbizdaily.com
John Schroyer can be reached at johns@mjbizdaily.com
Omar Sacirbey can be reached at omars@mjbizdaily.com