Cannabis firms have raised more than $13.7 billion in 2018 as U.S.-based operators work to grow their domestic footprints and Canadian cannabis companies consider international opportunities.
The data below, provided by Viridian Capital Advisors, is for the two-week period ended Dec. 14.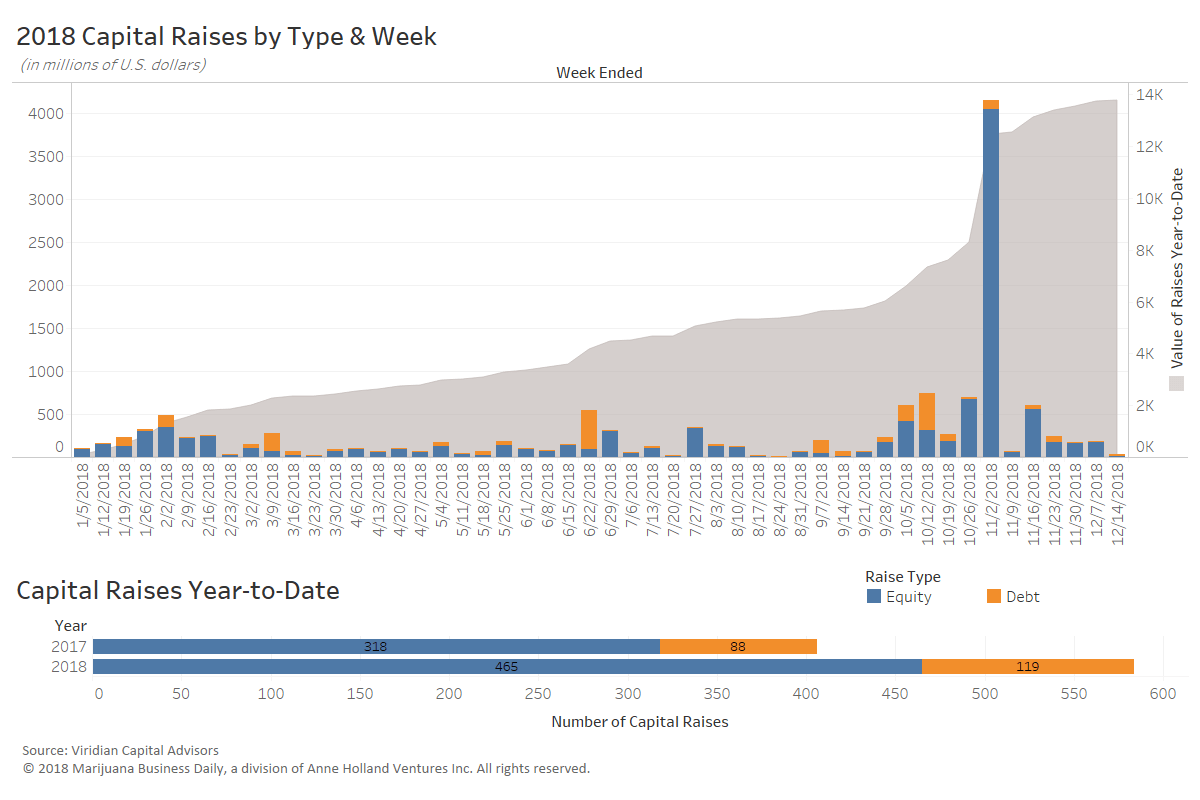 Key takeaways among capital raises:
Multistate marijuana firm MedMen Enterprises (CSE: MMEN) closed its latest funding round of 75 million Canadian dollars ($56.4 million). The bought deal financing was scaled back from its initial target of CA$120 million ($89.2 million) after the firm's stock tumbled. Read more about that decision here. The company plans to use the proceeds from this raise to continue to expand cultivation, production and trailer operations. The deal underscores the "land grab" under way among U.S. marijuana operators as they work to scale up and grow market share, said Harrison Phillips, vice president at Viridian.
Massachusetts-based Ascend Wellness closed a $40 million funding round – capital the firm plans to use to build out its multistate footprint. Poseidon Asset Management, Salveo Capital, JM10 Partners and Shire Capital Advisors led the funding round.
California-based OG DNA Genetics closed a $24 million equity funding round, bringing the total raised by the firm to $35 million. The company plans to use the proceeds to expand manufacturing and distribution of its DNA-branded indoor-grown flower, pre-rolled joints, vaporizer cartridges and concentrates.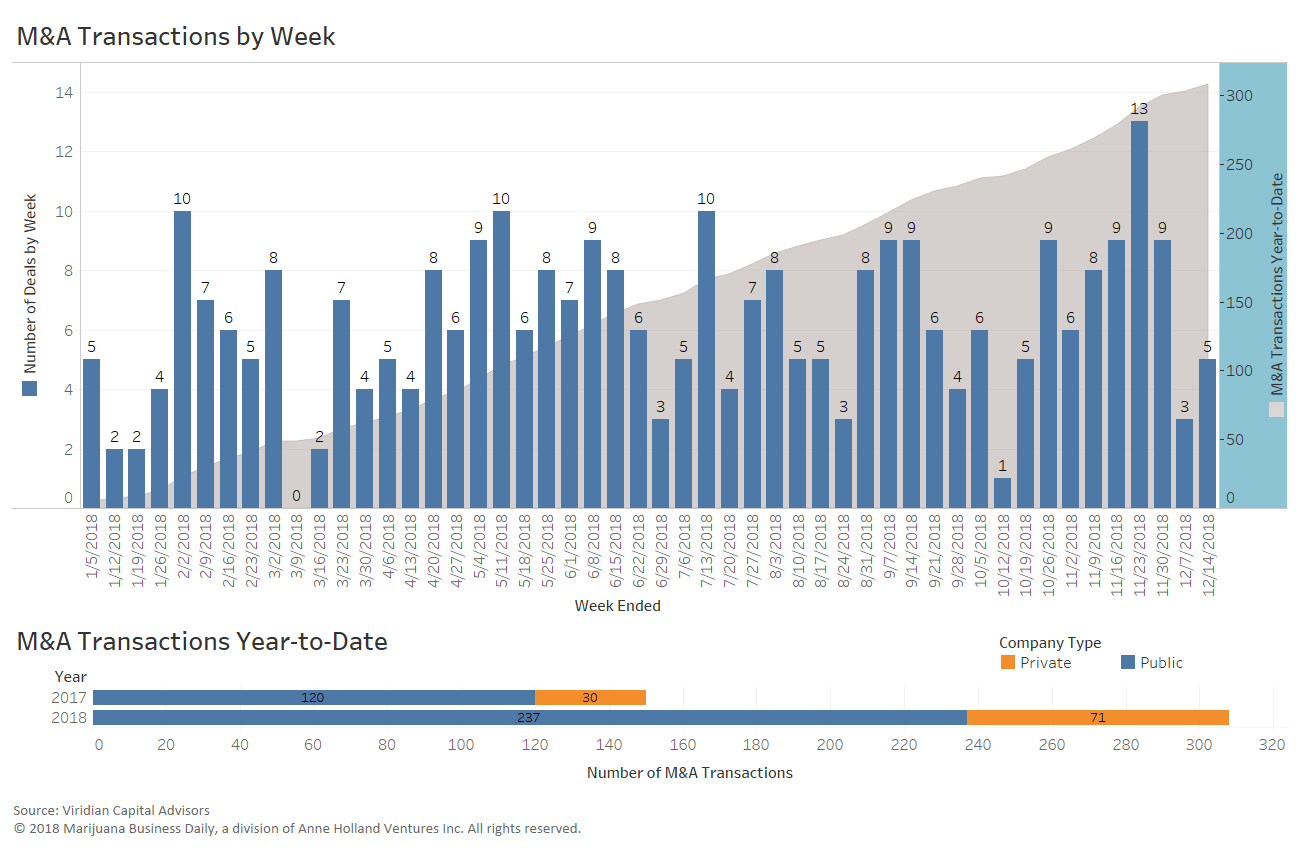 Merger & acquisition highlights:
Canopy Growth acquired Germany-based Storz & Bickel in a deal valued at $160 million with the aim of bolstering its portfolio of intellectual property. The German firm is the creator of the well-known, medically approved Volcano vaporizers. The all-cash deal is intended to position Canopy to capitalize on the next wave of federally regulated products in Canada and around the world. Canopy Growth's shares trade on the New York Stock Exchange under the ticker symbol CGC and on the Toronto Stock Exchange as WEED.
Edibles manufacturer Plus Products acquired infused baked goods brand Good Co-Op in a deal valued at CA$2 million. The deal underscores the consolidation underway among branded infused product companies – a move that "drives operational efficiencies while also expanding brand portfolios," Phillips said.
Matt Lamers contributed to this report.
This story is part of a weekly series from Marijuana Business Daily and Viridian Capital Advisors that provides the latest data on cannabis investment activity and M&A, along with key takeaways, analysis and trends based on recent market moves.
Viridian Capital Advisors is a financial and strategic advisory firm that provides investment banking, M&A, corporate development and investor relations services to emerging growth companies and qualified investors in the cannabis sector.