This weekly series from Marijuana Business Daily and Viridian Capital Advisors provides the latest data on cannabis investment activity and M&A, along with key takeaways, analysis and trends based on recent market moves.
The data below, provided by Viridian Capital Advisors, is through the week ended Oct. 12.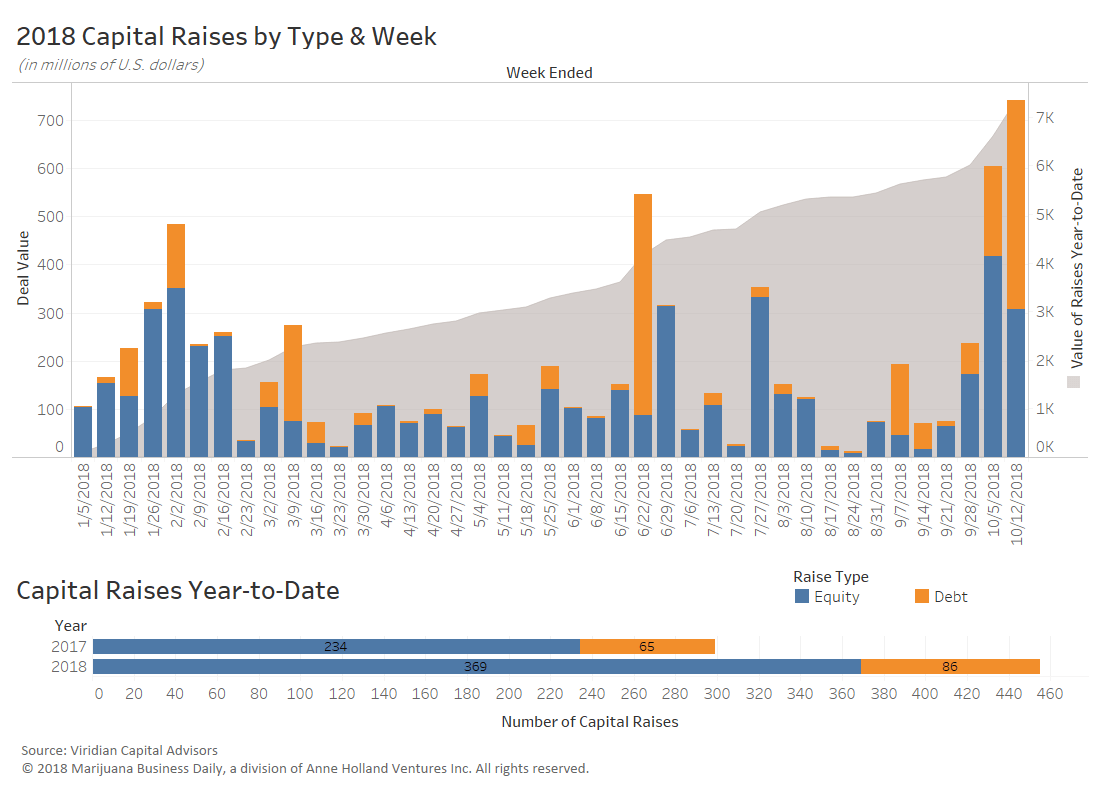 Capital raises key takeaways: 
Tilray (Nasdaq: TLRY), Canada's largest cannabis producer by market capitalization, closed a $450 million convertible debt offering. The British Columbia-based firm said it plans to use the proceeds for working capital and future acquisitions. The offering is "one of the largest we've seen in the cannabis space so far," said Harrison Phillips, vice president at New York-based Viridian. "This could be in prep for the likely shakeout that's going to happen in the Canadian market now that the recreational program is launched. Companies are going to have to prove their valuations now, rather than just hype it up on the future potential growth."
Innovative Industrial Properties (NYSE: IIPR), a San Diego real estate investment trust (REIT), closed a $119.6 million public offering. The REIT plans to use the proceeds to continue to build out its portfolio of medical marijuana-related properties. The deal signals "continued investor interest in the real estate side of the cannabis space," Phillips said.
Loveland, Colorado-based Mile High Labs – a manufacturer of CBD crude oil, distillate and isolate – closed a $35 million Series A funding round as it works to expand its operations. The company claimed the raise was the highest series A funding round for a cannabis firm. It comes as companies across the industry draw in record amounts of capital. "This is a pretty significant raise that really shows that investors have a bolstered interest in CBD and hemp," Phillips said. He added that the spike in interest in the sector is also likely tied to recent news that large consumer brands including Coca-Cola and Estee Lauder have expressed interest in using CBD in their products.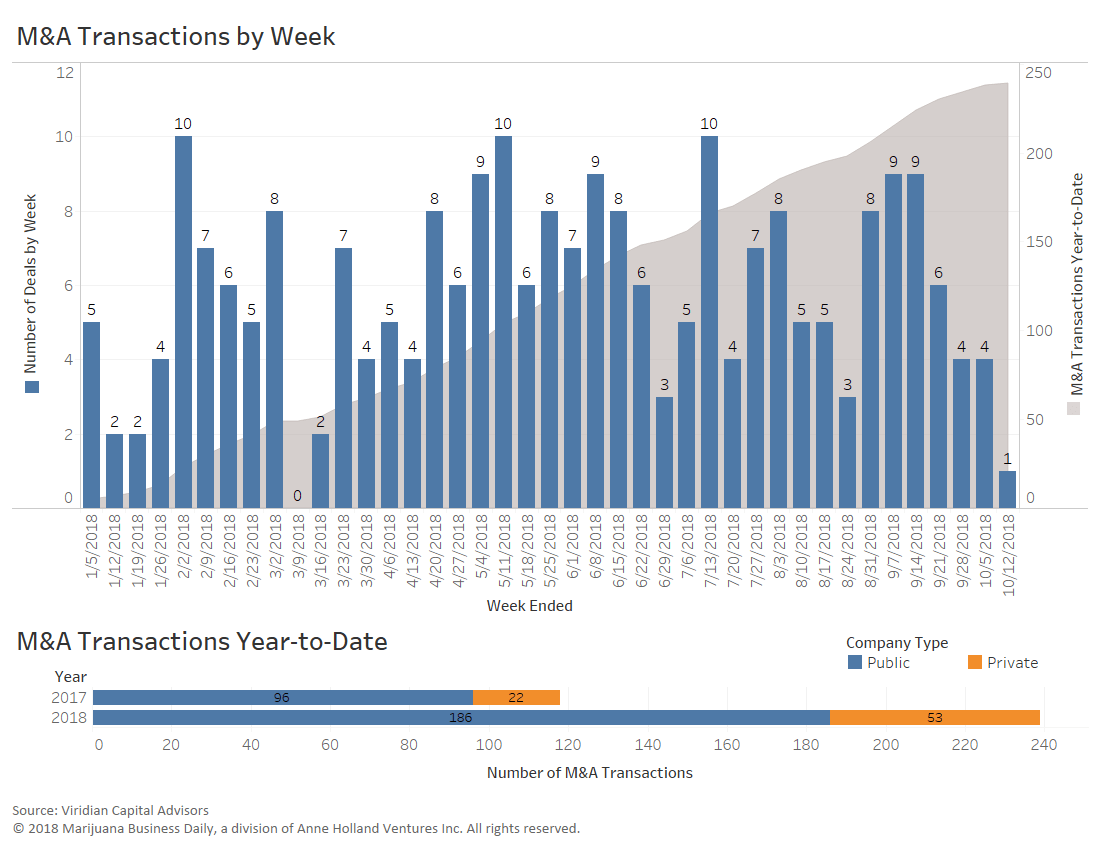 Merger & acquisition key takeaways: 
Tilray announced it acquired its Chilean import and distribution partner, Alef Biotechnology. Valued at 5 million Canadian dollars ($3.8 million), the mostly stock deal was comprised of CA$250,000 in cash and CA$4.75 million in Tilray shares. The purchase is indicative of how some of Canada's largest cannabis firms "are using their stock as currency" in order to gain market share, Phillips said.
Last week marked the first since March in which only one M&A deal was inked in the cannabis industry in 2018, according to Viridian's data. Through the end of last week, M&A activity this year is double the number of deals logged in 2017 with 239 transactions closed.
Viridian Capital Advisors is a financial and strategic advisory firm that provides investment banking, M&A, corporate development and investor relations services to emerging growth companies and qualified investors in the cannabis sector.