This weekly series from Marijuana Business Daily and Viridian Capital Advisors provides the latest data on cannabis investment activity and M&A, along with key takeaways, analysis and trends based on recent market moves.
The data below, provided by Viridian Capital Advisors, is through the week ended Sept. 14, 2018.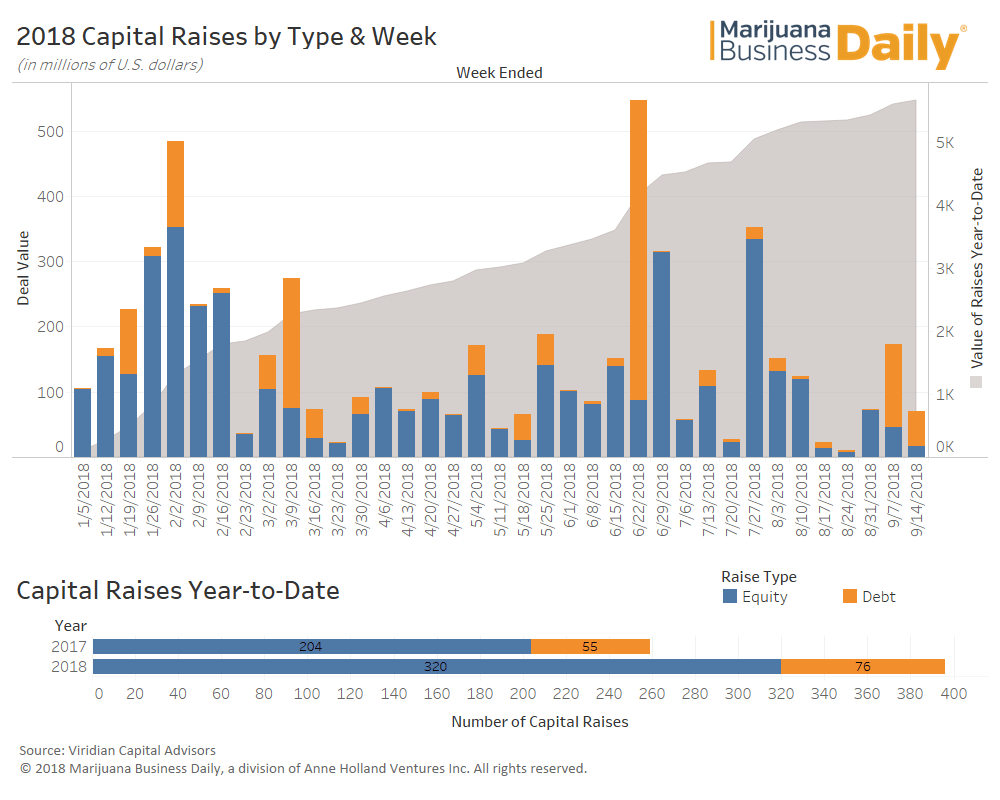 Capital raises key takeaways:
Multistate cannabis retailer Have a Heart inked a $25 million raise to fund its expansion plans. The deal underscores continued high interest from investors in operators that have growing portfolios in multiple states, said Scott Greiper, president of Viridian Capital Advisors. "These multistate operators provide investors diversification in their holdings and allow operators greater potential to scale through their brands," he said. "This is critical because in the U.S. there is no interstate commerce allowed with cannabis, but if you're an operator that has licenses in (a number of states), you can position your scale up through branded licensing agreements."
Khiron Life Sciences raised 12.9 million Canadian dollars ($9.9 million) to expand its Colombian operations, a signal that investors are interested in firms well positioned for low-cost cannabis production. "It is widely thought that Columbia, Uruguay and other countries in that region – because of the optimal growing conditions – will become the lowest-cost producers of cannabis in the world," Greiper said.
Hyasynth Biologicals raised CA$5 million from Canadian licensed cannabis producer Organigram to scale up its patent-pending process for cannabinoid production from yeast. The deal is another strong indicator of interest in low-cost CBD preparations. "It's really become a race with science rather than how many plants you get into the ground," Greiper said.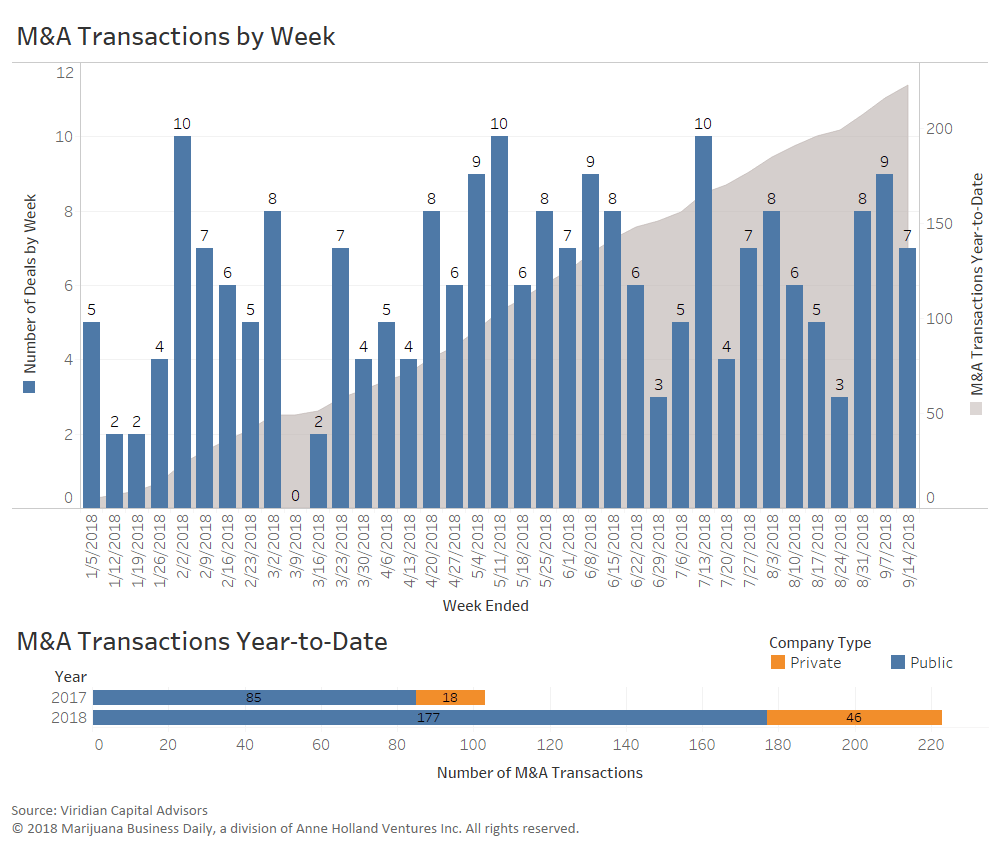 M&A key takeaways:
Aurora Cannabis acquired two European hemp companies, Agropro UAB and Borela UAB, the latest in the trend involving Canadian licensed producers expanding into international markets. "This is a major trend that's being enabled by the ridiculous amount of capital these (Canadian producers) have been able to raise," Greiper said. "They're taking their healthy cash balance sheets and stock and entering (international markets) to establish early first-mover advantages. No one can outspend these guys right now."
Investment group Captor Capital acquired California marijuana companies Mellow Extracts and Chai Cannabis – a signal of increased investment activity into MJ brands and infused products. "Cannabis is really starting to segment itself as a consumer products market, but brands in this industry remain so fragmented," Greiper said. "There is no major brand – no Coca-Cola or Marlboro or Grey Goose at this point, which is a huge opportunity." Watch for more interest in acquiring and building brands in this space.
Canadian medical cannabis clinic company National Access Cannabis Corp. acquired Canadian adult-use retailer The Green Company. The deal highlights a shift in strategy for medical cannabis clinic operators that are working to transition into Canada's upcoming adult-use market by expanding into the licensed retail segment.
Viridian Capital Advisors is a financial and strategic advisory firm that provides investment banking, M&A, corporate development and investor relations services to emerging growth companies and qualified investors in the cannabis sector.