This weekly series from Marijuana Business Daily and Viridian Capital Advisors provides the latest data on cannabis investment activity and M&A, along with key takeaways, analysis and trends based on recent market moves.
The data below, provided by Viridian Capital Advisors, is through the week ended Oct. 5.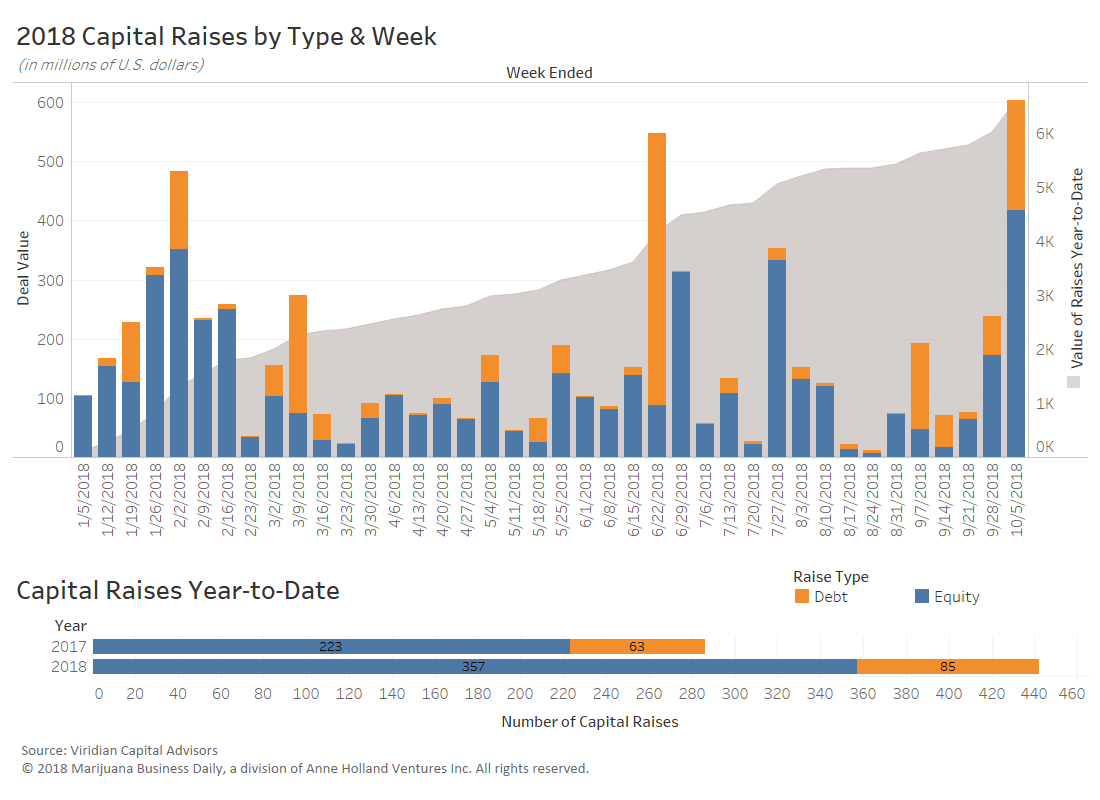 Capital raises key takeaways: 
GW Pharmaceuticals, the British manufacturer of the first U.S.-approved drug made from cannabis, raised $345 million in a public offering of its American depository shares. The raise comes on the heels of the U.S. Drug Enforcement Administration's move to remove some cannabidiol products from the most restrictive class of controlled substances. That change will allow Epidiolex – a CBD drug manufactured by GW Pharmaceuticals to treat rare types of epilepsy – to be distributed through traditional pharmaceutical channels via doctors' prescriptions rather than medical marijuana dispensaries. "We expect to see a lot more research on the nonpsychoactive parts of the cannabis plant, which will drive a lot of fundraising going forward," said Harrison Phillips, vice president of Viridian Capital Advisors.
Two large multistate operators closed major raises "as investor demand shifts from Canada to developing opportunities in the U.S.," Phillips said. Chicago-based Cresco Labs closed a $100 million Series D funding round, while California-based MedMen inked a $77.7 million term loan facility. "We're seeing a lot of Canadian investors looking down into the U.S., which is why these large multistate operators are able to raise such large tranches of capital that they're using to build out existing infrastructure and branch out into new states," Phillips said.
Infused cannabis product maker Dixie Brands closed a $25 million funding round as it works to go public in Canada before year's end. The deal "reiterates continued market interest in cannabis-branded products and (consumer packaged goods) opportunities," Phillips said. The Series C capital raise was originally offered as a non-brokered private placement for up to $20 million, but heavy investor demand led Dixie to boost the offering to $25 million, the Denver company announced.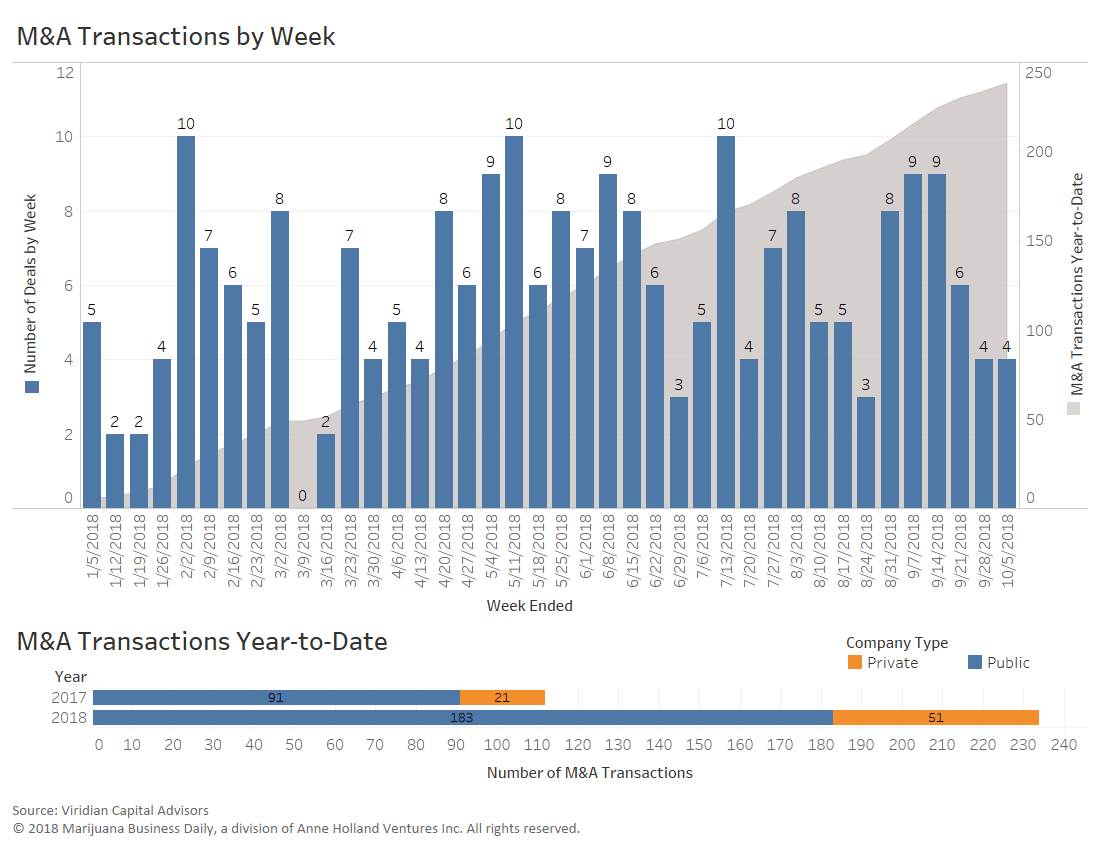 M&A key takeaways: 
Toronto-based Lineage Grow is acquiring Oregon-based cannabis retailer Terpene Station. The move follows Lineage's August announcement that it acquired all outstanding securities of Oakland-based FLRish – which manages California-based Harborside's retail and dispensary operations – as it works through a reverse takeover to take Harborside public in Canada.
Canadian cannabis grower The Green Organic Dutchman completed its $15.5 million acquisition of a Polish hemp company – HemPoland. The deal underscores the continued efforts by cannabis firms "to diversify into hemp as CBD regulatory reforms accelerate globally," Phillips said.
Two Canadian licensed producers – Biome Grow and MediPharm Labs – completed reverse takeovers as they work to tap public market capital. "Companies continue to seek valuation bumps through public listings," Phillips said. Reverse takeovers, he added, remain the top path to going public in Canada, with 27 having been logged so far in 2018 compared with 14 in 2017. But initial public offerings by cannabis firms are climbing as well with nine launched this year, compared with four in 2017, according to Viridian.
Viridian Capital Advisors is a financial and strategic advisory firm that provides investment banking, M&A, corporate development and investor relations services to emerging growth companies and qualified investors in the cannabis sector.