This weekly series from Marijuana Business Daily and Viridian Capital Advisors provides the latest data on cannabis investment activity and M&A, along with key takeaways, analysis and trends based on recent market moves.
The data below, provided by Viridian Capital Advisors, is through the week ended Sept. 28.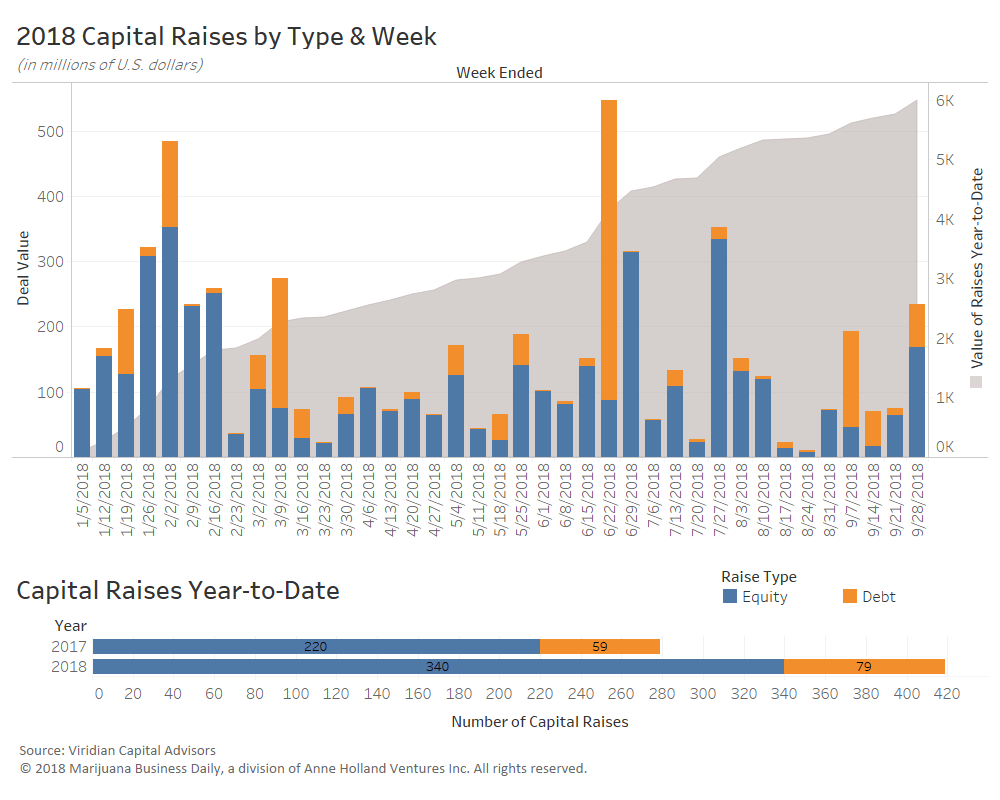 Capital raises key takeaways: 
Ohio-based cannabis retailer Green Growth Brands raised 85 million Canadian dollars ($66.3 million) in a private placement – capital the firm will use to go public in Canada and expand internationally. Investors are showing increased interest in dispensary-only operations, as opposed to vertically integrated ventures that include costly cultivation business lines, according to Scott Greiper, president of Viridian Capital Partners. "The business of growing cannabis versus selling it in a storefront could not be more disparate in terms of the capital needed for each and the financial returns," Greiper said. "Investors are looking for opportunities in just retail, and there are now groups out there raising significant capital to develop a retail footprint in the U.S."
Toronto-based Trait Biosciences raised CA$12.3 million ($9.6 million) as it works to expand its research efforts and lab space. The firm, which serves as a strategic adviser to Viridian, genetically modifies cannabis and hemp plants to increase yields and boost the level of CBD at earlier stages in the plants' development. The firm also has a proprietary process to create water-soluble cannabinoids. "These are two potential game-changers that can change the cost dynamics and show an increase in the pace with which companies are bringing traditional ag-tech innovations into the cannabis world," Greiper said.
Elixinol Global (Australian Securities Exchange: EXL) raised $40 million Australian dollars ($28.8 million) as it works to boost its international growth. The deal underscores the continued "shift in investor interest and the regulatory environment that supports the explosion of CBD-branded products with impending passage of the Farm Bill," Greiper said.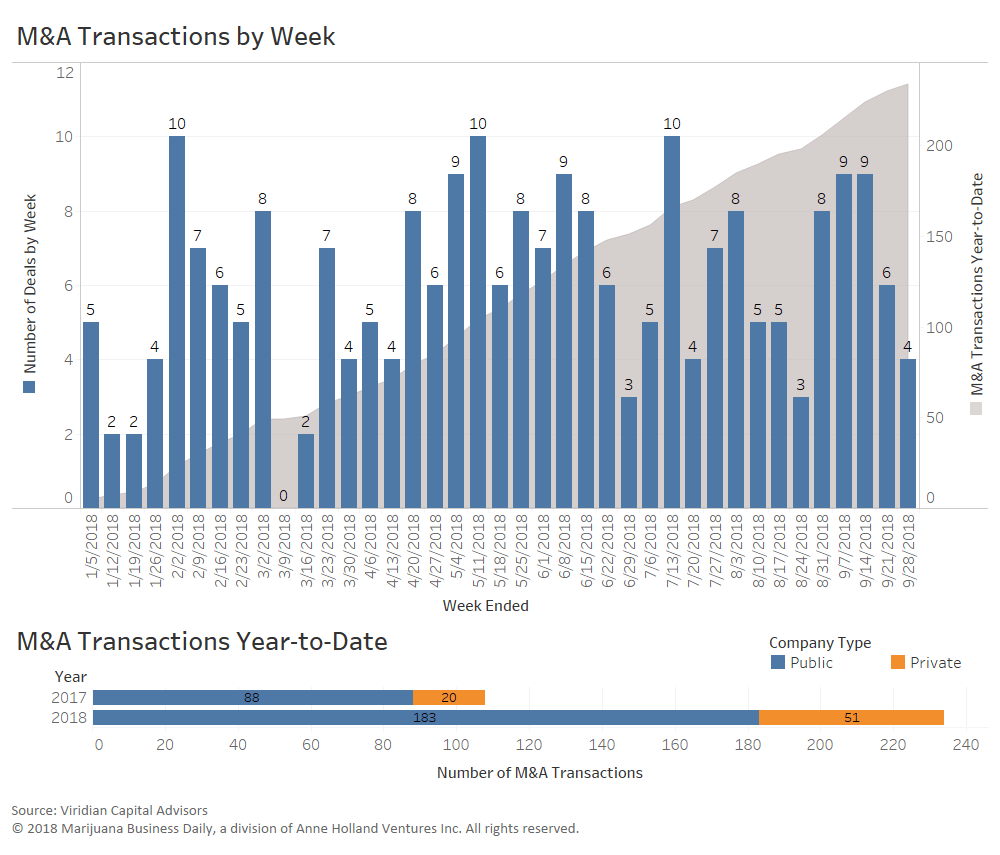 M&A key takeaways: 
Canadian cannabis producer Aphria (Toronto Stock Exchange: APH) completed a previously announced deal to acquire Scythian Biosciences' assets in Latin America and the Caribbean. Low-cost cannabis production operations are a top target for acquisition – and many are found in Latin America. "This is a region of the world that is demographically situated to be an extremely fertile environment for growing and well positioned to be a low-cost world exporter," Greiper said.
Nevada-based Flower One Holdings completed its previously announced reverse takeover (RTO) of CNX Holdings in an effort to go public in Canada. Because of the federally illegal status of cannabis in the United States, "Canada continues to be a very attractive destination for U.S. companies to go public," Greiper said. RTOs have become the go-to tool for U.S. companies eager to access public capital via Canadian stock exchanges.
Marapharm Ventures (OTC Markets Group: MRPHF) acquired Canadian licensed producer Spectrum Medicinal in a deal that underscores the continued consolidation occurring across that country's cannabis market, Greiper said. The all-stock deal is also another "example of using valued stock as currency" to provide liquidity to private firms.
Viridian Capital Advisors is a financial and strategic advisory firm that provides investment banking, M&A, corporate development and investor relations services to emerging growth companies and qualified investors in the cannabis sector.