Only three weeks into January, observers who are closely following the money flowing into the cannabis space likely have noticed a big dip in the amount of capital raised so far this year compared to the same period in 2018.

Through Jan. 18, 2019, $208 million has been raised by North American cannabis firms, according to data tracked by Viridian Capital Advisors.

That's down nearly 60% from the $499.4 million raised during the same time frame in 2018.

Advertisement

What's causing the capital infusion lull in what's been touted as the fastest growing industry on the globe?

A look back at the deals inked in early 2018 paints a clearer view.

"The main factor in the year-over-year decline thus far has been a reduction in investment activity to Canadian (licensed producers)," noted Harrison Phillips, vice president at Viridian.

"In early 2018, licensed producers at all stages – late-stage applicants, new licensees and more-established licensees – were more readily raising capital to prepare for the then-coming adult-use market."

Throughout the new year, Viridian expects cannabis firms to exceed the record $13.8 billion raised by firms in 2018, as more U.S. companies go public and companies raise capital to continue to scale.

The data below, provided by Viridian, offers a recap and highlights of deals inked in the industry through the week ended Jan. 18.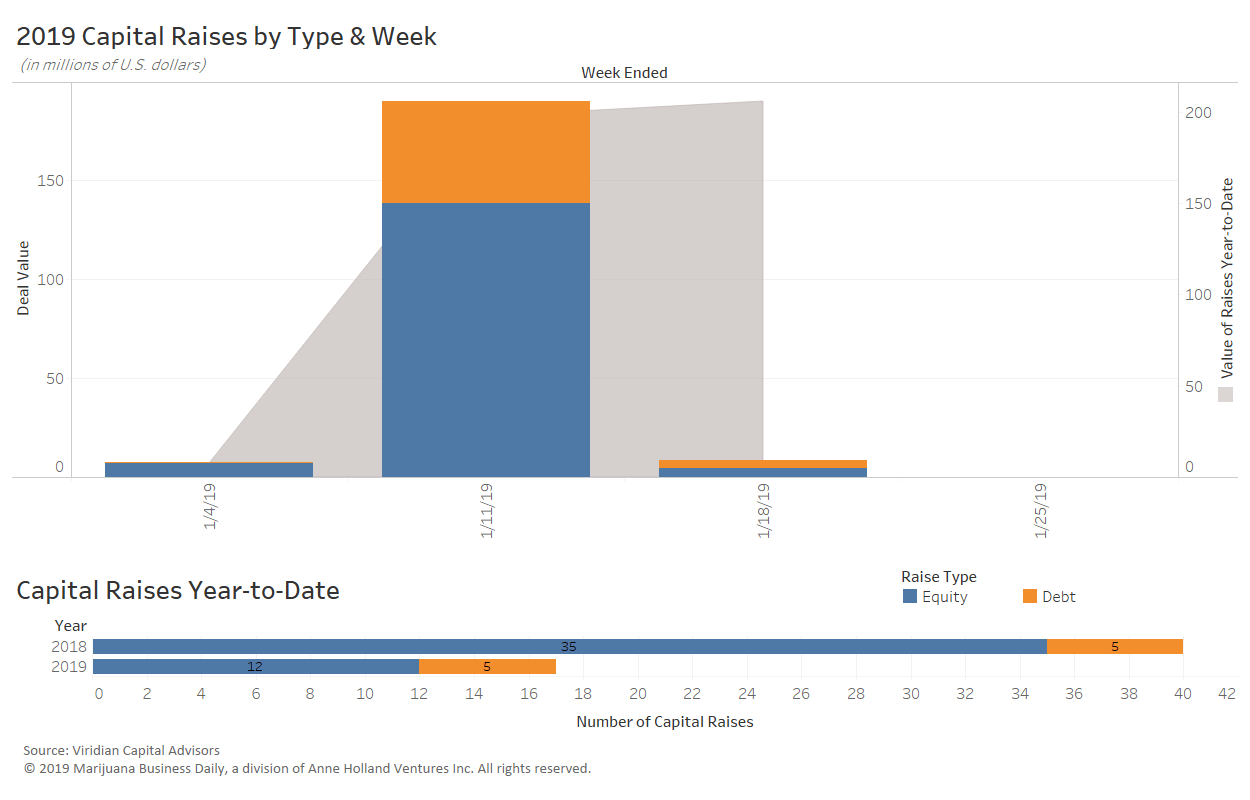 Capital raises worth noting:
Cardiol Therapeutics closed on 1.7 million Canadian dollars ($1.3 million) through an exercise of underwriters' over-allotment option of the firm's recently completed initial public offering (IPO). That brings the total proceeds for the IPO to roughly CA$16.9 million. Cardiol, based in Ontario, is focused on cannabinoid technology, which has become a "significant area of interest due to apparent evidence of cannabinoids potential efficacy" for a variety of conditions, Phillips said. The company's research targets heart failure and cancer.
Compass Cannabis inked a CA$6.75 million raise, which the British Columbia-based company plans to use to expand its Starbuds-branded retail locations across Canada. The company is also planning for the opening of its first clinic in Sydney, Australia – underscoring the global momentum under way in cannabis as "Canadian firms continue to branch out internationally to capture demand," Phillips said.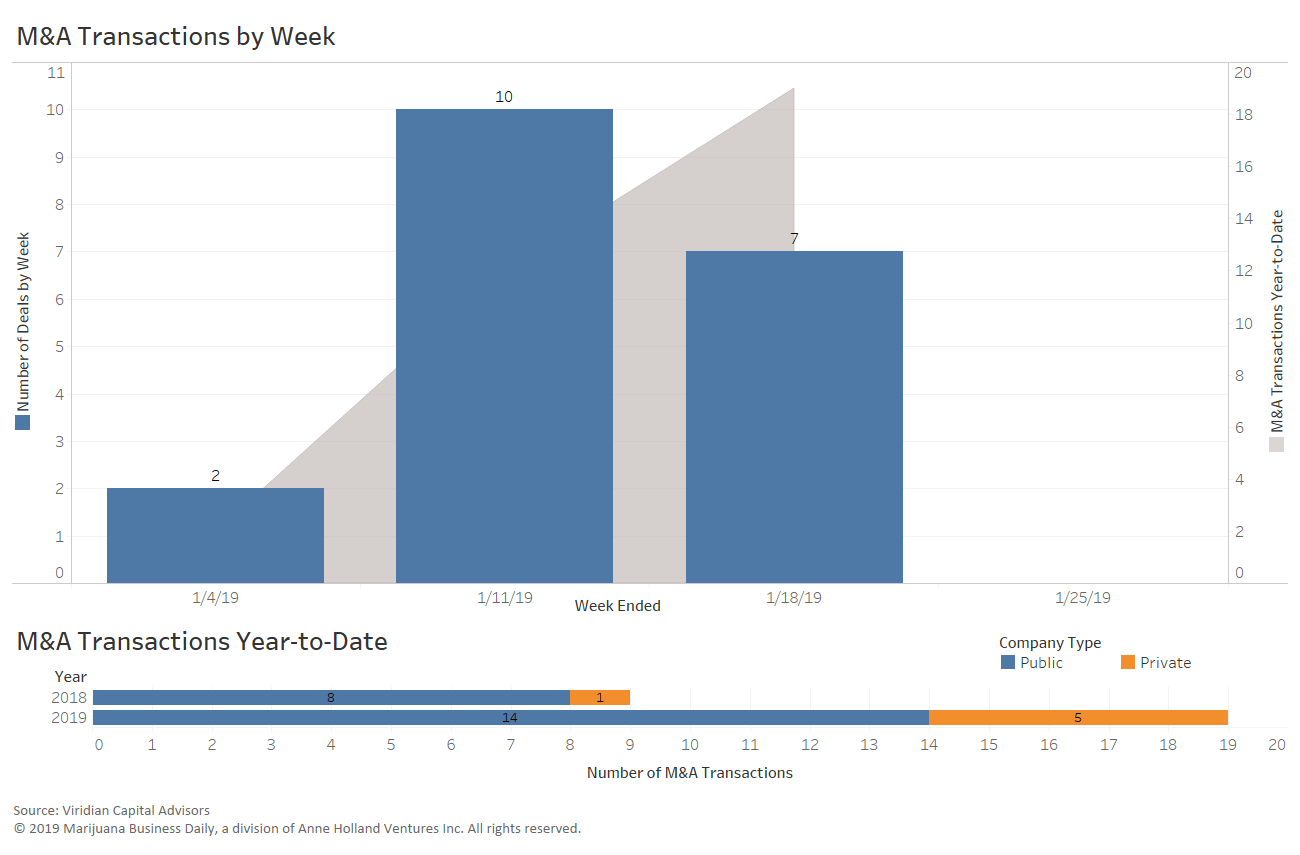 M&A highlights:
TILT Holdings completed two multimillion-dollar acquisitions. The Massachusetts company – which specializes in cannabis technology, cultivation and support solutions – agreed to acquire Jupiter Research, a Phoenix-based vaporization technology business, for $210 million. TILT paid $70 million in cash and the rest in stock. The company also completed a $50 million acquisition of Nevada-based Blackbird Holdings – a deal that adds distribution, data and a delivery platform to TILT's portfolio.
Canada's C21 Investments closed its $50 million acquisition of Silver State Relief, a leading operator in Nevada. "Interest in Nevada licensees remains strong due to developed adult-use market and relatively low license count," Phillips said. British Columbia-based C21 trades on the Canadian Securities Exchange under the ticker symbol CXXI.
This weekly series from Marijuana Business Daily and Viridian Capital Advisors provides the latest data on cannabis investment activity and M&A, along with key takeaways, analysis and trends based on recent market moves.
Viridian Capital Advisors is a financial and strategic advisory firm that provides investment banking, M&A, corporate development and investor relations services to emerging growth companies and qualified investors in the cannabis sector.