This weekly series from Marijuana Business Daily and Viridian Capital Advisors provides the latest data on cannabis investment activity and M&A, along with key takeaways, analysis and trends based on recent market moves.
The data below, provided by Viridian Capital Advisors, is through the week ended Sept. 21.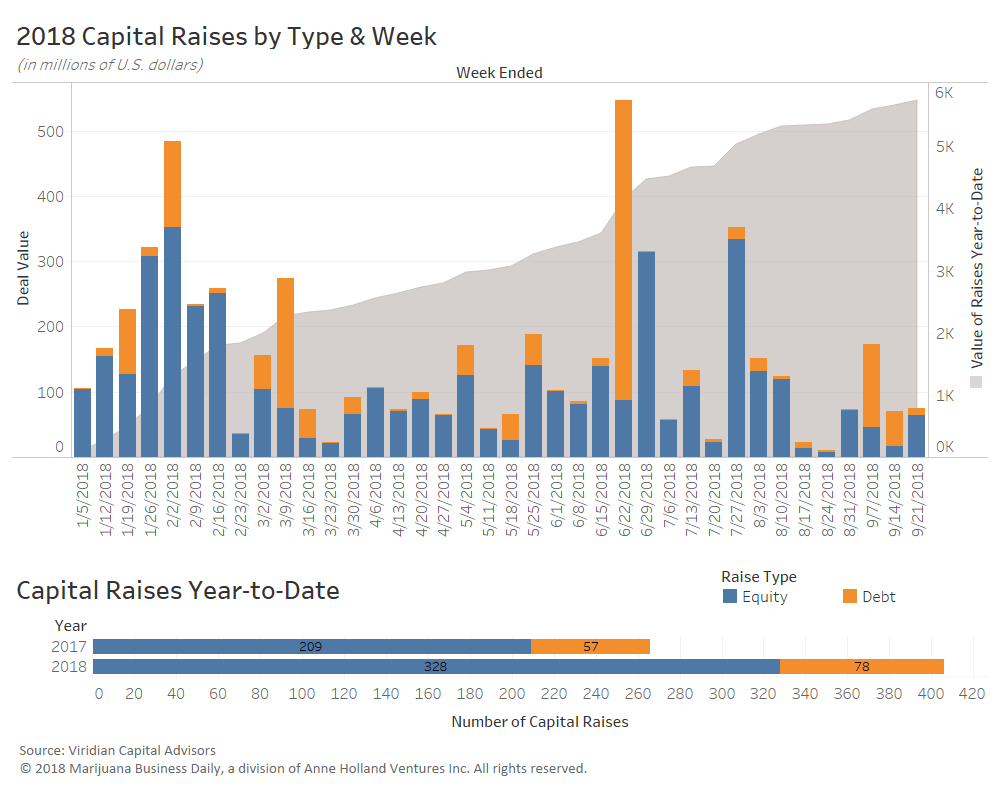 Capital raises key takeaways: 
Newport Beach-based Pelorus Equity Group announced it closed a $25 million funding round, which it has deployed into 13 cannabis real estate projects across California. "Real estate continues to attract early money into newly legal states, and we're seeing more funds like Pelorus make bets across various legal states," said Scott Greiper, president at Viridian Capital Advisors.
Australian medical marijuana company Althea Group announced it raised $20 million Australian dollars ($14.6 million) in its initial public offering. The firm began trading last week on the Australian Stock Exchange under the ticker symbol AGH and is working to build a facility in Victoria state to grow about three tons of dried medical cannabis flower per year. "This is an increasingly global industry and a trend that is not going to stop," Greiper said. "As investors in these non-North American markets get more familiar with the investment opportunities and more companies go public, there will be more and more choices as to where to invest in cannabis."
Los Angeles-based marijuana extracts firm Field is poised to expand into new markets after closing a $6 million funding round. The deal is a more proof that cannabis brands have "become a favorite investment  for this industry," Greiper said.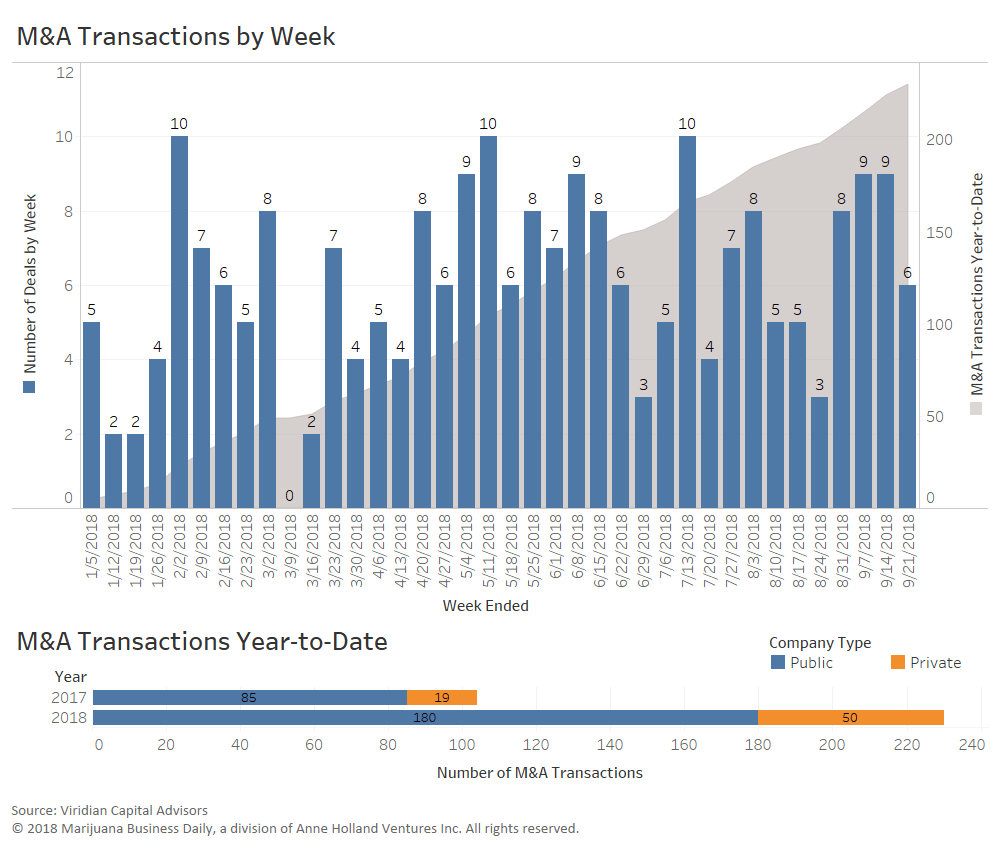 M&A key takeaways: 
Scythian Biosciences (CNSX: SCYB) announced it acquired MMJ International Investments, which owns medical cannabis licenses in Argentina and can import cannabis. The deal highlights "continued interest in South America as a region for low-cost cannabis production and sourcing," Greiper said.
Canopy Rivers – the venture capital arm of Canopy Growth (NYSE: CGC) – completed a reverse takeover (RTO) of a company formerly known as Aim2 Ventures as part of its plan to go public. The company began trading on the Toronto Stock Exchange late last week.
Multistate cannabis firm Acreage Holdings announced that it plans to go public in Canada via a reverse takeover, becoming the latest U.S. marijuana business to get its shares listed north of the border through an RTO. "This is the underlying theme for multistate operators that want to gain access to capital and move brands across state lines in the U.S.," Greiper said. "You have to have capital to do that."
Viridian Capital Advisors is a financial and strategic advisory firm that provides investment banking, M&A, corporate development and investor relations services to emerging growth companies and qualified investors in the cannabis sector.