In the wake of yet another surprising electoral outcome – in which Republicans are now favored to retain control of the U.S. Senate – national marijuana reform organizations are weighing their prospects for the next Congress.
The consensus is there's a solid likelihood for progress – including banking access for cannabis companies – but not nearly as much had Democrats taken over the upper chamber.
"I thought the Senate would switch, so I'm sort of recalibrating my expectations of what we think we can get," said Michael Correia, head lobbyist for the National Cannabis Industry Association.
Previously, Correia and others had been hoping that the Democratic-backed MORE Act would be able to pass Congress, which would result in federal legalization and an end to many of the woes that have hobbled the U.S. marijuana industry for years.
No longer.
The biggest obstacle will be getting bills through the GOP-controlled Senate, several Washington DC-based lobbyists and activists agreed.
That's particularly true now that Republican Cory Gardner of Colorado is on his way out, having lost his bid for reelection to former Gov. John Hickenlooper.
"A Republican Senate without Cory Gardner is an industry without a Republican champion," said Saphira Galoob, a lobbyist who represents the National Cannabis Roundtable and other marijuana industry clients.
"We've never had a Republican who was as overtly and enthusiastically fighting for us."
Galoob and Correia agreed that if Republican Sen. Mitch McConnell remains in charge as the majority leader, the possibilities of federal legalization are slim, mainly because cannabis reform has simply never been a priority for the Kentucky senator.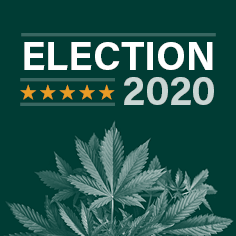 "As long as Mitch (McConnell) is in power, cannabis reform is going to be a heavier lift," Correia said.
SAFE Banking still an option
There is one major proposal that still has life, however: the SAFE Banking Act, which would grant banking access to all state-legal marijuana businesses and, thus, have a potentially transformative effect on the industry as a whole.
That's because McConnell on Wednesday changed his position on a new coronavirus relief package, saying he believes Congress needs to approve a relief bill before the end of the year – contrary to a position he took before the election.
House Democrats already had included the SAFE Banking Act in their own COVID-19 relief package in September, meaning it could get included in a new package – depending on how negotiations between Senate Republicans and House Democrats play out.
"The SAFE Banking Act certainly has a good chance of becoming law, perhaps even in the lame-duck session," said Steve Fox, a strategic adviser to the Cannabis Trade Federation.
"It had strong bipartisan support in the House. There really isn't passionate opposition to it in the Senate. It just really wasn't a priority."
Correia said a deal between the two parties in Congress is exactly what he's hoping for, which could get SAFE Banking through to the president's desk.
"I think everything is lined up to try to make that happen and have that outcome," Correia said.
Galoob also noted that if former Vice President Joe Biden wins the White House, he could help the industry with executive orders such as reinstating the Cole Memo and other Department of Justice memos that were longtime guiding principles for marijuana companies.
Those memos were all rescinded by former Attorney General Jeff Sessions in early 2018.
"If Biden is at the helm, we've likely got more options for executive orders and administrative actions," Galoob said.
Federal legalization looking like a long shot
Without a one-party federal government, however, it remains anyone's guess as to when the endgame of federal marijuana legalization could become a reality, simply because partisan bickering has too often forestalled progress.
Fox said he's stubbornly hopeful, in part, because of all the gains made on Election Day at the state level, with Arizona, Mississippi, Montana, New Jersey and South Dakota voting overwhelmingly to legalize either medical or recreational marijuana – or, in the case of South Dakota, both.
Those wins mean a total of 38 states have legalized MMJ and 15 have legalized adult-use cannabis. (See map above.) Moreover, one in three residents in the U.S. now live in a state that permits recreational marijuana. And roughly 70% live in a state with medical marijuana.
That's a political reality that Congress can choose to ignore only for so long, Fox said.
"It's certainly not as good (a situation) as if the Democrats had taken control of the Senate, but at the same time, we're hoping even the Republicans who will be in control paid attention to what was going on Tuesday night on the cannabis front. Pretty impressive showings in some very red states," Fox said.
Federal legalization, he said, "just needs to happen, and more and more states are going to be getting on board, so the pressure will continue to grow."
In other words, he's not ready to rule out the possibility of convincing enough senators that enough states have spoken and it's time to repeal federal prohibition.
"I think anything's possible, and it could be a matter of some Republicans in the Senate finally just acknowledging this is real," Fox said.
John Schroyer can be reached at johns@mjbizdaily.com