Oregon health inspectors have made 58 surprise visits to medical marijuana dispensaries since late May, forcing two to shut down for serious violations.
One of the dispensaries that had to close – Kush MMD in Eugene – was allowed to reopen after correcting its problems. The other, Compassionate Caregivers in Portland, remains shuttered.
Oregon has licensed 158 MMJ dispensaries since March under new regulations passed last year by the state Legislature. All dispensaries must conform to certain standards when it comes to everything from security and recordkeeping to product labeling and lab testing of marijuana.
Three full-time health officials began the inspections on May 22.
Dispensaries where inspectors find problems can hand in a "plan of correction" to the health department within 10 days of the inspection. But if they don't, they can be fined up to $500 a day or even have their operating license revoked.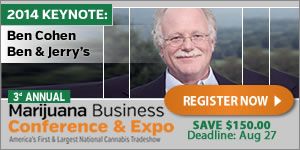 The most common issues at dispensaries, health inspectors said, involve inventory tracking, testing and labeling.
"The problems we are seeing are not marijuana problems," a state official told the Statesman Journal in Salem. "They are the problems we would expect to see from people who are new to running a business and don't yet understand the basics of how to manage inventory and follow the rules."