This is a note from our sponsors.
Big news incoming! Barney's Farm Seed Company – your best source for top-quality cannabis seeds – has launched a new US website: www.barneysfarm.us. Getting hold of the best cannabis genetics has suddenly got a whole lot easier and more convenient for our USA customers.
US Warehouse & Nationwide Shipping
We understand how important fast and reliable delivery is. That's why all seeds are shipped directly from our USA warehouse to all states! Get quick delivery and great service as you explore our extensive collection of premium cannabis seeds.
A Long and Trusted Heritage of Top-Quality Genetics
Barney's Farm was founded in the 1980s by Derry and began as a small venture in the Netherlands – a passion for cannabis genetics and a commitment to innovation being his driving motivation.
Barney's Farm has grown over the years due to an exceptional reputation for its premium cannabis strains – winning numerous Cannabis Cups and many awards.
Barney's Farm has become a household name among cannabis aficionados for its seeds along with its Amsterdam coffeeshops attracting visitors from around the world.
The secret to Barney's Farm's rise to success lies in its commitment to quality, innovation and the pursuit of the greatest cannabis genetics.
From traveling the globe and collaborating with experienced breeders, the team at Barney's Farm has created a diverse and unparalleled collection of cup winning strains, each with its own unique characteristics, flavors and effects.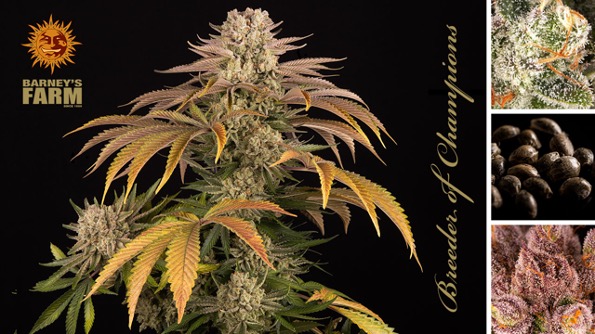 Expect the Best and a World of Possibilities from Barney's Farm
As a customer of Barney's Farm's new US-facing website you can expect the best. From legendary strains like Pineapple Chunk and LSD to innovative new cultivars such as Mimosa X Orange Punch and Runtz X Layer Cake, the choices are vast and cater to every taste, preference and experience level.
Whether you're a home grower seeking high-yielding strains, a medical user in search of specific therapeutic effects or a connoisseur on the lookout for unique terpene profiles and flavors – Barney's Farm is for you.
With descriptions and in-depth information for each strain, you can make informed decisions and embark on your cannabis cultivation journey with confidence.
And here's a special tip: sign up for Barney's Farm newsletter to receive 10% off your next purchase + exclusive free seed offers and promotions, available only to their loyal subscribers. Join the community of savvy growers and enjoy these exceptional deals by subscribing today!
The launch of Barney's Farm's US based operation marks an exciting new chapter for cannabis enthusiasts. With a wealth of knowledge, unparalleled quality and a commitment to customer satisfaction, Barney's Farm is set to become the go-to source for premium cannabis seeds in the United States.
Go ahead, explore the incredible catalog and unlock a world of possibilities in the comfort of your own home. Don't forget to sign up for the newsletter to stay up-to-date on exclusive offers and promotions, ensuring you never miss out on the best deals. Happy growing!