Colorado Republican gubernatorial candidate Bob Beauprez (pictured) suggested during a debate Thursday evening that voters should be asked to repeal recreational marijuana.
That assertion drew a swift condemnation from the Marijuana Industry Group, one of the leading state cannabis associations, which called Beauprez's suggestion "misguided."
"Repealing Amendment 64 would kill tens of thousands of jobs, destroy thousands of businesses, and return us to a failed policy that emboldens the black market and drug cartels," said Michael Elliott, executive director of MIG. "Coloradans want this. Marijuana legalization passed with 55% support."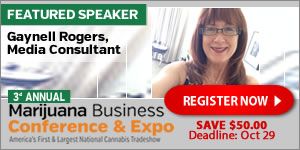 Elliott asserted that since recreational sales have begun in Colorado, the state has seen drops in teen marijuana use, traffic fatalities and violent crime, while tourism and the economy have been booming.
Beauprez, who is trying to unseat Gov. John Hickenlooper, made the statement after saying that he had heard concerns from healthcare professionals about possible neurological damage to young adult brains from marijuana use.
Hickenlooper also made comments this week that cast a negative light on recreational cannabis, saying he thinks the state was "reckless" when voting to legalize marijuana in 2012.