June was a banner month for recreational marijuana in Colorado, with retail stores reporting nearly $25 million in sales, according to the state's latest tax report on the industry.
That represents an increase of almost 14% from May, when recreational shops brought in just over $22 million in revenue. June also surpassed April as the best month for recreational cannabis businesses since retail stores first launched on Jan. 1.
The numbers include all sales at retail stores, including cannabis and related products such as paraphernalia.
Recreational marijuana shops have recorded $115 million in sales through the first six months of the year and are on pace to hit a quarter of a billion dollars for 2014.
On the medical side, dispensaries generated nearly $29 million in sales in June, down from $32 million the previous month.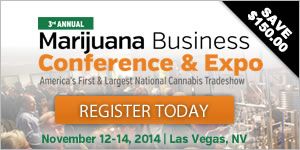 Medical cannabis sales have slipped several times this year as the recreational industry gains steam. But dispensaries still racked up $194 million in revenue through the first six months of the year.
The state has pulled in roughly $30 million from taxes, licenses and fees tied to medical and recreational marijuana in 2014.