April was a good month for Colorado's marijuana businesses.
Retail marijuana shops sold $22 million worth of cannabis and related products during the month – an increase of about 13% from March and more than 50% from January, according to the latest tax figures released by the state.
The sales uptick is tied in part to the April 20 cannabis holiday, which led to an influx of tourists in town for events like the High Times Cannabis Cup and the annual 4/20 rally in downtown Denver.
Also, more recreational stores received their operational licenses: nearly 190 retail shops were open on April 1 across the state.
Recreational cannabis also closed the gap with medical marijuana. The state's medical cannabis dispensaries posted about $32 million in sales in April – roughly $10 million more than the revenue reported by recreational shops. In January, when rec stores first opened, medical marijuana revenues were about $17 million higher than retail sales.
Medical marijuana sales dipped on a month-to-month basis in both March and April, while recreational cannabis transactions rose.
During the first four months of the year, recreational stores have posted revenues of roughly $70 million. At that pace, sales will top $200 million for the year. Medical marijuana dispensaries have recorded $133 million in sales through April and are on track to hit nearly $400 million.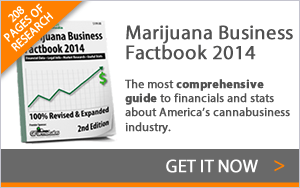 The Colorado Department of Revenue estimates that the state brought in $5.3 million in tax revenue from recreational and medical sales combined in April, which is up from $5 million in March.
The tax figure bumped the state's total revenue from marijuana taxes and business licensing fees to $17.9 million since Jan. 1.