A compromise between lawmakers in Minnesota has paved the way for the state to legalize medical marijuana and set up a dispensary system.
But there's a big caveat: The measure outlaws the smoking of the plant, which changes the nature of business opportunities in the state vs. more traditional MMJ markets.
The measure, which Gov. Mark Dayton said he would sign, allows patients to consume marijuana in oil, pill or vapor form. Infused products – which make up anywhere from 20% to 50% of sales at dispensaries in other states – will therefore dominate the market.
The list of qualifying medical conditions is extremely limited and doesn't include the catch-all ailment of chronic pain, so patient numbers will likely be small. Annual medical marijuana sales could come in between $10 million and $20 million initially, according to Marijuana Business Daily's early estimates.
The measure also allows for the creation of eight dispensaries statewide, which will be supplied by two manufacturing facilities. Lawmakers have not established a timeline for licensing these businesses.
Under the program, patients will qualify if a doctor, a physician's assistant or advanced-practice nurse prescribes medical marijuana.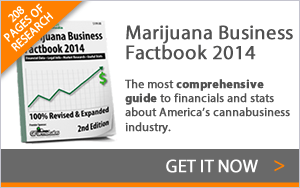 All employees at medical marijuana businesses will be required to undergo a background check. Patients who are found to be using cannabis for nonmedical purposes will be removed from the program.
The bill is a compromise between a more lenient Senate bill, which approved up to 55 dispensaries, and a more restrictive House bill that would have made the plant available only through a research study.
If the governor signs as expected, Minnesota will become the 22nd state to legalize medical marijuana.