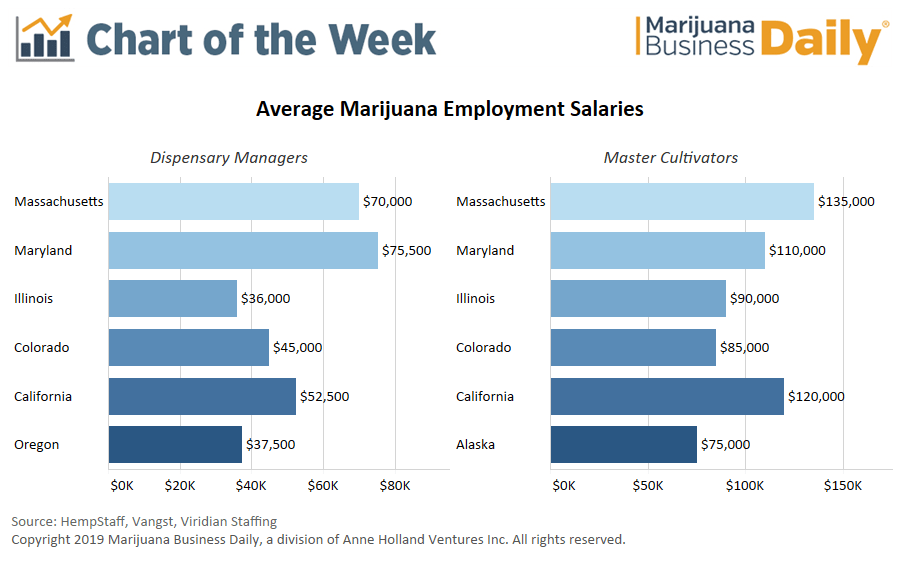 Salaries for employees of U.S. marijuana companies lean higher in East Coast markets than on the West Coast.
That's one key takeaway from a Marijuana Business Magazine survey of cannabis industry recruiters.
Exceptions exist, of course, such as California, where salaries are higher than average, and Florida, where they are lower than average.
Several factors are driving these trends, most notably:
The cost of living is generally higher in East Coast medical marijuana markets than in Western states, so those companies need to pay employees more.
Western markets are more mature, so sales and, therefore, salaries are starting to level out. East Coast markets still have lots of room to grow – including in terms of salaries.
As Eastern markets expand with new businesses, they have new jobs opening, and the only way to fill them is with attractive compensation packages.
Product prices are higher in the East, allowing companies to compensate employees better than those in the West, which are often operating in oversaturated markets.
Salaries are especially strong in states such as Massachusetts and Maryland, where the respective recreational and medical markets have started hot and continue to grow as emerging markets.

Massachusetts marijuana companies rang up $76.8 million in adult-use sales through April 7, 2019, after launching in late November 2018. Maryland nearly hit $100 million in first-year medical cannabis sales in 2018 and had $48.9 million in sales through the end of March this year.

At the same time, the need for experienced talent on the East Coast has turned Eastern marijuana businesses into poachers of Western state marijuana industry talent.

"(Our) people definitely get contacted by recruiters," said Adam Grossman, CEO of California infused product company Papa & Barkley.

"The fact that California is among the more advanced states – in terms of years of experience and sophistication – (makes California) attractive for Eastern companies to look at to recruit."

California is an exception among Western state salaries, paying more than its neighbors if less than those on the East Coast do.

Why? The California job market is sizzling now because of the array of licenses the state offers and the growing number of businesses with jobs to fill at a time when the job market is tight.

That means California companies must lure candidates with attractive compensation packages. Massachusetts is in a similar situation as its recreational market gets off the ground.

It's not bubbly and caviar everywhere, however.

States with oversaturation challenges, such as Oregon, have seen revenue and, as a result, compensation decline.

To cut costs, some businesses have released more expensive senior personnel and filled their posts with less experienced and less expensive employees. Some companies have even laid off employees.

For more information about the salary survey – including differences between cannabis and mainstream salaries and tips for creating compensation packages – read the April edition of Marijuana Business Magazine.

Omar Sacirbey can be reached at [email protected]

Maggie Cowee can be reached at [email protected]