The federal government is increasing production of cannabis tied to the Marijuana Research Project at the University of Mississippi, which is the only facility producing the plant for government-approved tests.
Researchers there are hoping to produce 30,000 new plants, which will be used primarily for medical marijuana research. One researcher at the facility is pursuing a study of cannabidiol.
The increase comes after the DEA approved plans to boost the government's annual production of marijuana from 21 kilograms to 650 kilograms, which equates to about 1,433 pounds.
The DEA granted the facility access to more plants "in order to provide a continuous and uninterrupted supply" of cannabis for research.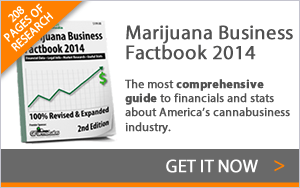 The news could be seen as a positive step for the marijuana industry, since increased government testing of the plant could lead to legislation change around medical marijuana in the future.
During a recent tour of the facility, The Los Angeles Times described a bizarre scene in which confiscated marijuana is guarded "as if it were plutonium" in a steel vault. Baggies of the plant are stuffed into bankers boxes and rolled joints are crammed into large metal safety canisters.