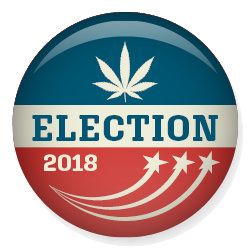 A number of pro-cannabis gubernatorial victories in the midterm elections could potentially lead to friendlier environments for marijuana firms in several states with small- to moderate-sized markets.
Here are some key winners that cannabis entrepreneurs will be carefully watching:
Connecticut: Ned Lamont, a Democrat, said he would like to legalize adult-use marijuana.
Maryland: Republican Larry Hogan has said recreational legalization is worth "looking at."
Minnesota: Democrat Tim Walz favors adult use in a state that currently has only a very restricted medical marijuana market.
New Mexico: Michelle Lujan Grisham, a Democrat, advocates moving carefully toward legalizing adult-use cannabis. She replaces outgoing governor, Susana Martinez, who balked at expanding the state's MMJ program.
Wisconsin: Democrat Tony Evers has expressed support for medical marijuana legalization.
And, as previously reported by Marijuana Business Daily, Democrat J.B. Pritzker's victory in Illinois could pave the way for adult-use legalization there.
Two big gubernatorial losses occurred in Florida and Ohio, where Republican victors Ron DeSantis and Mike DeWine, respectively, either have concerns (DeSantis) or are opposed to marijuana reform (DeWine).