In 1990, Chris Boucher walked into a store selling his line of tie-dyed backpacks and wallets to chat with the owners about business matters.
He left eight hours later with a new idea: make his products from hemp.
"The owners asked me to sign a petition for the legalization of hemp, and I didn't even really know what it was," Boucher said, noting that one of the owners was Jack Herer, the grandfather of the hemp movement and a leading cannabis activist.
"They indoctrinated me on it for hours, and it was one of those moments where you have an epiphany. I was sold on hemp and thought, 'wow, this is the future.'"
Since then, Boucher has been involved in numerous hemp business endeavors and is regarded as a leading advocate and industry expert.
He now serves as vice president of product development at CannaVest, a Las Vegas-based publicly traded company that imports massive quantities of hemp CBD oil from producers in Europe, refines it and then sells it to various manufacturers stateside that produce everything from shampoo to dog food.
Marijuana Business Daily spoke with Boucher about the fast-growing hemp industry, CannaVest's business model and the challenges publicly traded cannabis companies face.
Q: What are the current hurdles to entering the U.S. hemp industry?
A: Creating a product that works and then surviving the competition.
In 1991 I sold hats, wallets and bags, and within 12 months there were five to 10 companies that were selling hats, wallets and bags. It's a race.
If you've got a product that is good, and your customer service is good, you have a chance to make it. But people should realize that there are a lot of new entrepreneurs coming into the space.
The other [hurdle] is startup costs. CBD products are popular, but that route requires millions of dollars just building the infrastructure to create the supply chain and then make tens of thousands of kilos of CBD.
It takes 22 pounds of plant material to make 1 kilogram of CBD. So let's say you want to build a greenhouse and get your CBD business going. One greenhouse is only going to yield maybe a couple of kilograms, which is enough to supply one store for maybe a month.
If you want to create that type of infrastructure, you better have some money.
Q: Is that what gives your current company an advantage?
A: Yes. If it takes one pound of plant to make 60 grams of CBD, then you do the math – you're going to need a lot of plants.
We run over 5,000 hectares of plants in Europe. It is a lot of work. We employ 200 farmers and work with one of the oldest hemp coops in Europe. They have a ton of infrastructure involved for quality control, CO2 extraction and packaging.
Q: Why does CannaVest serve as a distributor of products to other companies but not market its own line of consumer products?
A: It's always a good position to have a consumer product, but it costs a lot of money to market a product like that. You're looking at a couple of million dollars to create and market a body wash, for example.
You're doing advertisements and tons of trade shows. You're trying to get your product into stores, which can be a real struggle.
Eventually we might own a product line, but our feeling right now is why not let other people do that?
Q: What has to happen for that to occur?
A: Hemp is a supplement and a food, and anything consumable like that you want to be labeled as GRAS [Generally Recognized as Safe] by the FDA.
Kroger and Ralph's want GRAS. Fortune 500 companies will only look at you if you're GRAS.
But to get GRAS recognition, you have to go back 20 years and provide all of these instances where it was used and consumed as a food safely.
Was somebody making hemp food back in the 1980s? Was it in a package or a bottle anywhere?
Then you look back into the U.S. tariffs and they have hemp listed as a vegetable. It's veggie oil or veggie seed, when you want to import it. So that takes a lot of time.
Q: There is some confusion in the market about CannaVest and its relationship with Medical Marijuana Inc. (MJNA) and HempMeds. Can you clear the air?

A: I came from U.S. Hemp Oil, which was a joint venture between MJNA and CannaVest. CannaVest bought out all of the companies.
Right now CannaVest imports the oil (and) makes the products, and we have a sales agreement with HempMeds.
We sell to many different companies and can't be exclusive to anyone.
HempMeds is the sales and distribution company for MJNA. There is nobody at MJNA that has any management or board position with CannaVest. In fact, we almost compete with them because we are the master supplier, so we build the infrastructure and the tech that takes hemp oil from farm to the product.
Q: Publicly traded companies in the cannabis space have a bad reputation among many investors and even within the industry itself. How can these companies change that perception?

A: You need to show that you have a good product and not just research and development. Some companies have been raising money for eight years now and their products still haven't hit the market.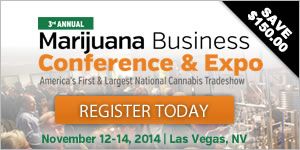 There are a lot of companies like that. A lot of marijuana companies are copycats, and they see an opportunity for fast money by thinking "Let's do what they're doing." A lot of the recently opened companies are like that.
I don't want to throw stones, and some companies are just guilty by association. But really, all you have is your reputation. We want to take this thing to the Nasdaq; we don't want to be a penny stock flying by the seat of our pants. So we're not out there putting out press releases every day. We're a product-driven company.
Q: What are the other hurdles of being a publicly traded company?
A lot of people in the cannabis industry don't understand the potential benefit of public companies. However, we view our public company status as an opportunity to bring greater transparency and credibility to the industry. In addition, we anticipate accessing the public markets for additional funding as we work to establish and expand the market for hemp CBD-based products.
When I saw the capital that you can raise [through a public company], I realized that is the only way that the industry will work.
A mom-and-pop hemp company can't do it. You need millions of dollars to put down into the supply-chain infrastructure.