Lawmakers in Illinois have approved a set of administrative rules for marijuana businesses and patients, which provides a rough timeline for the industry.
Hopeful entrepreneurs can begin applying for licenses to cultivate and sell medical marijuana in September, lawmakers said. Regulators hope to draw up a scoring system for the applicants within 30 days.
If all goes well, the industry will launch in the spring of 2015, they said.
According to the Marijuana Business Factbook, the state could generate between $25 million to $45 million in annual medical cannabis sales once the market is up and running.
Under the new rules, medical marijuana patients with last names beginning with the letters A through L will be able to apply for ID cards in September and October; the remainder will apply in November and December.
The Joint Committee on Administrative Rules approved the regulations for the industry, which lawmakers had proposed several months ago.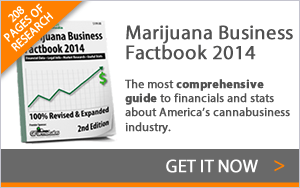 The rules approve require cultivation centers to pay a $200,000 license fee and have $500,000 in liquid assets, while dispensaries must pay a $30,000 licensing fee and have $400,000 in liquid assets.
Cultivators will pay a 7% privilege tax on sales, according to the rules.
Additionally, the Illinois Department of Agriculture will convert one of its laboratories into a testing center for medical marijuana, where plants will be checked for potency, mold and pesticides.