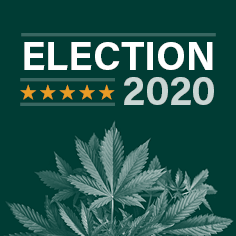 Learn more about the state of the industry at MJBizCon 2020.

A vote by New Jersey residents Tuesday to legalize recreational marijuana could create a "snowball" that rolls down the East Coast and picks up more states along the way, predicted one industry insider.
Speaking on an election panel Monday during Marijuana Business Daily's Passholder Days Forum, Rob DiPisa – partner and co-chair of the cannabis law group at New Jersey-based Cole Schotz – said he expects legalization in the state to create a "ripple effect" that would carry all the way to Maryland and Virginia.
But DiPisa also pointed out that the rollout of a recreational program in New Jersey wouldn't be without its challenges.
New Jersey has only 12 medical marijuana operators, which are expected to have first crack at recreational sales.
"The big concern is, when adult use comes online, are those operators going to be able to serve that big wave of demand, not only in New Jersey but from neighboring states?" he asked during the session, titled Election Week 2020: What's at Stake for Cannabis?
A recreational marijuana industry in New Jersey – with a population of nearly 9 million people – would reach $850 million-$950 million in sales a year by 2024, according to a Marijuana Business Daily projection.
The other burning question in the region: What would New York do if New Jersey voters approve Tuesday's legalization initiative?
DiPisa expects New York Gov. Andrew Cuomo would propose recreational legalization during the April budgeting process.
DiPisa also cautioned that New York would encounter obstacles – perhaps even larger ones – similar to those in New Jersey.
He noted that New York's medical marijuana market faces even heavier regulations than New Jersey's program.
The state needs to loosen the regulations and get the medical marijuana program "firing on all cylinders," DiPisa said.
– Bart Schaneman