Editor's note: Get up-to-date insights on state ballot initiatives and all things Election 2020 for cannabis at MJBizCon. We start with Election Week | November 2, 2020 & November 4, 2020.
New York could potentially become one of the biggest marijuana markets in the world, but its existing medical cannabis program is heavily regulated and has experts questioning how a possible adult-use market would fare.
Gov. Andrew Cuomo wants to steer adult-use legalization through the state Legislature by next spring.
And next week's legalization vote in New Jersey likely will only increase pressure
on New York to do so
, if not hasten the timeline.
But a strong transition to a commercial recreational marijuana market in New York could be hampered by the fact the state's MMJ program remains one of the most restrictive in the country. Hurdles include a ban on smokable flower, limited licenses, a relatively small number of dispensaries and patient-access issues.
"It's certainly going to be challenging for New York," said Rob DiPisa, co-chair of the cannabis law group at New Jersey-based Cole Schotz.
New Jersey has been expanding its MMJ program, DiPisa noted, "while New York has really been stagnant. There hasn't been a lot of activity there, and because of that, there aren't a lot of operators online.
"So when New York flips to adult use, I think they are going to have even a harder time than New Jersey will to meet the demand, which … could just permit the black market to continue to thrive in the New York area."
Few companies … large population
New York has only 10 vertically integrated MMJ operators, each allowed to operate four dispensaries.
That's despite a population of around 20 million and more than 65 million tourists annually before the coronavirus hit.
As of Oct. 20, 128,718 patients were certified to receive medical marijuana, according to New York Department of Health figures.
The 2020 Marijuana Business Factbook projects that New York MMJ sales will reach $60 million to $70 million this year, despite the state's huge population (see chart above).
By comparison, Florida – which started its MMJ program at about the same time as New York and has roughly the same population – features 435,000 patients, 286 dispensaries and projected annual sales of more than three-quarters of a billion dollars.
In the past 20 months, Florida has lifted bans on smokable flower and edibles.
Cuomo wanted to legalize adult use last spring through his budget bill but abandoned the effort because of the coronavirus pandemic.
The governor is beginning to push hard again, as coronavirus impacts have exacerbated a multibillion-dollar budget deficit.
Public sentiment for recreational legalization is strong: 61% favor legalization and only 30% are opposed, according to a poll this month by Spectrum News/Ipsos.
New York's existing MMJ operators believe they have a good argument to be granted first entry into the adult-use market.
"I struggle to conceive of a different way of rolling out an adult-use program in New York that still accomplishes the goal … of generating immediate revenue," said Jeremy Unruh, senior vice president of public and regulatory affairs for Illinois-based PharmaCann.
But they'll need to persuade Cuomo and New York lawmakers.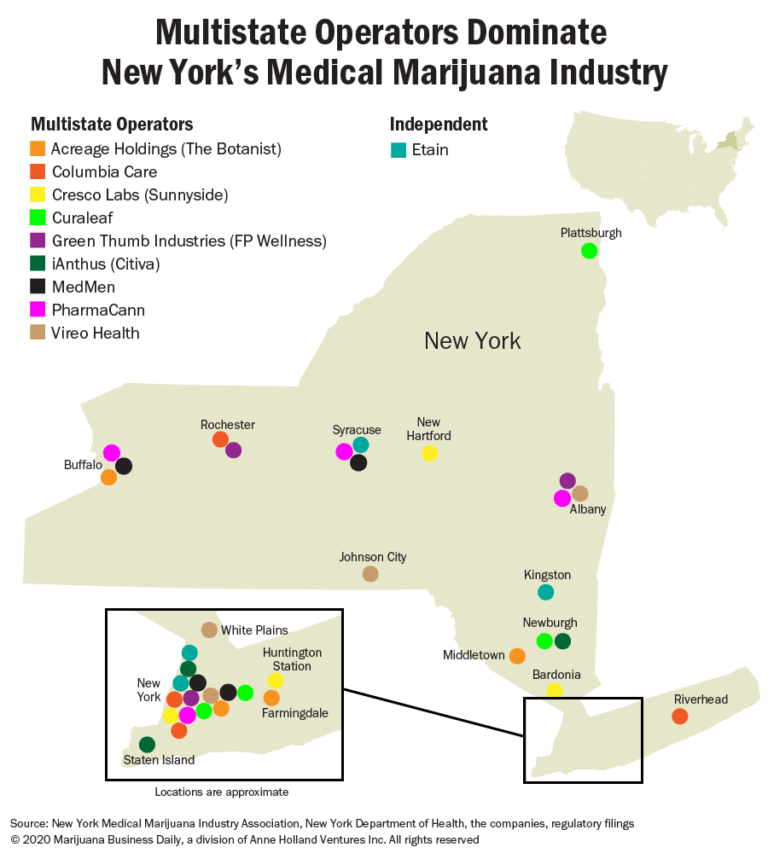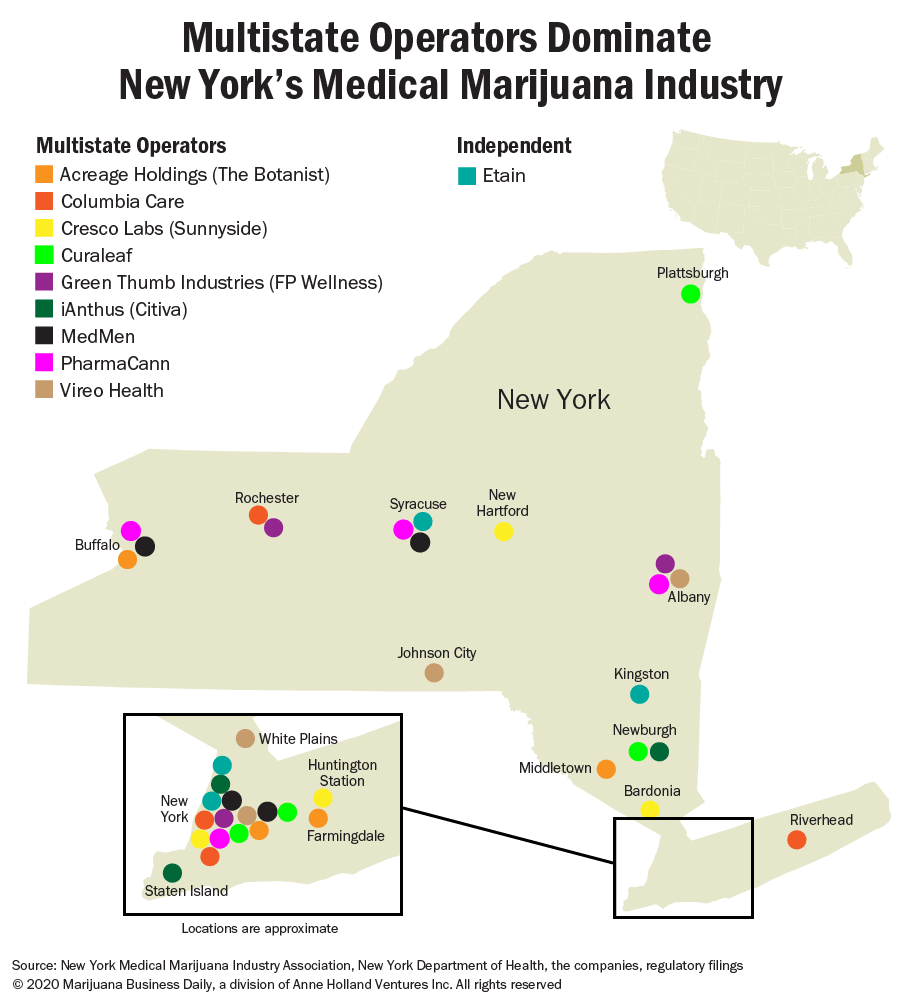 MSOs dominate
Nine of the 10 licensees are multistate operators (see map above).
Some entered the market through acquisitions at hefty prices.
Chicago-based Green Thumb Industries, for example, paid nearly $60 million in cash and stock to complete its acquisition in August 2019 of New York-based Fiorella Pharmaceuticals, doing business as FP Wellness.
The lone independent MMJ operator is New York-based and women-owned Etain Health.
MSO dominance could give the wrong perception, industry insiders said, in a state where social equity, diversity and racial justice are expected to be key issues.
A 2019 draft bill out of the governor's office called for existing MMJ businesses to compete against each other in an auction for an unspecified number of licenses, or to bid in a round that included non-MMJ licensees.
Ngiste Abebe, president of the New York Medical Cannabis Industry Association and director of public policy for New York-based Columbia Care, said allowing existing MMJ operators to launch the adult-use program could provide funding for social equity as well as generate other tax revenues for the state.
"I think there are a lot of fiscal advantages" to this approach, she said.
Unruh had a similar take, citing the Illinois model in which he said existing MMJ operators in essence made three payments to fast-track into adult use:
A general licensing fee.
A contribution to a cannabis business development fund.
A specific commitment to social equity, such as mentoring.
Hillary Peckham, Etain's chief operating officer, agreed that all of New York's MMJ operators should be allowed to participate in the recreational program.
But she said Etain also is "totally open" to new entrants, and "I do think a preference should be made particularly to New York-owned businesses."
She also said the program needs to ensure participation by women, minorities and those disadvantaged by the war on drugs.
MMJ program stagnant
Industry officials are concerned that the New York MMJ program has been static.
Besides being flexible during the coronavirus pandemic, the state hasn't implemented any significant changes to the MMJ program – including recommendations made in 2018.
Those proposals included providing health-care practitioners more discretion in certifying patients for medical marijuana.
Jill Montag, public information officer for the New York health department, wrote in an email to Marijuana Business Daily that the state is currently evaluating "what, if any, past recommendations can be pursued immediately."
Peckham said New York's MMJ program is lagging behind national trends in products, number of retail outlets and patient conditions approved for medical cannabis use, such as anxiety.
"There needs to be sweeping changes to the program to help patients gain access to what they can't now," Peckham added.
New York does allow a ground flower product for vaping, but even that recently encountered a regulatory hurdle.
About two months ago, Curaleaf had to recall product "after a recent complaint over the size of our flower, which the Department of Health claimed was too large," according to Patrik Jonsson, Curaleaf's regional president in the Northeast.
Jonsson and Montag both noted the state and Curaleaf have since resolved the issue, and Curaleaf now is allowed to resume production of a more finely ground flower.
Curaleaf didn't disclose the total cost of the recalled product, which also was sold wholesale.
Unruh said the recall cost PharmaCann alone more than $700,000 in sales. PharmaCann is coming out with its own ground flower product later this year, he said.
Looking ahead, New Jersey attorney DiPisa said he's skeptical a smooth transition to adult use can be accomplished unless New York first significantly expands its MMJ program.
"Absolutely I think they really need to loosen the regulations, get more licenses online, get that medical program firing on all cylinders before they contemplate adult use," DiPisa said.
"Because, otherwise, they're headed for a real problem."
Jeff Smith can be reached at jeffs@mjbizdaily.com