Two Canadian cannabis cultivation companies saw their share prices soar on the first day of trading as investors look to capitalize on a booming industry.
Bedrocan Cannabis Corp, which trades on the Toronto Stock Exchange under the symbol BED, rose as high as 1.45 Canadian dollars ($1.32) on Monday before closing at CA$1.17, about 38% above its issued price. Millions of shares changed hands, ranking it as one of the most heavily traded stocks of the day.
Its shares were up about 5% in early morning trading on Tuesday.
OrganiGram Holdings, which trades under the symbol OGI, saw its shares more than double from their issued price to close the day at 1.97 Canadian dollars. The stock reached as high as CA$2.40 at one point.
The company's shares were down 4% Tuesday morning.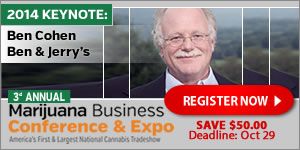 Bedrocan and OrganiGram as among the 13 companies that have received licenses from Canada's health department to grow medical cannabis.
Another licensed marijuana cultivation company – Tweed Marijuana Inc. (TWD) – debuted on the Toronto Stock Exchange earlier this year to much fanfare.