The number of authorized medical cannabis patients in Israel has more than doubled in the past two years – topping 70,000 – despite persistent supply and regulatory challenges, according to new data from the Israeli Medical Cannabis Agency (IMCA).
By type, flower continues to be the most common form of medical marijuana prescribed, followed by extracts.
The new data is among a batch of charts released for the first time by the Israeli Medical Cannabis Agency – part of the Ministry of Health – in late August.
A lack of publicly available data has been a major hurdle in the global medical cannabis industry, as most governments do not proactively release key data for industry and academic researchers trying to better understand business and patient trends.
Israel says the charts will be published monthly.
However, the agency still refuses to provide the raw data used to generate the charts.
"This is the first time the IMCA releases its closely held data, which does not really give all the information that the market requires," said Itai Rogel, head of business development for Bazelet Group, a medical cannabis company in Tel Aviv.
Another piece of information lacking from the new data disclosure, Ari Eyal, chief scientific officer for Bazelet, told Marijuana Business Daily, is the composition of the medical cannabis – in other words, the THC-versus-CBD content.
In Israel, 31 companies were permitted to grow medical marijuana for 71,323 authorized patients as of August.
Five more are authorized to process and manufacture medical cannabis products, according to the Israeli Medical Cannabis Agency.
Israel recently overtook Germany as the top importer of medical cannabis flower in the world, according to data compiled by MJBizDaily and Tel Aviv-based Israeli Cannabis Magazine.
MJBizDaily asked several experts in Israel to share their thoughts on the new data. Submissions have been edited for length and clarity.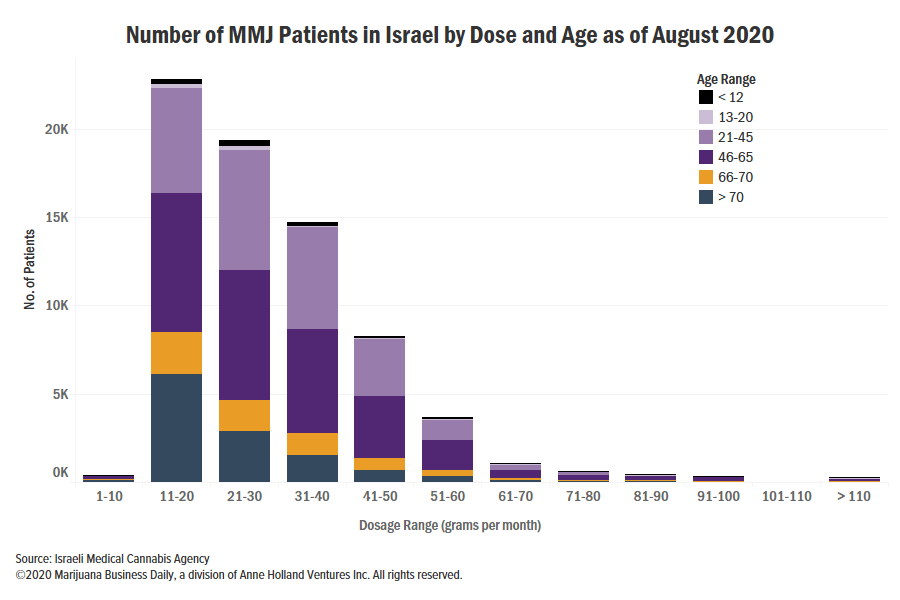 Ari Eyal, CSO, Bazelet Group
"Based on data (above), the average medical cannabis monthly consumption in Israel is about 35 grams. Assuming about 200,000 (personal) licenses in 2 years – about 2% of the population – this translates to about 85 tons inflorescence to be consumed yearly by Israeli patients.

"It is unclear yet what fraction of this amount will be imported and how much more will be required for products to be exported. The proportion of cannabis used as oil – extract – remains quite steady at about 20%, decreasing with age.

"Based on various assumptions, it is estimated that the yearly extraction rate in Israel will reach about 30 (metric tons), starting at 2023. A fraction of that will be consumed as such – e.g., sublingually – while an increasing fraction will be used for the production of more advanced delivery forms. Also important is the composition of consumed products.

"The Israeli regulator has approved for both inflorescence and oils the following compositions (where T and C stand for THC and CBD, respectively, and figures are percent concentration): T20C4, T15C3, T10C2, T5C5, T10C10, T3C15, T1C20 and T0C24.

"Based on our experience, about 50% of the oils are high THC ones, 30% – high CBD and 20% balanced. An additional differentiation between the compositions will soon be achieved by dosing in selected terpene blends for particular indications."
Itai Rogel, head of business development for Bazelet Group
"This chart confirms, as in other countries, that pain and pain-related conditions are the majority of prescriptions/licenses allowed to be treated with medical cannabis.

"It also shows that the list of conditions has not officially changed or been widened in the last couple of years, and the industry (and patients of course) hope that the Ministry of Health's declaration – that the responsibility on doctors and treatment protocols will be handed over to the Doctors' Association – will perhaps allow for the widening of conditions that will be allowed to be treated with cannabis.

"The chart reports that under the category 'Other' there are roughly 10% of the patients. 'Other' contains conditions such as autism and fibromyalgia, which are not yet declared a formal approved condition for medical cannabis patients in Israel."
Oren Shuster, CEO of IM Cannabis, a producer in Israel
"The graph reflects the fact that the Israeli medical cannabis market is predominantly a dry flower market and will continue to be so for a few reasons. The medical cannabis sector is highly regulated and quite advanced compared to other global markets and is going through reforms to expand and open it even further for consumption and import.

"Unlike other medical cannabis jurisdictions, in Israel the cost of medical cannabis is actually lower than black-market cannabis. As such, it creates an incentive to legally purchase cannabis for consumption.

"In fact, the local medical cannabis market has a lot of the characteristics of a recreational market. Individuals who consume cannabis as dry flower have an incentive to obtain it via formal medical channels.

"I expect the dominancy of dry flower as a leading category to continue into the future, especially until vaping and other platforms to administering medical cannabis are approved and become mainstream."
Inbar Maymon-Pomeranchik, founder of consulting firm Biodiligence
"The number of medical cannabis patients among the Israeli population is one of the highest in the world, and the numbers continue to rise rapidly. Three years ago, there were 28,000 licenses, today there are about (70,000) and we can see that this trend is continuing.

"These days, the difficulties of cannabis reform are continuing, setting new standards regarding the composition of the active ingredient in the plant – mainly THC and CBD – to make medicinal cannabis more 'medical.'

"But it still isn't accepted among many doctors, since there is still not enough scientific basis. Having said that, we still can see more and more physicians that understand and believe in the benefits of cannabis.
Shmuel Capuano, founder and chair of Tel Aviv-based Cannabis Technologies Labs
"Israel is undergoing big changes in the field of cannabis medicalization. The dramatic incline of issued licenses in the past 16 months, as seen in the diagram, is a direct result from the appointment of more doctors by the Ministry of Health (MOH) with the capacity to issue medical cannabis licenses.

"From 2012 to 2019, we can see steady and mild growth in licensed patients. In those not-so-early days, there was solely one doctor approved by the MOH who could issue licenses. Since 2019, more than 100 doctors have been appointed by the MOH in order to ease the process for more patients in need for this treatment.

"Regulation, social normalization and medical research has very much contributed to this trend. All of these affect the market size and ripeness of the industry to evolve even further, and we are expecting to see this trend grow exponentially."
The charts released by the Medical Cannabis Agency are available here (in Hebrew).
Matt Lamers is Marijuana Business Daily's international editor, based near Toronto. He can be reached at mattl@mjbizdaily.com.