(Part of Marijuana Business Daily's ramped-up coverage of the global cannabis market includes a series examining recent marijuana legalization and business developments worldwide. Other installments focused on Uruguay, Chile and Argentina, and Brazil, Paraguay and Peru.)
Traditionally known for its legendary black market, Colombia is looking to make "made in Colombia" a respected brand in the growing family of countries with a legal medical cannabis program, bolstered by a supportive government.
Snapshot
In recent years, Colombia has developed the most comprehensive and sophisticated medical cannabis framework in Latin America.
Colombia is still years
behind Canada
, but its notoriously lower production costs and ideal year-round climate for cannabis growing create a competitive advantage for investors and international marijuana companies.
In addition, Colombian companies are seeking listings on major exchanges, increasing recognition as legitimate players in this space.
Khiron Life Sciences, a Colombian cannabis producer began trading on the TSX Venture Exchange on Thursday under the symbol KHRN.
The nation has two primary categories of licenses available – both under the medical and scientific umbrella – with different opportunities for each.
There is no cap on the number of licenses the government can issue.
Business opportunities
Businesses can apply for the following licenses:
Manufacture of cannabis derivatives: This license covers the manufacturing, acquisition, import, export, storage, transportation, marketing and distribution of cannabis derivatives.
The Ministry of Health and Social Protection grants this license, which covers:
National use: For distribution only within Colombia, where one company estimates there are at least 5 million patients.
Scientific research
Export, though export of flower is not allowed
Cultivation of cannabis plants: The Ministry of Justice and Law grants this license for cannabis plants for all purposes:
Psychoactive cannabis plants (THC of 1% or higher)
Nonpsychoactive cannabis plants (THC less than 1%)
Seeds for commercial use or scientific research
As of April 9, 35 manufacture licenses had been granted, of which 33 included export. As of May 2, 80 cultivation licenses were granted: 43 for nonpsychoactive cannabis, 31 for psychoactive cannabis and six for seeds.
The national framework is centered on the concept of "magistral preparations" to be prescribed by a doctor and sold to patients in pharmacies. This will allow patients to access medicinal cannabis products that didn't go through clinical trials.
The foundation of the legal framework are Law 1787 of 2016 and Decree 613 of 2017. Resolutions 577, 578 and 579 of the Ministry of Justice and Resolutions 2891 and 2892 of the Ministry of Health regulate procedures.
Navigating the system
The requirements to obtain a license vary, but most require identification of where the proposed activities will take place and who will serve as representatives for the company. In addition, technical documents for cultivation, manufacture, security, research and export plans could be required.
The government has been processing applications in a timely manner, so applicants should expect a reply within a month, including up to two requests for clarification.
Applicants should expect at least one inspection visit during the cultivation application process, in which regulators will verify that no illegal crops exist at the location.
Manufacturers of cannabis derivatives may source flower from their own crops – if they have the appropriate cultivation licenses – or buy them from other legal cultivators.
At least 10% of raw material must be sourced from small- or medium-sized growers – cultivators with up to 1.2 acres of area dedicated to growing cannabis.
Two of the nation's 32 departments – geopolitical divisions akin to states or provinces in other countries – are home to about 40% of the cultivation licenses: Antioquia, a department recognized for its high-quality coffee crops, and Cundinamarca, the region surrounding Bogotá, the capital of Colombia and known for its flower industry.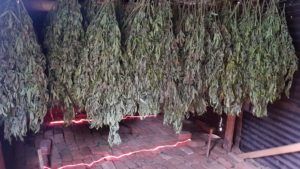 Only three companies have licenses to grow in Cauca, the traditional center of illegal crops in Colombia. But one of those licenses is for an association of 63 families, Andres Lopez, head of Colombia's National Narcotics Fund, told Marijuana Business Daily.
Officials hope that more of the existing illegal cultivators will apply to become small or medium-sized growers in the new legal industry. The government is conducting in information campaigns with the local population.
"The purpose of regulation is not to eliminate illegal crops. As long as recreational use exists, illegal crops will keep sourcing it," Lopez said.
"Regulation is for those that are not in the recreational use and need cannabis products for medical use under prescription and medical treatment."
Because international trade around cannabis plant materials remains complex, the Colombian government has granted amnesty for genetics until the end of 2018. This means that all pre-existing genetics in the Colombian territory can be registered for cultivation through the end of the year, regardless of origin.
After the deadline, licensees will need to buy their seeds or clones from another licensee or import them. As of May 2018, only six companies are licensed to sell seeds.
For psychoactive cannabis extracts, producers also need to apply for a production quota to ensure the number of potential buyers justifies the production. There's no maximum quota per company.
The International Narcotics Control Board oversees national production quotas for medical cannabis. In 2018, Colombia received a production quota of 40.5 metric tons (44.6 tons) of dried flower for conversion into derivatives, 44% of total authorized world use.
According to information accessed by MJBizDaily, 10 companies have received a quota for 2018 and are the first allowed to cultivate psychoactive cannabis.
Several Canadian companies view Colombia as a possible source of cannabis, but how Health Canada will regulate imports is uncertain.
In addition, the most important export destinations of psychoactive cannabis, such as Germany and Australia, have not announced if they will open their markets to Colombian products.
But the Colombian Association of Cannabis Industry and the Colombian government, through Procolombia and other agencies, support the industry to find export opportunities.
(Alfredo Pascual is a Germany-based public policy consultant who specializes in international cannabis markets and regulations. He currently works as an independent consultant to help companies seeking medical marijuana licenses in Colombia. Previously, he worked for ICC Labs – a licensed integrated cannabis company in Uruguay that produces cannabis for medical and recreational uses – with a primary focus on developing expansion opportunities internationally.
Alfredo Pascual can be reached at alfredo@transnationalcannabis.com)
To sign up for our weekly Canada marijuana business newsletter, click here.