Should states rely on chance to decide who gets to produce medical cannabis?
A Florida company thinks not. Costa Farms, one of the largest farming operations in the state, has sued the Florida Department of Health over its plans to use a lottery system to determine which companies get licenses to manufacture high-CBD medical marijuana for patients.
The state "has a duty to ensure that the dispensing organizations that are selected to make this medicine are the very best, not just the luckiest," Costa Farms Vice President Peter Freyre said in a statement.
While an expanded medical marijuana program is on the state ballot for November, the Florida Legislature earlier this year passed a law permitting the production and sale of CBD-based cannabis extracts to help treat epileptics.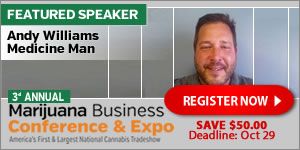 Under the law, the state will license five companies to produce cannabis and manufacture extracts for registered patients.
Applicants will have to meet certain basic criteria, but the state plans to ultimately choose finalists by conducting a lottery.
Ironically, health department officials have said that they decided to use a lottery system in part to avoid potential lawsuits from unhappy losers.