Federal versus local control over marijuana.
That's the question at the heart of two lawsuits in Washington State involving cities that are seeking to ban recreational cannabis businesses.
Now the state's attorney general is drawing a clear line in the sand on the issue, saying that Washington's entire recreational marijuana law would be "destroyed" if a court rules that federal law supersedes state authority.
The pair of lawsuits, filed by recreational marijuana retailers against the municipalities of Fife and Wenatchee, are seeking to overturn bans on recreational marijuana shops the two towns both put in place. The towns argue that since marijuana is still illegal under federal law, then they should have the right to ban recreational sales, which were legalized by Initiative 502 in 2012.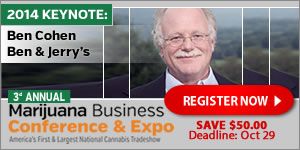 Washington State Attorney General Bob Ferguson agrees that the towns should be able to ban the businesses – but not because federal law trumps the state's marijuana law. Rather, Ferguson said the cities can do so under I-502 itself.
"If the court disagrees and holds I-502 is pre-empted by federal law, and it is upheld on appeal, the marijuana legalization effort would be destroyed," Ferguson wrote in a brief filed with the court overseeing the case.