It seems that The New York Times is all-in when it comes to marijuana.
On the heels of the influential newspaper calling for nationwide legalization of recreational marijuana, the paper's Sunday edition carried a full-page ad for Leafly – a Yelp-type service for cannabis strains and dispensaries.
It appears to be the first case in which The New York Times has run an ad for a marijuana-related company, though it has featured advertisements for cannabis advocacy organizations.
It also marks the first time Leafly has run an ad in a mainstream publication.
The focus of the Leafly advertisement is on the medical benefits of marijuana, with a tongue-in-cheek reference to Nancy Reagan's famed "Just Say No" anti-drug campaign of the 1980s. It also congratulates New York for passing medical marijuana legislation this summer.
An image of the ad can be seen here.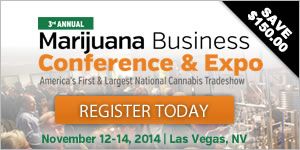 Brendan Kennedy, chief executive officer of Leafly, indicated that the company will continue this messaging strategy by seeking placement of similar advertisements in other mainstream publications.
A spokeswoman for The New York Times stated that the paper publishes advertisements for legal products so long as they meet certain "acceptability standards," according to the Wall Street Journal. Each ad is evaluated on its own merits, she said.