While lawyers and lawmakers argue over Massachusetts' medical marijuana licensing process, the cannabis industry faces an important question: What can it learn from this mess?
To help unearth some answers, Marijuana Business Daily spoke with multiple cannabis professionals who are working in Massachusetts. Some spoke on the record, while other preferred not to be quoted due to the heightened level of scrutiny by the Boston media and lawmakers.
Based on those conversations, here are four take-aways from the situation in Massachusetts:
Proceed cautiously into new cannabis markets & provide full disclosure

Industry veteran Steve DeAngelo is financing the Green Heart Holistic Health & Pharmaceuticals shop in Roxbury, one of the approved dispensaries now under fire. DeAngelo believes an overarching lesson is that the cannabis industry needs to proceed with caution when entering a community where the education level surrounding marijuana is relatively low.
"In Massachusetts, they did not have the experience that stakeholders in California, Colorado or Washington State had, which was 10-15 years of dialogue," DeAngelo said. "You're looking at a situation where the media, politicians and community stakeholders are looking at this issue for the first time."
Additionally, numerous applicants have been accused of failing to provide important background information on their management teams, or of offering vague and misleading information about levels of local support. The lesson: Provide full disclosure in the application process to prevent problems down the road.
Prepare for challenges from unsuccessful applicants
Once news surfaced that cronyism could have played a role in applications – including those tied to former Congressman William Delahunt – stakeholders who were not successful in securing licenses began clamoring for lawmakers to toss out the process. In February, a group of unsuccessful applicants filed a lawsuit against the Department of Public Health.
In March, another failed applicant, Apex Compassion & Wellness Center, also sued. The company's lawyer, Lesley Rich, then unearthed potential zoning violations for successful dispensaries that could have disqualified them in the process. Rich also questioned why Ermont Inc. won a provisional license after it was revealed that the company's Colorado-based manager had lost a license in Colorado.
Dick Evans, a lawyer who represented another unsuccessful client, said the lawsuits should be expected, given the amount of money that was at stake and the murky manner by which the Department of Public Health decided on its provisional applicants.
"There's going to be a lot more scrutiny if they release the [application] scoring sheets," Evans said. "It's a nasty situation."
Plan for extra press scrutiny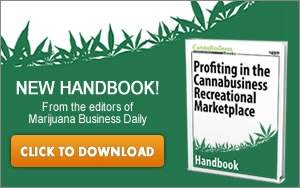 The cannabis industry's recent run of positive national media exposure could have left entrepreneurs unprepared in Massachusetts. The state is one of the first markets to open up its industry to entrepreneurs from other states. Many of these professionals – from consultants that helped local applicants to dispensary owners from other markets who applied for a license – faced extra scrutiny in the press.
The Boston Herald and Boston Globe dove headfirst into issues with the application process involving out-of-staters.
The Herald focused on Steve and Andrew DeAngelo.
The Herald pointed out that, while Andrew DeAngelo is the executive director of the business, the loan to open Green Heart came from Steve DeAngelo, owner of Harborside Health Care in Oakland, who was not initially listed on the application. The newspaper then referenced Steve DeAngelo's 2001 arrest for possession of marijuana with an intent to distribute, and in subsequent stories referred to him as "a convicted felon."
The paper did not give details of DeAngelo's crime, or mention the fact that most longstanding cannabis entrepreneurs – the ones with the experience which Massachusetts specifically looked for among applicants – have, at some point, broken the law, due to marijuana's listing on the Controlled Substances Act.
Steve DeAngelo said the Herald has not made an effort to tell an accurate story, and the Globe has been placed in unfamiliar territory.
"It's been intentional misrepresentation with the Herald," DeAngelo said. "But with the Globe, it's a situation where the reporters and editors simply haven't dealt with medical cannabis."
Don't overextend yourself
When Massachusetts released its Medical Marijuana application rules in March 2013, marijuana consultants across the country understandably saw an opportunity for business, since the state's rules allowed companies with out-of-state ownership to apply.
But did these consultants overextend themselves by working with too many clients? Several insiders expressed the opinion that the rush to align with as many businesses as possible created shotgun marriages with unreliable partners, and forced some consultants to overextend their manpower, which resulted in applications that were not up to par.
On the flip side, however, the industry must walk a tightrope here, since out-of-state consultants are sometimes the only ones with the know-how for starting a cannabis business.
"Most of the companies working with out-of-state consultants – I don't think they would have done so well in the application process without them," DeAngelo said.