New Jersey recreational marijuana legalization may be a highlight of 2018; it's possible but unlikely the Trump administration will crack down on the U.S. cannabis industry; and major mainstream corporations are "not going to miss out" on the business opportunities presented by the burgeoning marijuana trade.
Those are just a few of the highlights from four keynote speakers on the opening day of the sixth MJBizCon, which began Wednesday at the Las Vegas Convention Center.
Some of the presentations conveyed negative overtones, but the general theme was unbridled optimism.
"There are many unicorns to come, and unicorns are those billion-dollar companies," Jeanne Sullivan – a veteran of the dot-com boom and bust era – told thousands of MJBizCon attendees.
"They are out on this floor. It is your job to find them this week and to talk to them."
Sullivan singled out companies in the sectors of cannabis testing, regulatory compliance, data analytics and well-established brands that will likely come to dominate future markets as the marijuana industry comes into its own on a national and global scale.
But those are far from the only opportunities, a point driven home by former Apple and Tesla executive George Blankenship, another of the keynote speakers.
Rather, he focused on innovation as the key to reshaping the marijuana business.
"Sooner or later, you're going to be able to say, 'Alexa, send me an eighth of flower,'" Blankenship said.
He noted that before the first iPhone launched in 2007, the vast majority of companies dominating the cellphone industry are firms that have lost their market share, such as Nokia and Motorola, to more innovative firms like Apple.
"What we focused on was what we could do, not what we couldn't do," Blankenship said while talking about how Tesla entered the Texas automotive market despite immense logistical hurdles.
"I suggest you think about that as you're defining the rest of your industry. You should be looking around at what's possible … that could turn into something special."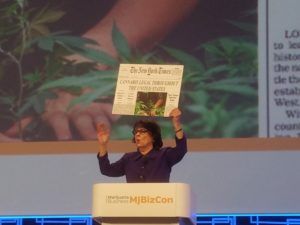 That kind of reinvention could be key to survival down the line for many companies already in the marijuana business as well, given some of the points driven home by Sullivan and Marijuana Business Daily vice president of editorial Chris Walsh.
Both speakers predicted that major mainstream companies are going to play a big role in the future of the cannabis trade.
"These companies are not going to miss out," Sullivan said, referring to the industry entrances of Scotts Miracle-Gro, liquor distributor Constellation Brands and Netflix.
Sullivan said that her advice to those in the marijuana space is to position themselves as best they can for potential acquisition down the road by larger corporations such as those and others from the pharmaceutical and agricultural industries.
That will enable them to get the most bang for their buck when they find buyers and are able to cash out.
Because, Sullivan said, the bottom line is that "cannabis is here to stay."
As icing on the cake, the final speaker of the morning – longtime White House correspondent Kenneth T. Walsh of U.S. News & World Report – offered a prediction that vehemently anti-marijuana Attorney General Jeff Sessions probably won't be let off the proverbial leash by President Donald Trump.
"One thing that politicians do is they keep track of the polls, and … the polls are very consistently showing that America has had a tidal shift on marijuana. Most Americans favor legalization," Kenneth Walsh said.
"Trump is following the polls … Trump is also watching what his people want him to do. If he (gets the sense) one way or the other that they want a clampdown on marijuana or they don't, I think that's the direction he'll go in."
The journalist cautioned, however, that Sessions is still very anti-cannabis and noted it's possible Trump could decide to lump cannabis in with other culture-war topics he's engaged in.
"He's fully capable of being tough on marijuana if he feels his core constituency wants it that way, but I also think he's capable of changing that if he feels his core constituency is not with him on that," Walsh said.
"It's not high up on his priority list. I don't think it will be, unless his base openly demands it."
John Schroyer can be reached at johns@mjbizdaily.com