The Marijuana Policy Project has long been a leader in funding cannabis reform at the state and federal levels, but the current election season demonstrates that MPP's role is shifting in a significant way – toward a more collaborative position with industry trade associations and large MJ companies.
That's clear just by looking at the trend in political fundraising and spending over the current and past few election cycles and how that contrasts with the growing political presence of relatively new trade groups and multistate operators (MSOs) that are willing to use their financial heft directly instead of by funding nonprofits such as MPP.
Consider that for the 2020 electoral cycle:
MPP's donations to state legalization campaigns are below a tenth of what it spent in the 2018 midterms.
The organization's political action committee (PAC) has been shuttered.
In 2018 – the most recent year for which financial information is currently available – the nonprofit raised only $1.7 million, compared with the $9.3 million it raised in 2016 and 2017 combined.
MPP's executive director, Steven Hawkins, did say that fundraising has rebounded the past two years from its 2018 low.
But what the numbers signify, according to veteran cannabis politicos, is how marijuana advocacy and campaigning is being hoisted away from many of the nonprofits who spearheaded state-level legalization. (One possible exception to that trend has been New Approach and its PAC, which has given just less than $3 million to the legalization campaigns in Montana and South Dakota.)
Now filling that role are trade groups such as the Cannabis Trade Federation and the Global Alliance for Cannabis Commerce (GACC) as well as direct political involvement by some large multistate MJ businesses, including Acreage Holdings, Curaleaf and Harvest Health & Recreation.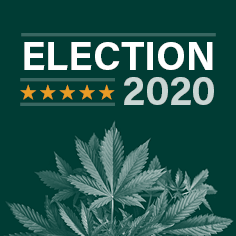 "Things are definitely different and a little more complex than 10 years ago, when it was MPP and (the Drug Policy Alliance) driving everything. You have a lot more players involved now," said Kris Krane, the president of 4Front Ventures, an MSO that's a member of the GACC and the National Cannabis Industry Association but also financially contributes to several nonprofits such as MPP.
MPP Deputy Director Matt Schweich put it more bluntly in August.
"I'm accused of being a shill for the industry, but I don't actually have any money from the industry," an obviously frustrated Schweich told Marijuana Business Daily while discussing his work on the Montana campaign to legalize adult-use cannabis.
That doesn't mean MPP is coming to an end or that its influence is finished. But it's no longer the center of the action as it once was.
Dwindling financial footprint
In 2016 – a banner year for marijuana with eight out of nine state-level cannabis ballot measures winning at the polls – MPP and its foundation gave more than $4 million in cash and in-kind services to legalization campaigns in Arizona, California, Maine, Massachusetts, Nevada and North Dakota, according to Opensecrets.org, Ballotpedia.com and state campaign finance records.
That same year, MPP spent $90,000 lobbying Congress, and its PAC spent nearly $74,000. That included $56,650 in donations to various candidates for federal office, including Libertarian presidential nominee Gary Johnson, a marijuana advocate.
In 2018, MPP gave $872,494 in cash and in-kind services to legalization campaigns in Michigan and Utah. It spent $300,000 on lobbying efforts in Washington DC. And its PAC gave an extra $12,000 to various candidates for Congress.
This cycle, MPP's donations to state legalization campaigns total a mere $84,330.
Of that, $50,230 has gone to the campaign working to legalize adult use in Montana and $34,100 to the dual medical-recreational campaign in South Dakota.
Moreover, MPP isn't even the top funder in either state.
In Montana, the biggest donor is the North Fund. And in South Dakota, it's the New Approach PAC, according to an analysis of campaign-finance data by Leafly. Both groups' contributions dwarf MPP's financial support.
MPP's PAC was terminated on April 30, 2019, but its lobbying wing is still relatively well-funded, with $243,750 spent in 2019 and $67,500 so far in 2020.
By contrast, former MPP Executive Director Rob Kampia – who parted ways with the organization in 2017 after 22 years at its helm – raised and donated $398,500 to the campaign in Mississippi to legalize medical marijuana, according to state campaign finance records.
And in Arizona, the top contributors to the legalization campaign are by far MSOs, which have a lot to gain from a victorious ballot measure.
According to Leafly's campaign-finance analysis in Arizona:
Harvest tops the list with more than $1.4 million in contributions.
Massachusetts-based Curaleaf has donated $600,000.
Illinois-based Cresco Labs has given $300,000.
A changing landscape
Kampia, now executive director of the Marijuana Leadership Campaign political fundraising operation, said several key factors in recent years likely contributed to MPP's financial hurdles.
"In my last year I was at MPP, the fundraising was notably more difficult than in previous years," he said.
"The marijuana philanthropists had already been slowly trickling away, because they said, 'There's a marijuana industry that should be paying for this now.'"
On top of that, Kampia said, the overwhelming wave of victories in 2016 gave a lot of donors the impression that the legalization war had been won, when in reality it was just one of many battles.
Many in the industry, Kampia said, continued to financially support reform efforts in the wake of the 2016 election, but instead of giving to groups such as MPP, they began donating to trade associations or hiring their own lobbyists to influence Congress and state legislatures.
"The thinking of the marijuana businesses changed (after the 2016 election), and even though they were donating more money – some of them were donating far more money – they wanted to control the money, and therefore they weren't giving to nonprofits," Kampia said.
Hawkins, who succeeded Kampia as MPP's executive director, agreed to an extent and noted that "there are large operators that can afford to put money into ballot initiatives and campaigns. That has diminished the role of a group like MPP."
But, Hawkins added, "I've been in enough movements to know that never gets done by one organization, and it would be foolhardy to think that it would."
As far as political spending goes, Hawkins portrayed the current cycle as a bit of an anomaly.
He said the more than half-million dollars MPP was able to pour into Michigan in 2018 was in part because the organization was acting as a funding conduit for wealthy marijuana legalization supporters, a political role it might well play again in coming years.
"It's more a matter of how money has flowed," Hawkins said. "With Michigan, a lot of it flowed through MPP, and in this cycle, that's less so. The next cycle, it could be more."
The closure of MPP's PAC was his decision, he said, because he wanted to devote more resources to state legislatures since only about half of U.S. states have ballot-measure systems.
In the other half, the only way to legalize marijuana is to convince state lawmakers to do so, which happened in Illinois and Vermont.
"These efforts are moving to the state legislatures, and that's … the battle we have to gear up for," Hawkins said.
4Front's Krane, who had a lengthy stint as an activist with Students for Sensible Drug Policy before he jumped into the private sector, also said he hopes more marijuana companies decide to step up their support for groups such as MPP.
"The industry absolutely should be doing more to support the nonprofit world," Krane said. "Given the dynamics here, where a lot of the traditional philanthropy is drying up, I think the industry has a responsibility to step up and help support these efforts.
"If these things don't pass, we can't open new markets."
John Schroyer can be reached at johns@mjbizdaily.com