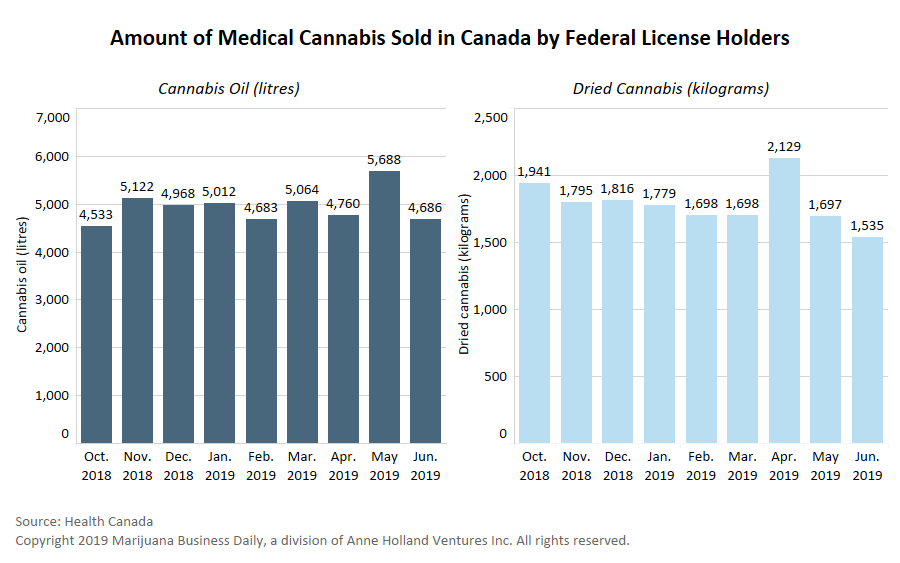 (This story has been updated to correct a currency conversion.)
Monthly sales of medical cannabis in Canada dropped almost 25% in June from October 2018 – when adult use was legalized – according to the latest data from Health Canada.
The new data also underscores challenges facing businesses focused on addressing demand in the medical industry:
In June, 1,500 kilograms (3,307 pounds) of dried medical cannabis was sold by federal license holders in Canada. That's down from almost 2,000 kilograms in October 2018 – the same month cannabis was legalized across the country.
Medical cannabis oil sales rose, but only slightly, to about 4,600 liters (1,215 gallons) in June.
After years of steady growth, the number of active client registrations with federal license holders plateaued.
June saw nearly 364,000 active patients, a small improvement over the 345,500 patients recorded last October.
What's more, the number of medical marijuana shipments tracked by the federal government – viewed as a key measure of the medical sector – dropped 17% from October 2018 to 118,000 in June.

Sales of medical cannabis generally saw the biggest declines in provinces with more adult-use cannabis retail points.

Alberta, for example, went from about 110,200 registered medical patients in October 2018 to 94,300 in June.

Sales of dried flower and oil for medical use in Alberta were reflected in that decline, falling from 416 kilograms and 953 liters in October, respectively, to 260 kilograms and 890 liters in June.

This phenomenon has also been observed south of the border.

Medical marijuana programs in U.S. states faced serious headwinds after adult-use cannabis was legalized, according to a Marijuana Business Daily analysis of Colorado, Oregon and Nevada.

Federal tax

Affordability is one of the biggest issues hindering the growth of the medical cannabis sector.

Ottawa's excise tax on adult-use cannabis was applied to medical sales last October, substantially raising prices in many cases and making medical marijuana less affordable.

Some, but not all, companies covered the tax for their patients.

The excise tax is applied to the base price of the medication. Next, the harmonized sales tax (HST) – which varies from province to province – is applied to the sum of that price, effectively forcing medical cannabis patients to pay a tax on a tax.

"The addition of excise tax to medical cannabis resulted in a significant increase in a patient's treatment cost ranging from the teens to around 30% depending on the province," said Max Monahan-Ellison, head of strategy at Canadians for Fair Access to Medical Marijuana (CFAMM), a nonprofit designed to protect the rights of medical cannabis patients.

"Over the last 10 months, we have heard from many patients who can't afford their medication through the medical market," Monahan-Ellison said.

"Over 2,000 CFAMM patient members we surveyed this year say they are taking less than their needed dose due to affordability issues."

Patient access

Access is another hurdle hindering the growth of the medical marijuana sector over the past 10 months, according to some experts.

"The question comes down again to access. Because it may be poorly feasible for a patient to make another trip out, the adult-use market has increased access," said Lucas McCann, chief scientific officer at Toronto-based regulatory consulting firm CannDelta.

"If patients register their information with an LP's system, it could be burdensome to repeat the process again with a new LP and patients can only be registered with a single LP," he said.

Another possible access bottleneck for patients is, in some cases, cannabis providers themselves.

As shortages of many cultivars struck Canada's marijuana industry this year, inventories of "saleable" dried cannabis doubled from October to June, to nearly 50,000 kilograms. Inventories of ready-for-sale cannabis oil tripled to almost 10,000 liters.

That raised questions about whether some federally licensed cannabis providers were building up their stockpiles of certain marijuana inputs at the expense of their medical patients ahead of the launch of "Cannabis 2.0" later this year, when sales of edibles, extracts and topicals will be legalized.

"With the limited supply we saw throughout 2019, it is feasible to believe that this shortage translated on the medical side, too," McCann said.

'Tip of the iceberg'

Despite the headwinds, medical sector observers see upside.

An increasing number of employers across have added medical marijuana to their employee benefits plans, even if the totality of those covered remains a small percentage of the population.

Wider insurance coverage could breathe fresh life into Canada's medical marijuana market.

"The long-term game for the medical industry is the long game," said McCann of CannDelta.

"Many pharmaceutical companies are looking to get a piece of the action and have already filed applications to become holders of a standard (license), micro-processors or cannabis drug licenses through Health Canada to complement their drug establishment licenses – the license required to possess and manipulate narcotics and other controlled substances."

He said there is a growing body of validated research supporting the anecdotal evidence surrounding the medical use of exogenous cannabinoids – THC, CBD and others.

"The next steps will surely be for these companies to seek out a certain registration with Health Canada for these compounds called a Drug Identification Number (DIN)."

A DIN will allow companies to make health claims for these compounds based on the research, including clinical trials.

"We have only seen the tip of the medical cannabis iceberg," McCann said.

Aurora bucks trend

Industry heavyweights Aurora Cannabis and Canopy Growth together account for 44% of Canada's 364,000 active patients.

But the two companies are headed in opposite directions.

Canopy's medical sales plunged to 13 million Canadian dollars ($9.8 million) in its most recent quarter, an CA$8 million decline compared to the same period a year earlier. The Smiths Falls, Ontario, company's patient base fell to 70,900 registered patients.

Edmonton, Alberta-based Aurora, on the other hand, saw medical revenue rise to CA$30 million and its patient base increased to 89,700 active registered patients.

"We are not seeing the same phenomenon that some other companies are where they see a drop in medical since legalization," Aurora Chief Corporate Officer Cam Battley told MJBizDaily. "We're seeing the opposite."

He said a number of factors will secure the long-term future of the medical cannabis sector.

"Clinical trials that validate the utility of medical cannabis for a specific condition are going to help," he said. "Aurora has 40 clinical programs that are completed or under way, and we're going to continue to expand that in Canada and around the world."

Battley has long advocated for the federal government to scrap the excise tax on medical cannabis.

Research is being funded by industry, schools and hospitals around the world. One of those schools is Harvard University.

"We're also going to see the emergence of different product and formulations," Battley said. "We're going to get more specific about the cannabinoids and combination of cannabinoids that we apply to specific conditions.

"The long-term viability of cannabis as medicine is not in question. Not in the least."

Matt Lamers can be reached at [email protected]