Cassandra Farrington, the co-founder of Marijuana Business Daily, is stepping aside as CEO of the pioneering cannabis publishing and trade show business at the end of the year and will be replaced by the company's founding editor and president, Chris Walsh.
Farrington, who has overseen huge growth at MJBizDaily since its founding in 2011, will transition to board chair to guide the company's long-term vision.
In his new role as CEO, Walsh will oversee day-to-day management and strategic initiatives.
The changes are effective Jan. 1.
"MJBizDaily will continue to be my first priority," said Farrington, who co-founded the company with Anne Holland nine years ago. But Farrington said the time is right personally and for the company.
Having worked with Walsh and the leadership team in the past year "to ensure that we have the right people in the right seats to take the business forward even more successfully," Farrington added that she was able to "lay out a path for the next phase of my own contributions to the long-term opportunities ahead for
MJBizDaily
."
A former Citigroup vice president, Farrington has developed MJBizDaily into an industry leader in news and analysis, B2B trade show events and market research.
The company has nearly 90 employees – more than triple the number from two years ago – and puts on industry conferences in North America, Latin America and Europe.
"I recognize there have been a lot of pioneers in this industry, but I'm so proud of the role MJBizDaily has served in helping businesspeople connect and find paths forward, bring in investors and really get this cannabis industry off the ground," Farrington said.
Walsh, a veteran business journalist with an MBA from Regis University in Denver, joined MJBizDaily ahead of the company's launch to build the content strategy and brand.
Since early this year, he has served as president, overseeing the company's key revenue divisions.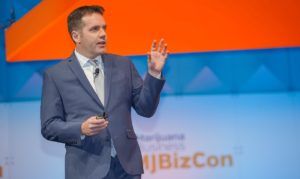 Walsh said his goal is to "ensure we continue to professionalize the industry and help entrepreneurs and investors succeed and position themselves for the future."
He said his focus as CEO will be on strategic growth for the company.
MJBizDaily has been ranked on Inc. magazine's list of the 5,000 fastest-growing private companies in the U.S. four years running. Its 2019 ranking reflected a 290% revenue growth for the year.
It wasn't always easy.
In 2013, MJBizDaily had to hold a marijuana conference at a racetrack in the suburbs of Seattle because of resistance to the industry.
Farrington said she puts herself in the category of those who are surprised by the scope and scale of the industry's growth since then.
She said the company's turning point came in 2013, when MJBizDaily made the decision to invest in large trade show-style events.
"It was a gut-wrenching financial decision, a kind of make-or-break moment," Farrington said. But the investment paid off.
Today, the company's flagship event, MJBizCon, is expected to attract 35,000 attendees to Las Vegas in December.
Reflecting domestic and international growth, the company has conducted trade shows in New Orleans; Toronto; Copenhagen, Denmark; and Bogotá, Colombia.
MJBizDaily also has expanded its website and magazine news and analysis to include hemp, a subscription service for investors and special reports.
Walsh lauded Farrington for helping shape the cannabis industry as a business leader and top woman entrepreneur. MJBizDaily has been honored twice as one of the fastest-growing, women-owned companies.
"She took those risks in the early days and they're paying off," he noted.
Looking ahead, Walsh said one of the biggest challenges for the entire industry, including MJBizDaily, likely will be the "wave of competition" from mainstream companies.
Jeff Smith can be reached at jeffs@mjbizdaily.com