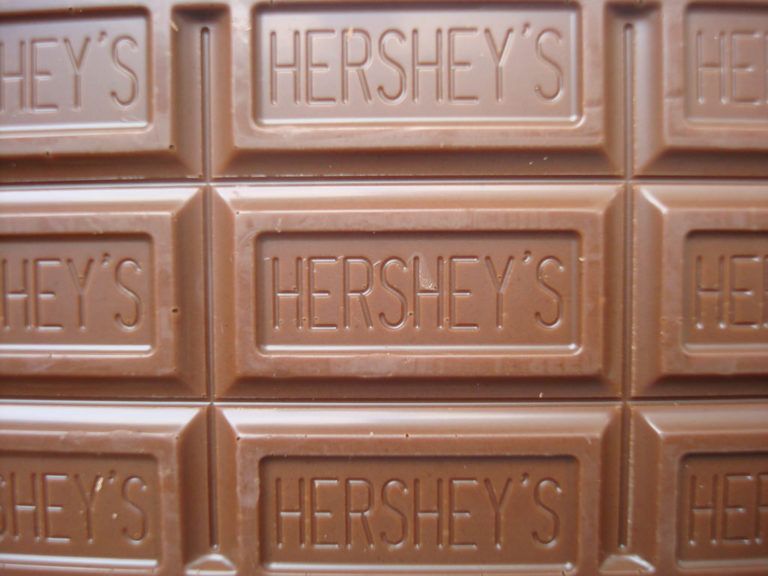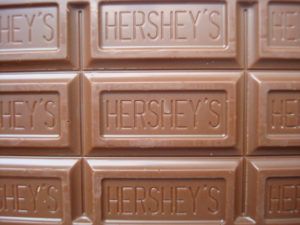 Cannabis businesses, beware: The Hershey Co. is on the warpath.
Perhaps the most famous confectionery peddler in the world has a well-documented history of actively protecting its trademarks, and the marijuana industry is no exception.
Hershey's has been relatively quiet in the marijuana sector since it sued two cannabis businesses in 2014 – in one case, for example, it targeted an edibles maker that offered a product called Ganja Joy. Hershey's produces Almond Joy.
Last year, however, the chocolate giant apparently ramped up its oversight of possible trademark infringements.
Hershey's – a Fortune 500 company with annual revenue of more than $7 billion – sent cease-and-desist letters last year to at least two California marijuana companies:
Harborside, a well-established dispensary in Oakland.
Good Girl Cannabis Co., an edibles maker in rural northeast California.
Those cases – along with several others in recent history – emphasize that the still-maturing cannabis industry faces legal issues including complicated trademark laws that can force small companies to change course.

While Good Girl Cannabis owner Kimberly Scott said her situation was resolved quickly and amicably, Harborside wound up fighting back after months of legal threats from one of Hershey's law firms.

In particular, Harborside filed suit against Hershey's in December after receiving multiple demands from an Indianapolis law firm representing the confectioner.

Hershey's insisted that the dispensary stop selling Jolly Meds cannabis-infused products.  Hershey's produces Jolly Ranchers.

The lawyers representing Hershey's wanted Harborside to pay $20,000 for "liquidated damages" and sign a settlement agreement with a confidentiality clause.

"Harborside refused confidentiality, and I told Hershey's that we were prepared to proceed with the litigation," said Henry Wykowski, Harborside's longtime attorney.

"And guess what happened? They caved the next day."

The case was voluntarily dismissed Jan. 31, 2018, according to court records – within weeks of Harborside's initial filing.

Wykowski said the sides reached a settlement agreement that outlined zero legal liability for Harborside with respect to Hershey's trademark-infringement allegations.

Harborside's executive director, Steve DeAngelo, characterized Hershey's attorneys as "bullies."

"We stood up to the federal Department of Justice when they tried to close us down (in 2012)," DeAngelo said in a statement. "We are certainly not going to be intimidated by a candy company."

Hershey's did not respond to requests from Marijuana Business Daily for comment, nor did the law firm that represented the chocolatier against Harborside.

The Hershey-MJ history

In mid-2014, Hershey's filed suit against a Colorado edibles maker, Tincturebelle, and a Seattle dispensary, Conscious Care Cooperative, regarding edibles that were obvious parodies of classic Hershey's candies.

Hershey's won easily in both instances, with the Colorado and Washington state companies settling instead of going to trial.

It's unclear from court records if Tincturebelle paid Hershey's any money. The company was the one selling Ganja Joy.

But Conscious Care Cooperative did not.

"At the end of it, we walked away not owing them anything," Conscious Care co-founder Trek Hollnagel told MJBizDaily.

Hollnagel, also a co-founder of Dope Magazine, said Conscious Care's attorney convinced Hershey's lawyers that the dispensary wasn't the guilty party since it was an edibles reseller and not the manufacturer that created the product name and logo.

Conscious Care was dissolved in 2016.

Tincturebelle also reached a settlement and remains in business.

California attorney Amanda Conley, who has seven years-plus of experience in intellectual property disputes, said one of her marijuana business clients also received a cease-and-desist letter from Hershey's around 2014.

Her client reached a quick settlement, she said, and no money changed hands.

"We backed down pretty quickly, but so did Hershey's," Conley recalled.

She said the Harborside case seems to be "a ramping up, just based on our limited experience with this company."

Cannabis not alone

Hershey's hasn't focused solely on marijuana businesses when either threatening or filing lawsuits against companies it believes have committed trademark infringements. Just two examples of many from recent years:

Wykowski, Harborside's attorney, believes Hershey's took its trademark concerns a step further with his client after the confectioner sent Harborside a cease-and-desist letter in April 2017 demanding that the dispensary stop selling Jolly Meds.

In an attempt to stave off a potentially expensive legal fight, the dispensary immediately began working to comply with Hershey's request. Its situation was similar to Conscious Care's in that Harborside was a middle man reseller, not the creator of the product line Hershey's took issue with.

That meant asking the manufacturer, San Francisco-based Jolly Meds, to redo its name and packaging.

(Jolly Meds officially changed its name and product line to J:Meds in 2017 and has a trademark pending with the U.S. Patent and Trademark Office.)

Harborside spent months responding to Hershey's requests and acquiescing to demands regarding the products in question, Wykowski said.

"Hershey's came on strong," Wykowski said. "We thought this was an appropriate time to take a stand, not only on behalf of ourselves but on behalf of other people who are similarly situated."

Harborside then filed suit based on the repeated demands from Hershey's attorneys.

Hershey's wanted a $20,000 payout from Harborside and an agreement that would have forbidden the dispensary from disclosing the existence of a settlement, including the payment.

The case had another twist: Hershey's told Harborside that Jolly Meds was violating the confectioner's trademark for Jolly Ranchers, yet didn't send any correspondence at all to the infused products manufacturer.

"They did not come after us directly," J:Meds owner Jeffrey Kolsky said. "They came after us through (Harborside), basically."

The only practical impact on Kolsky was that he rebranded his products quicker than he had planned.

"Really, nothing has come of it," he said, "except that we pivoted to become J:Meds instead of Jolly Meds as soon as it happened.

"We basically said, 'This is a fight not worth having.'"

The takeaway for Wykowski is that Harborside's fight will serve as an alert that at least some of Hershey's attorneys are trying to extract payments from companies by threatening expensive lawsuits and then demanding confidential settlements.

"We have already been contacted by other attorneys that are faced with a similar situation on this issue," he added, "because now it's a matter of public record."

Kolsky said he was delighted to see Harborside's stand against Hershey's, which he accused of "predatory practices."

"It was very apparent that this was a game they were playing, that they were trying to get money where they could," Kolsky said. "I think what it took was somebody standing up to Hershey's with money and saying, 'We're calling you out on this. This is wrong.'"

Upshot for MJ businesses

Despite Harborside's victory, Conley said most companies involved in trademark disputes will have to evaluate their situations on a case-by-case basis, in large part because settlements typically are cheaper than a court battle.

Such fights can easily cost a company hundreds of thousands of dollars in legal fees, according to Conley.

"You don't want to be in this fight. You have so much money to spend right now on compliance and other issues, the last thing you need to be doing is having a fight with Hershey's."

Both Conley and Wykowski agreed: There will only be more cannabis-related trademark and IP legal disputes as the industry continues to develop.

John Schroyer can be reached at [email protected]