The appearance of Pabst Blue Ribbon's iconic blue logo on cannabis-infused beverage packaging might be a sign that the beverage category, which often struggles for market share, is poised for speedy growth in North America and perhaps beyond.
PBR launched its first infused beverage last week through a licensing deal with Pabst Labs, a new California cannabis company founded by former Pabst employees and industry experts.
Currently, infused beverages account for only a sliver of the overall market for cannabis-infused products.
Sales of adult-use infused beverages in California brought in $3.4 million in September, for example. That compares to $40 million for edibles for the same month, according to data provided by Seattle-based analytics firm Headset.
But infused beverage sales in California in September nearly doubled from a year earlier, whereas edibles grew by a smaller though respectable 53%.
The combined adult-use infused beverage market for California, Colorado, Nevada, Oregon and Washington state were $7.9 million in the month of August, with California accounting for the bulk of sales.
That is up from $2.3 million in August 2017, when major beverage companies started to make the leap into cannabis.
That same month, Lagunitas Brewing Co., now owned by Dutch brewer Heineken, partnered with California cannabis concentrate company AbsoluteXtracts, a collaboration that would go on to produce Hi-Fi Hops, a nonalcoholic beverage infused with THC and CBD.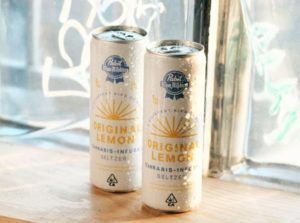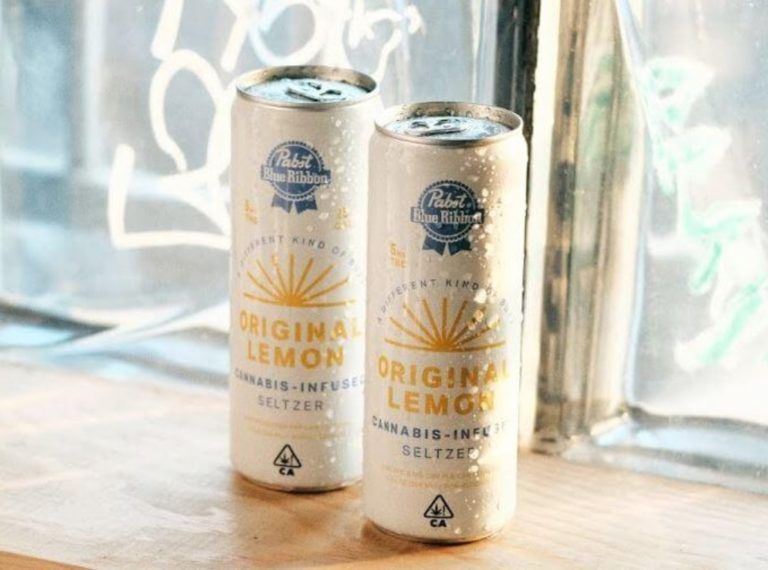 Other mainstream alcohol companies also have used partnerships to enter the cannabis sector.
Constellation Brands, known for such beers as Corona, Modelo and Ballast Point, acquired a 9.9% stake in Canadian producer Canopy Growth in October 2017.
It increased that investment in 2018 and now holds a 38.6% stake in Canopy.
Molson Coors and Hexo Corp. formed Truss Beverages in August 2018 to produce infused beverages for the Canadian market.
Anheuser Busch InBev, the world's largest brewer, and Canadian cannabis producer Tilray formed a joint venture in December 2018 to produce nonalcoholic infused beverages.
But those partnerships haven't yet put a big brand, such as Budweiser or Coors, on the side of cans or bottles.
So how has Pabst been able to pull it off?
No money was exchanged for the licensing agreement, according to CNN Business.
The brewer doesn't have a financial stake in Pabst Labs and will receive no proceeds from the sales – moves Pabst hopes will allow it to avoid any regulatory issues, given that marijuana remains illegal under federal law.
"Until the legal landscape changes, we can't produce this in-house," Seamus Gallagher, Pabst Blue Ribbon's senior brand manager, told CNN Business.
The deal does, however, position Pabst to capitalize on the cannabis market if and when the plant is legalized at the federal level.
The agreement also allows the company to test the market without much financial risk.
Pabst Labs spells this out clearly on its website: "Pabst Brewing Company does not manufacture, cultivate, distribute or sell any cannabis products."
Space Station, a co-packer and contract manufacturer, will produce the beverage, and Pabst Labs will sell it at a dozen California retailers and online for delivery in Humboldt County, Los Angeles, Sacramento and San Francisco.
The nonalcoholic lemon sparkling water will contain 5 milligrams of THC per 12-ounce can.
Now that the category has a direct major brand, it will be worth watching to see if other major beverage companies follow suit with their own brands.
Andrew Long can be reached at andrew.long@mjbizdaily.com