Let the rebirth of San Diego's medical marijuana industry begin.
On Wednesday, the city granted initial approval to what could become the first legal dispensary in San Diego since officials established new regulations earlier this year.
A hearing official determined that the dispensary – A Green Alternative – meets all the necessary criteria for approval. Barring any setbacks, the dispensary hopes to open by New Year's Eve in the Otay Mesa neighborhood, just north of the Mexican border.
It would rank as the first legal dispensary within the city's boundaries under the new regulatory structure.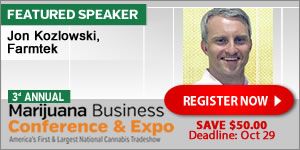 San Diego has one of the oldest MMJ scenes in the country, but the industry has experienced numerous booms and crackdowns in the absence of strict regulations. Officials are still trying to close the estimated 100 or so illegal dispensaries that have ignored the new rules and remain open without approval.
Under the new regulations, San Diego will allow up to 36 licensed dispensaries, with as many as four in each of the nine city council districts.
Thus far, 38 dispensaries have expressed interest in opening up shop. Most are concentrated in a few council districts, with none proposed for three districts.