By Chris Walsh
The dam holding back massive pools of investment money from the marijuana industry hasn't burst yet. But cracks are starting to emerge, and millions of additional dollars could start flowing into the industry as the year progresses.
The newest – and perhaps most significant – crack: An increasing number of established investment firms, wealthy individuals from the mainstream business world and even politicians are starting to pump money into cannabis companies.
Earlier this week, we reported that a marijuana-focused angel investment network – The ArcView Group – has seen a 50% spike in membership over the last three months. What's more, its ranks have ballooned more than five-fold in a year.
The growth alone is impressive. But it's who has joined that is turning heads.
ArcView members now include Tom Bollich, co-founder of online social gaming giant Zynga; New York Assemblyman Steve Katz; and Douglas Leighton, founder of Dutchess Capital, a New York-based investment firm that manages $125 million in assets and has invested more than $200 million in companies across the globe.
Here's some other evidence of the increased mainstream investor interest:
– We at Marijuana Business Daily are now getting calls and emails on a weekly basis from established investment firms and investors seeking information about the industry and startup companies looking for funding. These types of inquiries were few and far between just a few months ago.
– The Chicago investment firm Lincoln Park Capital Fund cemented a deal to funnel as much as $27 million into the publicly traded biotechnology company Nuvilex, which said it will use some of the money for MMJ research.
– Another publicly traded company – MediSwipe, which provides various products and services to the cannabis industry – received a $1.1 million funding commitment from an unnamed private equity firm (also based in Chicago). The company then announced this week that it will offer up to $500,000 in loans to help Colorado dispensaries and cultivation operations buy expensive equipment and real estate.
– Privateer Holdings, a cannabis-focused private equity firm run by several investment banking veterans, has seen interest from investors soar and is well on its way to raising $25 million in its second funding round. During its first round – completed last summer – the firm raised $7 million.
While some well-known business bigwigs have funded marijuana efforts in the past (most notably the late Peter Lewis of Progressive Insurance), you could count the number on one hand until recently. Reputable Wall Street investment firms that wouldn't touch the industry with a 1,000-foot pole six months ago are now clamoring to get involved.
In addition to the surge in interest from mainstream investors, successful cannabis executives are increasingly looking to fund other marijuana companies.
Two executives from High Times magazine, for instance, recently teamed up to start a new investment fund and are looking to raise $100million in two years, while the co-founder of dispensary listing giant WeedMaps has gone in a similar direction.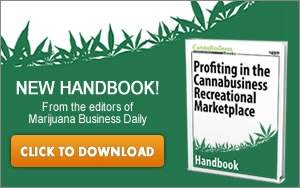 Cannabis business leaders, it seems, are bullish on the future and want to double down on the industry.
So what's sparked investor enthusiasm ?
The smooth, highly profitable roll-out of recreational marijuana sales in Colorado and the impending launch of Washington's adult-use program have been game-changers. The recreational market is where the real money lies, and investors now have every reason to believe that it will be a powerhouse industry.
The fact that the federal government hasn't stepped in (and recently even indicated that it will take a hands-off approach to regulated marijuana markets ) also has lowered the perceived risks.
To be sure, there's still a long way to go. Average investments in cannabis companies remain relatively paltry, totaling in the tens of thousands or low six-figures. A single investment in the million of dollars is seen as a coup in the cannabis industry but would induce yawns in other sectors.
Still, the cannabis business has taken a huge step forward when it comes to establishing an effective investment climate. And when you add it all up, the future looks much brighter from a funding perspective than it ever has in the past.
Chris Walsh is editor of Marijuana Business Daily