This is the first installment of a new weekly series from Marijuana Business Daily and Viridian Capital Advisors.
Each week, we will provide you with the latest data on cannabis investment activity and M&A, along with key takeaways, analysis and trends based on recent market moves.
The data below, provided by Viridian Capital Advisors, is through the week ended Sept. 7, 2018.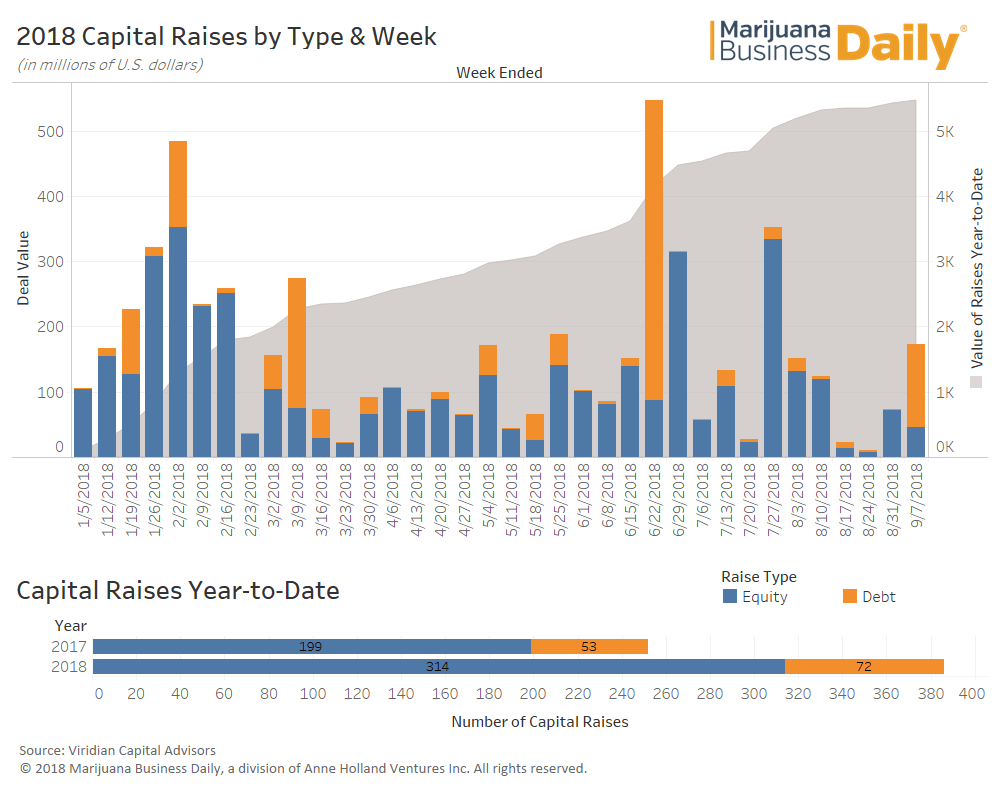 Capital raises key takeaways:
Aurora Cannabis closed its previously announced loan for 150 million Canadian dollars ($115.4 million) and CA$50 million ($38.4 million) revolving credit facility with Bank of Montreal, a deal that underscores the increasing interest in cannabis from mainstream banks and confidence that the nation's licensed producers can support large debt service and principal repayment.
After its initial public offering on the Canadian Securities Exchange, Charlotte's Web Holdings completed a private placement worth CA$5.6 million ($4.3 million). The deal highlights the increased interest among investors and capital markets in branded product firms. The commoditization of flower and declining wholesale flower prices is spurring growers to focus on brands to both sustain value and profit margins and encourage consumer brand loyalty. "Brand rollups now entering the marketplace as the multistate license rollup platforms are attracting significant capital and valuations," said Scott Greiper, president of Viridian Capital Advisors.
California marijuana cultivator Canndescent completed a $13 million Series C Convertible funding round, further proof that "California remains an attractive target market as legal supply chain continues to develop," Greiper added.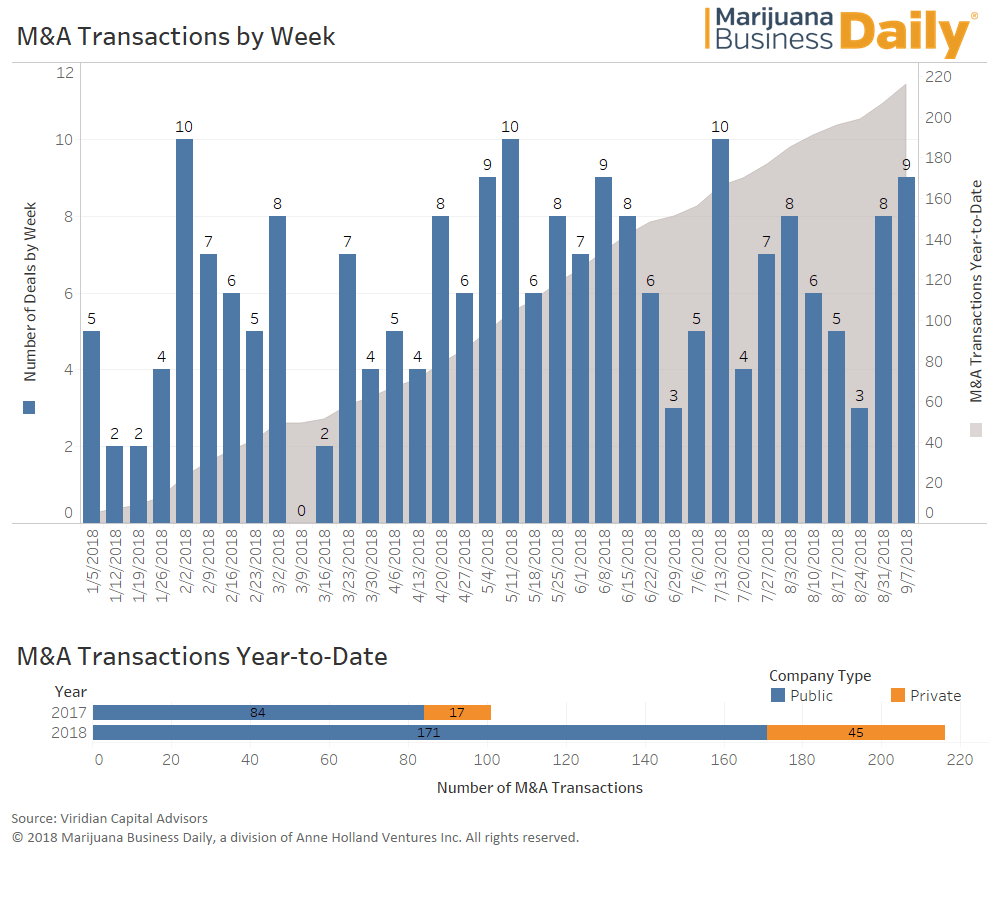 M&A key takeaways:
MedMen completed its acquisition of Florida licenses from Treadwell, evidence that "Florida remains an attractive medical market due to large population and high numbers of physicians and senior citizens," Greiper said.
Aphria completed its divestiture of Liberty Health Sciences, a deal that highlights the lingering regulatory issues for Canadian companies that list on the Toronto Stock Exchange and the TSX Venture Exchange, which have threatened to delist firms with U.S. cannabis assets given the plant's federally illegal status in the United States.
Canopy Growth completed its previously announced acquisition of Hiku (formerly Tokyo Smoke), underscoring "the emergence of brands as an attractive asset class within the cannabis industry," Greiper noted.
Viridian Capital Advisors is a financial and strategic advisory firm that provides investment banking, M&A, corporate development and investor relations services to emerging growth companies and qualified investors in the cannabis sector.