This weekly series from Marijuana Business Daily and Viridian Capital Advisors provides the latest data on cannabis investment activity and M&A, along with key takeaways, analysis and trends based on recent market moves.
The data below, provided by Viridian Capital Advisors, is through the week ended Nov. 30.
Capital raises key takeaways:
Chicago-based Cresco Labs (CSE: CL) completed a raise worth 107.3 million Canadian dollars ($80.9 million) through a brokered private placement as part of its reverse takeover and public stock listing on the Canadian Securities Exchange. The deal is yet another example of U.S.-based multistate operators turning to Canada's capital markets to raise money to continue scaling up their operations, said Harrison Phillips, vice president of Viridian. "Companies continue to rapidly seek scale and are mostly raising outside capital to do so – as opposed to funds generated from operations," he said.
Cura Partners, an Oregon-based extracts firm, closed a $75 million private placement that included investors from across multiple countries. The deal marks "one of the largest raises" inked among branded product cannabis companies, Phillips said. "It shows there is global interest in this space – and that the larger-scale operators in the U.S. are able increasingly able to attract more capital."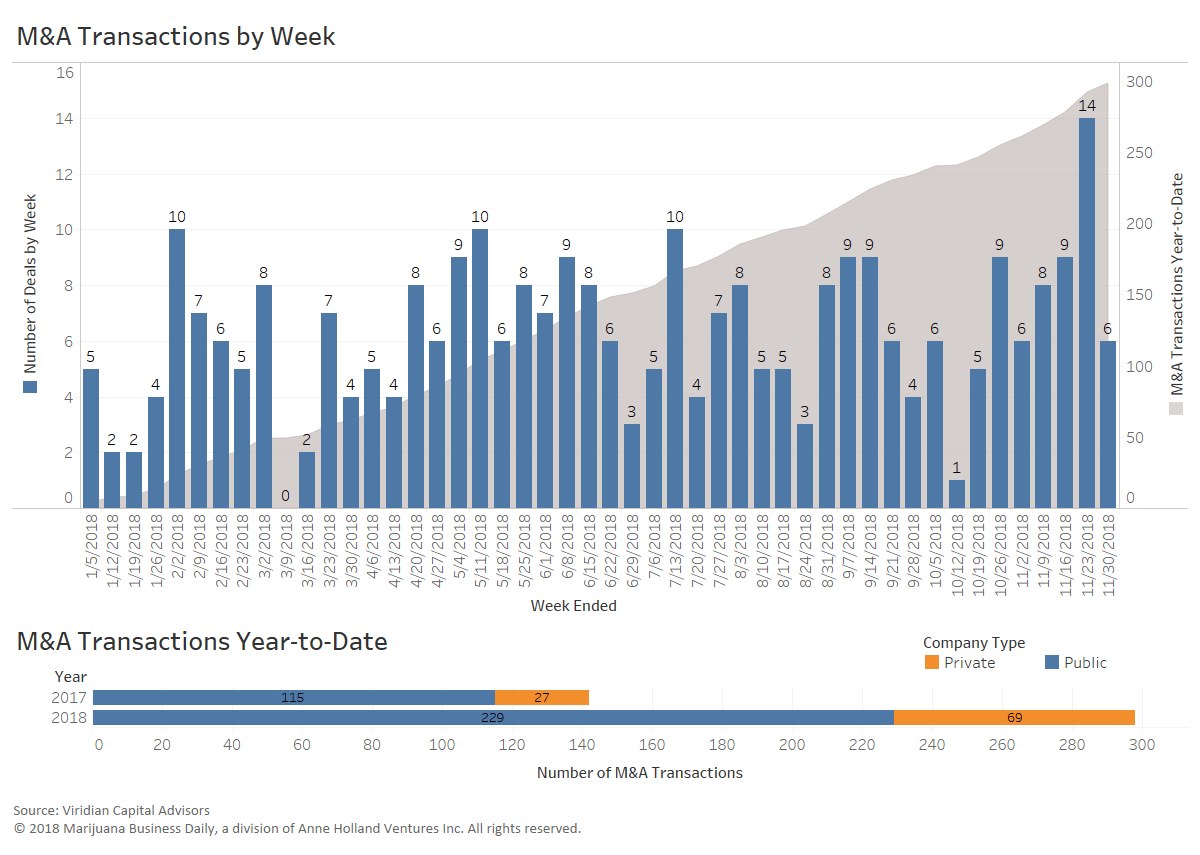 Merger & acquisition key takeaways:
Three U.S. based firms – Cresco Labs, Colorado-based Dixie Brands and California-based DionyMed Holdings – completed reverse takeovers as part of their public listings on the Canadian Securities Exchange. "As the investor focus shifts from Canada to the U.S., multistate operators and branded firms are leading this activity – and we expect to see more of this as we head into the new year," Phillips said.
Canadian cannabis firm Canopy Growth closed its acquisition of Ebbu – an infused products firm focused on crafting cannabis products aimed at delivering certain effects or moods such as happiness or sleepiness. "We've really seen this trend picking up recently among consumers seeking out particular effects rather than strains of cannabis," Phillips said. "Once the infused product market opens up in 2019 in Canada, there will be a push to create products that are consistent, and this type of (intellectual property) will be key to driving those efficiencies."
Viridian Capital Advisors is a financial and strategic advisory firm that provides investment banking, M&A, corporate development and investor relations services to emerging growth companies and qualified investors in the cannabis sector.