By Fred Dreier
Ata Gonzalez has lofty ambitions for G FarmaLabs, the edibles company he founded late last year with his wife.
His goal: develop a national brand by selling the company's marijuana-infused chocolates, cannabis oils and vape pens in numerous medical and recreational cannabis states across the country.
It's a difficult proposition given the complicated legal situation surrounding cannabis, though some other edibles companies – most notably Bhang Chocolates and Dixie Elixirs & Edibles – have also begun moving in that direction via licensing deals.
Gonzalez is well on his way. G FarmaLabs, which initially only sold its products in California, recently finalized an agreement with a manufacturer in Washington State and is working out similar relationships in Colorado. The plan is to expand beyond those states, but Gonzalez wants to do so in a measured way.
A national brand would notch an important milestone in Gonzalez's career in cannabis, which began five years ago when he and his wife purchased a farm in Northern California and began growing the plant. He opened a dispensary in Los Angeles in 2012, but switched to the edibles business when police began raiding cannabis operations in the area.
Marijuana Business Daily spoke with Gonzalez about building a national brand, finding financing in the cannabis industry and the testing of edibles.
Q: What have been the biggest challenges to launching in other states?
A: Not being able to control our brand has been the biggest one. I wish we had a central hub to manufacture our products like any other regular company, but every state has its own rules, so you can't do that. We're looking to license to strong groups in those states that know the law and follow the law. Finding them isn't always easy. It takes time to make these relationships.
Q: How have you pursued those relationships?
A: We've been approached by so many potential partners through our website. We get hits every day from groups in other states. When I attend conferences we run into a lot of good people, and others contact us through our attorneys. There isn't a lack of interest in partnerships for licensing. We just have to sit down with every one.
Q: How do you decide which partners to pursue?
A: We do a facility visit. We want to make sure they can produce the product and that they have the financials and the space to do it. That's the first layer. Then, we have to vibe. Honestly, I go with my gut a lot. I gotta get a vibe with them if I'm going to do business. If it starts bad it will end bad. So we take our time and ask around and have our attorney lend a helping hand.
Q: What's your advice for building a national brand in cannabis?
A: We market our brand nationally even though we're only in California and Washington, because even though we're not [in other states] today, people will know about the brand. Then, when we come to the state, they are familiar. Every campaign we do is a national campaign rather than specific to California or Washington.
Q: What is the biggest hurdle that G FarmaLabs has faced during its evolution?
A: Money. We own 100% of the intellectual property, but it's been rough not to get lured into quick money and risk losing control of your company. We're still a seed, we haven't flowered yet because of the laws. As soon as the Department of Justice changes the laws, then you'll see the big companies come into the industry to fund companies that are touching the flower.
Until then, [the biggest problem is] still money. Banks aren't there for us. It's been friends and family doing our funding. It's expensive to grow a brand. Every day we put a couple bucks into our pocket and everything else back into the company.
Q: Why haven't you taken on investors?
A: Everybody is jumping on this public [funding] thing. We have fought to stay private because we keep more control. I want to keep it in the family right now. Who knows where we'll be in five years? Going public seems like it's just to cash out at the moment. I don't feel it's the right time for any cannabis company to go public unless you're cashing out.
Q: There have been lots of negative media reports around edibles lately, with some accusing edibles companies of inconsistent testing and bad practices. How does the industry overcome this?
A: The market is going to change. It has to change. You see so many inconsistencies in those types of products on the market. Anybody can make an edible, wrap them up, put a sticker on them and put them in a store. That's why we do so much testing on our own products. I spend so much on testing. We test our source material. We test our oils. We test so many times. We want customers to know exactly what they're getting when they buy our truffle.
Q: Are you confident in the testing results?
A: It is frustrating because the labs come back with inconsistent results too. I'll send a batch of oil to six different labs and we'll see results all over the place.
Q: How do you compete in a challenging market like that?
A: We know regulations are coming, and that's why we didn't put out a 1,000 milligram truffle box. We did a 25 milligram truffle, so if you are a light eater, you could eat one or two. I think you're going to see more of that.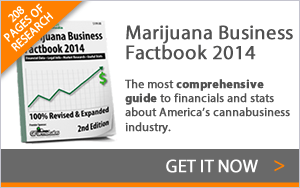 It takes professionalism to do things right. You need a commercial kitchen to make sure you have the consistency right in the product. We spend a lot of money on our [commercial kitchen]. Maybe the mom 'n pop shops can't do that.