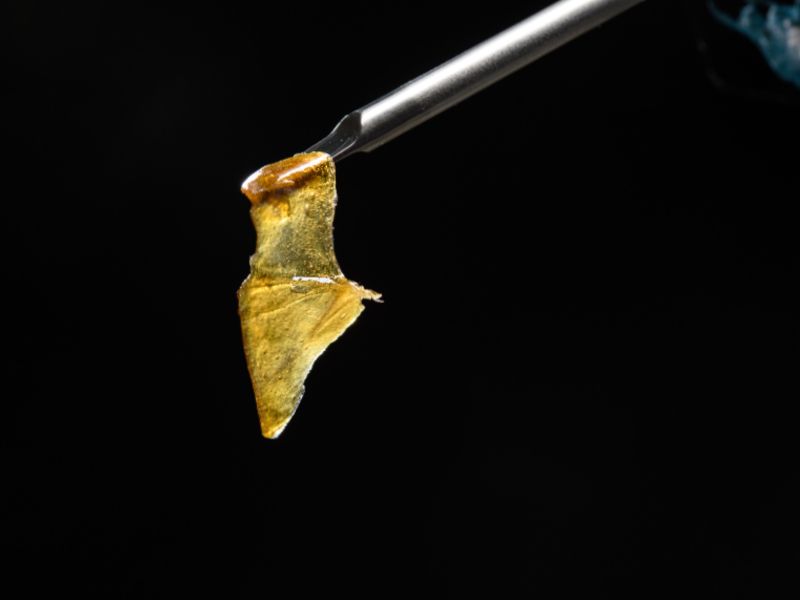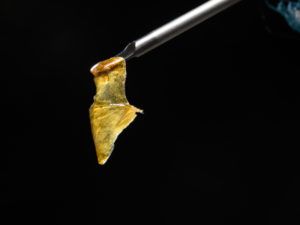 (This story has been updated to reflect Good Bud's decision to change the name of its "live-resin hash" product to "live hash".)
As cannabis concentrates become more widely available in Canada's regulated adult-use marijuana market, new products illustrate the variety of roles such merchandise can fill for producers, including:
Premium concentrates aimed at cannabis users accustomed to black-market concentrates.
Simple concentrates created to entice consumers at relatively low price points.
A path to upgrade production byproducts into in-demand consumer goods such as hashish.
Early sales data from Canada's concentrates market should be taken with a grain of salt.

Limited product availability in certain categories means concentrate shoppers have far fewer choices than they will when the market eventually matures, particularly versus other, more widely available refined cannabis products such as vape pens.

For example, Vivo Cannabis subsidiary ABcann Medicinals appears to be offering the only shatter currently available in Canada's regulated market.

Still, Canada's legal concentrate market is clearly growing, as is the market as a whole: Point-of-sales data from Seattle-based cannabis analytics firm Headset shows category sales in Ontario grew from roughly 43,000 Canadian dollars ($33,000) in February to nearly CA$359,000 in July, not including online sales from the government-operated online Ontario Cannabis Store.

Appealing to experienced consumers

Privately held British Columbia producer Good Buds sees top-notch concentrates as a path to enticing experienced cannabis consumers away from the illicit market.

Canada's legal cannabis producers haven't always offered those customers what they want, said Good Buds co-founder and Chief Strategy Officer Alex Rumi.

"I think it largely relates to a lot of the larger public companies having this really highly investor-focused mentality, especially leading into legalization in the early days," he said.

"I think a lot of them are pivoting now, but it was a lot of focus on things that got investors excited, like vapes and edibles – there wasn't really much of a focus on products like hash and rosin and even (butane hash oil) extractions, which are more legacy, black-market products that are very popular."

Rumi said Good Buds' goal is producing high-quality concentrates that appeal to heavy-using consumers who are accustomed to those illicit products.

To that end, Good Buds' current concentrate portfolio includes a live hash extracted from fresh-frozen cannabis plants, a hash rosin pressed from that same live hash, and a flower rosin product pressed from hand-trimmed cannabis bud.

"Ours is definitely the connoisseur play," Rumi said.

"(The target customer is) willing to spend a bit more on it, kind of like people that collect wine and things like that," he continued.

Rumi believes there's plenty of room for competition in Canada's high-end concentrate market, particularly from other small producers.

"All these factors that drive our quality up are things that are hard to scale and hard to do at a really low cost," he said.

Keeping concentrates simple

A number of Canadian producers have entered the concentrate space with solventless products, including kief and bubble hash.

In Alberta, "BC Kief" from Vivo Cannabis subsidiary Canna Farms has been the top-selling concentrate in terms of unit sales this year, according to market data from Headset.

Privately held B.C. producer Tantalus Labs has kicked off its concentrate portfolio with a dry sift hash, a powdery concentrate that hasn't been pressed into a brick.

It's made with dried, cured cannabis biomass, frozen solid and run through a tumbler to separate the trichome heads and capitate stalks.

CEO Dan Sutton described the concentrate as a simple product with high production efficiency.

"It's easy for us to produce, we get to pass those savings on to the customer and at a price point that's comparable to a lot of the other kief products in the market," he said.

Sutton believes the younger generation of cannabis consumers gravitates toward concentrates such as shatter, diamonds and live resin, but he believes solventless products can offer those consumers a competitive value proposition.

"I think we're converting users on the premise that this is a really low-cost product you can try, you don't really have an excuse not to try it."

Strong demand for hashish

Hashish has taken an early lead in the regulated concentrate markets in Ontario, B.C. and Alberta year-to-date, Headset point-of-sale data shows.

Hexo Corp.'s "Original Stash" hash product, sold in 2-gram packages, has become the best-selling concentrate product in all three provinces this year in dollar terms.

Hexo regulatory filings say the Original Stash hash is made using trim as the primary input, part of a "trim management initiative" meant to "systematically reduce this inventory on hand."

Ontario producer 48North Cannabis launched a pressed-hashish product in B.C. in June and has since rolled it out to other provinces.

CEO Charles Vennat believes hash in its classic brick form benefits from an existing consumer base that has been waiting for it to arrive on the regulated market.

"I think a traditional pressed hash is a safe reintroduction back into cannabis for people who have maybe been sitting on the sidelines for a while and who maybe smoked it in high school and college," he said.

Vennat believes a successful concentrates strategy can involve "cooking with what's in the fridge."

"In essence, what you're doing is you're taking what, in many ways, is considered a byproduct of your cultivation practice, and you're turning it into a commercial consumer packaged good."

Limited selection, high retail prices

Concentrate prices in the Canadian market remain relatively high: Headset point-of-sale data shows the average price for a gram of concentrate in July was CA$47.84 in Alberta, CA$39.23 in B.C., and CA$31.53 in Ontario, not including the government-operated Ontario Cannabis Store website.

Dan Sutton of Tantalus Labs attributes high prices in part to Canada's federal excise tax structure for cannabis extracts, which taxes products such as edibles and concentrates based on their THC content.

"So essentially, the higher quality the hash, the more refined the hash … the higher your taxation level is going to be," he said.

"It's just one of those things – maybe it'll change, maybe it won't – but inevitably concentrates in general and solventless concentrates will have a higher cost profile than their illicit-market counterparts," he said.

"And perhaps we combat that somehow with cost efficiency and moreover with product quality, over time."

Vennat of 48North said he expects upcoming price compression in the concentrate market, but he believes that can be offset with new production innovations as demand for regulated concentrates increases and the market opportunity grows.

"The amount of engineering and capital (investment) that you can justify, then, into improving your process and improving your scalability of it, that's what's going to drive a lot of cost savings."

Solomon Israel can be reached at [email protected]