(This is the third article of a four-part series examining how Canadian cannabis companies are expanding globally. Part I was published Aug. 9 and Part II on Aug. 10. Part IV will publish Wednesday.)
By Matt Lamers
Canadian medical cannabis exports are surging, driven by licensed producers that are using overseas shipments as a way to establish local partnerships and gain a foothold in foreign markets.
In particular, exports of dried medical marijuana and MMJ oil products from Canada have soared since 2015.
And they are on pace to double this year from 2016 levels, according to data obtained by
Marijuana Business Daily
. Analysts expect this trend to continue in the near future as more countries legalize medical cannabis.
While exports remain a sliver of overall medical marijuana sales in Canada, licensed producers (LPs) have moved to capitalize on burgeoning overseas MMJ markets such as Germany, Australia and South America.
According to data from Health Canada, the government body responsible for issuing cannabis export permits:
Just over 45 kilograms (100.3 pounds) of dried cannabis and 94.7 kilograms of cannabis oil were exported through July 20 of this year.
For all of 2016, 44.8 kilograms of dried cannabis and 100.8 kilograms of cannabis oil were shipped overseas.
No medical marijuana was exported in 2015 under the former Conservative government, which did not share the pro-MJ views voiced by current Prime Minister Justin Trudeau.
Cam Battley – a member of the board of directors of Cannabis Canada, the industry association for licensed producers – sees exports as a means to an end.
"We're going to see exports to multiple new legal medical cannabis markets soar," he said, "but ultimately the real game is going to be building and owning capacity in new markets."
How it breaks down
Over the past two years, Canadian LPs have exported cannabis oil to Australia, the Cayman Islands, Chile, Croatia, Cyprus, the Czech Republic and New Zealand. Dried cannabis has been sent to Australia, Brazil, Germany, Israel and the Netherlands, according to Health Canada.
No cannabis export permits were issued in 2015, while 43 were handed out last year and 75 as of July 20 this year.
Of the 75 permits issued this year, 11 were for dried cannabis and 64 for cannabis oil products.
In total, 118 export permits were issued by Health Canada as of July 20 under federal guidelines established between 2013 and 2016.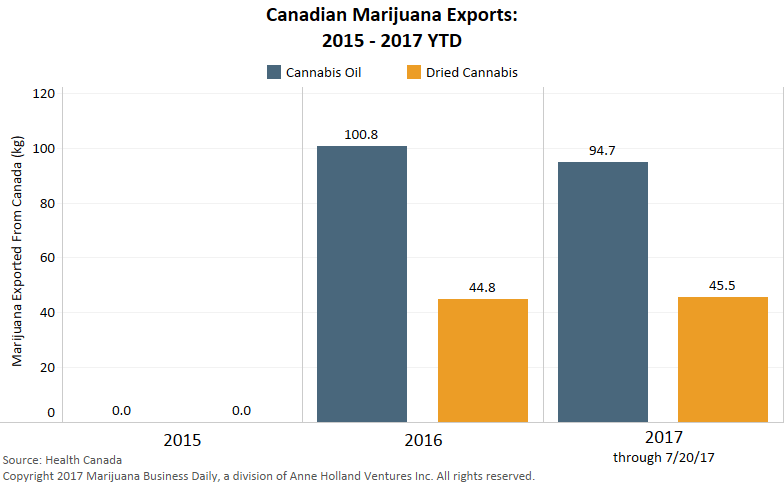 The data also shows that most export applications were approved.
In 2016, Health Canada received 11 export applications for dried medical cannabis and issued nine permits.
So far this year, Health Canada has approved 11 of 13 export applications submitted for dried MMJ.
Though growing quickly, exports still represent a tiny fraction of overall MMJ sales by the country's licensed producers.
In the first three months of 2017, slightly less than 6,000 kilograms of dried medical cannabis were sold to 129,876 registered clients across Canada for medical use, meaning exports accounted for less than 1% of all sales.
Examples of Canadian exporters
To give their marijuana sales a shot in the arm, several Canadian licensed producers have turned to the export market:
More export growth anticipated
Looking ahead, analysts expect exports will continue to rise as Canadian LPs service niche markets and establish localized operations abroad.
Khurram Malik, a partner with financial advisory firm Jacob Capital Management, sees exports spiking to certain nations and regions before coming back down once Canadian LPs set up operations in those markets.
"Exports will be larger from where they are today, but I don't think they will be a large part of the revenue mix (for Canada's LPs) going forward," he said, owing to the high costs of growing cannabis in Canada. "Canada won't be cost competitive with markets overseas for exports."
Battley, the Cannabis Canada board member, sees exports climbing in response to new markets coming online. Twenty-three countries have active medical cannabis laws, while another 14 countries have pending laws, not counting the United States.
"What we've seen thus far is a trickle," he added. "Germany's intention, for example, is to have licensed producers from other jurisdictions supply the market until 2019, hoping that by then there will be sufficient domestic capacity. But building and licensing high-quality capacity takes time."
Matt Lamers can be reached at mattl@mjbizdaily.com
To sign up for our weekly Canada marijuana business newsletter, click here.