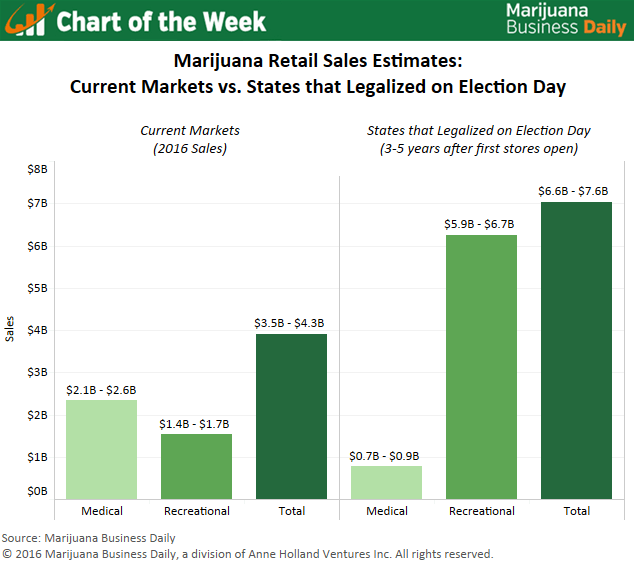 States that passed marijuana measures earlier this month eventually could generate more in annual retail MJ sales than the entire U.S. cannabis industry is expected to this year.
Though these new markets will take time to develop, they present tremendous opportunities for entrepreneurs looking to capitalize on the results of the election.
California, Maine, Massachusetts and Nevada all passed ballot measures legalizing recreational marijuana on Nov. 8, while Arkansas, Florida and North Dakota legalized medical cannabis. Montana already had MMJ laws on the books, but voters passed an initiative to allow regulated medical marijuana businesses to operate and sell product to patients in the state.
The current recreational cannabis market will bring in an estimated $1.4 billion-$1.7 billion in retail sales by the end of 2016, according to the Marijuana Business Factbook.
The addition of four new adult-use states will expand the size of this market by another $5.9 billion-$6.7 billion annually three to five years after rec shops open in each market, Marijuana Business Daily estimates.
The addition of California to
the adult-use market is driving most
of this growth. The state is projected to generate $4.5 billion-$5 billion in retail sales in the coming years, accounting for 76% of the total revenue potential for the new rec states.
Though the medical marijuana market as a whole is not expected to grow as dramatically as the recreational market, Florida could generate $600 million-$800 million in sales within five years after the first dispensaries open, making it one of the largest cannabis states in the nation.
While the election of Donald Trump – and more recently his choice of Jeff Sessions for attorney general – has raised concern for many in the industry, the addition of these new markets is a major leap forward for an already rapidly growing industry.