Retail sales of medical and recreational cannabis in the United States are expected to hit $8 billion-$10 billion this year – a nearly 50% increase from 2017 – and rise as high as $22 billion by 2022.
That's according to exclusive projections from the 2018 edition of the Marijuana Business Factbook released Wednesday at the start of MJBizConNEXT in New Orleans.
The anticipated explosive industry growth is a backdrop for MJBizConNEXT, which is hosted by
Marijuana Business Daily
. The industry conference is expected to draw 3,000 marijuana professionals and 280-plus exhibitors from around the globe.
The Factbook's projections come as the political and legal landscape for marijuana businesses is in flux, underscoring how quickly the cannabis industry can experience dramatic change.
Politicians at the top of both the Democratic and Republican parties have spoken out in favor of federal reforms.
Investors like "Shark Tank" reality TV star Kevin O'Leary – MJBizConNEXT's keynote speaker – are perhaps more bullish on the cannabis industry than ever before. And capital raises totaling seven figures are more common.
Factbook highlights
Marijuana sales in 2018 are expected to increase by nearly 50% over the estimated $5.8 billion-$6.6 billion the industry tallied last year, with recreational sales potentially surpassing medical sales for the first time, according to the 2018 Factbook.
Adult-use sales are projected to hit $4 billion-$5 billion this year compared with $2.7 billion in 2017.
Major drivers of increased marijuana sales in 2018 include continued growth in mature medical and recreational markets, further development of newly launched MMJ programs, and the ongoing rollout of California's massive adult-use industry.
A handful of states will have a significant impact on the industry's overall performance in 2018:
Despite the bumpy launch of California's recreational market, the state is expected to generate at least $500 million in adult-use sales.
In Colorado and Washington state – where recreational sales are beginning to plateau – combined cannabis sales will easily eclipse $2 billion.
Continued growth in Nevada's surging recreational market and the launch of adult-use sales in Massachusetts this summer will prop up sales.
Medical marijuana sales industrywide are expected to reach $3.7 billion-$4.5 billion, up from an estimated $3.1 billion-$3.7 billion in 2017.
Ongoing growth in mature medical marijuana markets such as New Mexico and Arizona as well as expanded patient access in major new MMJ markets like Florida, Pennsylvania and Maryland will drive patient counts and medical sales in 2018.
What's Next?
MJBizConNEXT – which focuses on the future of the marijuana industry – will host attendees from most U.S. states and numerous international destinations. Previous conferences have drawn entrepreneurs from as far away as Australia, China and South Africa.
Speakers at the conference will address a variety of forward-looking business trends, from high-tech cultivation practices to the latest hurdles faced by California MJ companies to some of the newest and hottest markets that are getting underway, such as Pennsylvania and Ohio.
In addition, several hours of presentation will be devoted to business strategies for newly launched companies aiming to make the most of the industry.
Attendees will also get updates on potential federal reforms from a panel of experts – including one congressman – as well as which states and countries may be the next to legalize marijuana.
Executive Summit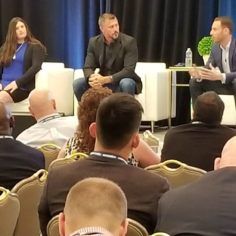 MJBizConNEXT had a soft opening Tuesday with Day One of the two-day Executive Summit.
The Summit is designed to give C-suite executives and senior-level leaders with a minimum of two years in the cannabis industry an opportunity to learn about and discuss mergers and acquisitions, delegation and growth strategies.
Tuesday's speakers were Scott Greiper, president, Viridian Capital Advisors; Tripp Keber, brand partnership/acquisition initiatives, BR Brands, and former chairman, Dixie Brands; Joel Milton, co-founder and CEO, Baker Technologies; Amanda Ostrowitz, co-founder and CEO, CannaRegs; Derek Peterson, CEO, Terra Tech; and Cassandra Farrington, co-founder and CEO, Marijuana Business Daily.
Below are some highlights from Tuesday's Summit:
Successful M&As
The wrong people can break you, and the right people will stick with you through thick and thin, said CannaRegs' Amanda Ostrowitz. "(Due diligence isn't just about them). You find out who on your team is strong – and who's not."
The pace of cannabis "consolidation is accelerating," said Viridian's Scott Greiper, "and that's what it is: It's consolidation more than M&A."
It's all a learning process, according to Terra Tech's Derek Peterson. "We've jumped out of a plane and figured out our golden parachute on the way down."
An M&A deal is "less about agreeing on valuation (in dollars) and more about finding a creative compromise (such as equity, employment agreements, financial triggers, etc.)," said Baker's Joel Milton. "Factor the business goals in how the deal is structured."
Valuations are difficult, particularly in an industry that doesn't have audited financials as a validation point, according to Ostrowitz. "Pro forma (financials) are just predictions. It's, 'How defensible are they?'"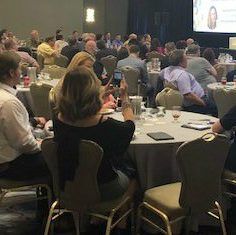 General tips
"Success for your business has nothing to do with cannabis," said MJBizDaily's Cassandra Farrington. "It has everything to do with being the absolute best at what you're doing and then adding cannabis into that."
Leverage relationships, like those you have access to at the Summit, according to BR Brands' Tripp Keber. "Make sure you look to the person on your left, on your right … This is where industry is built, this is where deals are made."
Canadian opportunities
America's northern neighbor is ripe for growing your business right now, said Viridian's Scott Greiper. "Canada doesn't know how to spend its capital fast enough. And there's no benefit for a public company to sit on cash."
Eli McVey can be reached at elim@mjbizdaily.com
John Schroyer can be reached at johns@mjbizdaily.com
Jenel Stelton-Holtmeier can be reached at jenels@mjbizdaily.com