Entrepreneurs submitted nearly 400 applications for medical marijuana business licenses in Nevada by Monday's deadline, highlighting the intense level of interest in the state's MMJ program.
The Nevada health department received 370 applications for dispensaries, cultivation centers, testing labs and production facilities.
The deadline for applications was 5 p.m. Monday, but mailed submissions that are postmarked by that time will also be considered.
The state expects the final tally to approach 500 applications.
Those hoping to get a business license in Nevada's new medical marijuana industry have to pony up $5,000 just to apply, meaning the state could generate more than $2 million from the application process.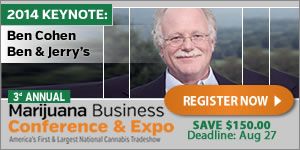 Winning applicants must pay thousands more for an actual licenses. Dispensaries, for example, will have to shell out $30,000 for a provisional certificate.
The number of licenses the state ultimately decides to hand out has yet to be announced, but there could be up to 66 dispensaries. Applicants need to receive both state and local approval to set up shop, and many cities and counties are setting up their own rules on the industry.