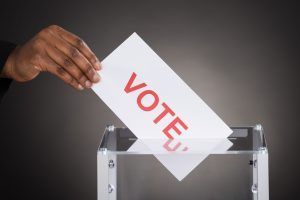 Welcome to Election Day 2017.
Though it won't compare to the historic gains the cannabis industry made at the polls last November, there are three states whose election results could either directly or indirectly have serious ramifications for marijuana businesses: Michigan, New Jersey and New York.
Polls in Michigan and New Jersey close at 8 p.m. ET, but New York voters have until 9 p.m. ET to cast their ballots.
Michigan
Detroit voters will be deciding the fate of two municipal ballot questions that could allow for many new medical cannabis dispensaries in the city because the measures would roll back restrictive zoning ordinances put in place by the city council in 2016:
Proposal A would opt the city into the state's Medical Marihuana Facilities Licensing Act.
Proposal B, however, is the meat of the issue for cannabis entrepreneurs in the Motor City. It would roll back a zoning law that has forced scores of MMJ dispensaries in the city out of business while opening a host of new venues for retailers. This measure could become especially important if the state legalizes recreational MJ in the 2018 election.
New Jersey

The Democratic candidate for governor – former Goldman Sachs executive Phil Murphy – has pledged to legalize recreational marijuana in his first 100 days in office if he's elected.

And Murphy has had a double-digit lead in the polls for months.

In preparation for a Murphy administration, New Jersey lawmakers have an adult-use legalization bill essentially ready and waiting for him.

Some marijuana advocates believe the Garden State could become the first to legalize recreational cannabis through the legislature – and that it could happen in Murphy's few months in office.

New York

Voters will decide the fate of Proposition 1, which calls for a state constitutional convention and could open the door for a ballot measure asking New Yorkers if they want to legalize adult-use cannabis.

That's the goal of the Restrict & Regulate in New York State campaign.

However, as the campaign ramped up in recent months and political opposition to a convention has emerged, polling has taken a nosedive.

Subsequently, proponents now are skeptical Proposition 1 has any hope of passing. The latest survey found that only 25% of voters are backing Proposition 1 and 57% oppose it.

John Schroyer can be reached at [email protected]